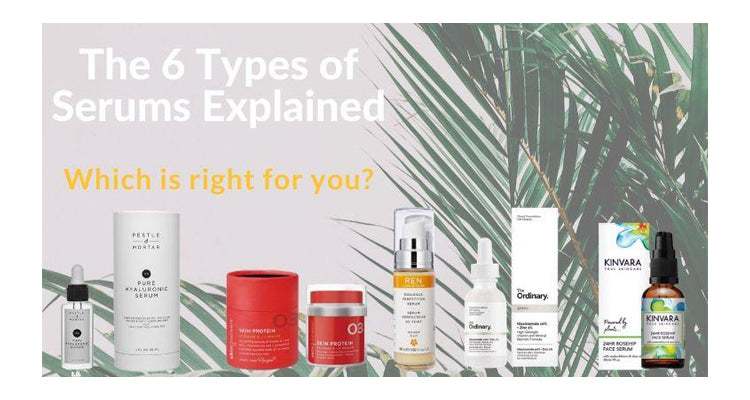 Which Serum Is Right For Me?
A super common question we get in Meaghers is why would I need a serum in my routine?
Serums are the power punch of skincare products as they are normally much more concentrated than their buddies, moisturisers. They are also lighter in consistency meaning that they absorb a lot faster and deeper than a moisturiser as they contain fewer lubricating and thickening agents. So, a serum is a great place to start if you have a specific skin concern or if you want to prevent skin problems in the future.
With so many buzz words around skincare products it can be a little confusing to decipher the technical terms and find the regime that's right for you and your skin type. I have broken down some benefits of different categories of serums and the ingredients you should look out for.
1. Antiaging Serums
Combating the signs of aging can be a tricky job but using a serum containing an antiaging ingredient can greatly impact the overall health and appearance of the skin. Common anti-aging ingredients found in skincare includes Collagen, Coenzyme Q10, niacinamide and peptides but without doubt the most powerful of anti-aging ingredients that help with the signs of aging is Vitamin A.
Retinol is a derivative of Vitamin A and is one of the most potent anti-aging ingredients. Retinol helps with increasing cell turnover (the natural life cycle of skin cells which slows down with age) it increases the production of collagen and elastin, the skins plumping and firming structures and helps with overall texture and appearance.
A few points to note before including Retinol in your skincare:
Retinol is broken down by UV rays so it should be included in your night time routine (Night time is also the best time for your skin to restore and repair itself while you sleep) It is also essential to use a SPF when using any retinol product.
Vitamin A is not recommended to be used during pregnancy or breastfeeding.
Many retinol products require 'downtime' meaning you may experience some redness, irritation and superficial dryness from initial use so always get advice from a professional on how to best introduce a retinol product.
Skingredients Skin Protein 03 €42
It's an active formula of with two forms of vitamin A, two forms of vitamin C and vitamin E, good fats and tea extracts alongside a massive serving of potent antioxidants and a powerful, clinically-proven pro-collagen peptide. What I like about this product is I normally like to layer a vitamin A product with a Vitamin C but this product contains both! It can also be used morning and night.
La Roche Posay Retinol B3 Serum €39.50
Specifically formulated for those concerned with dehydration, skin irregularities (complexion) and wrinkles, but also searching for a serum suitable for sensitive skin. This beauty also contains Vitamin B3 which is great for soothing and retaining moisture in the skin. A great option for sensitive souls
2. Brightening Serums
Bright, Glowy skin is the goal for so many of us! Brightening serums can help you achieve a more radiant and even complexion. Whether your skin is dull because of external aggressors, lifestyle factors, acne, dryness or just age when it comes to achieving the luminous skin of your dreams here are a few ingredients to look out for.
Azelaic acid is a fantastic multi-tasker for those looking for a more minimal routine. It is and AHA which works to gently exfoliate, in turn improving texture and overall clarity of the skin but Azelaic acid is also a great brightening ingredient. It is effective in combatting hyperpigmentation and melasma as it reduces melanin production. It's also anti-inflammatory, so it can help reduce redness caused by issues like rosacea or acne.  Because it is a direct form of acid, it's recommended to use at night, so as to not further expose vulnerable skin to the sun for potential further damage.
Green tea, Liquorice root and grapefruit, kojic acid, ferulic acid and peptides are light reflectors or optical diffusers that instantly give you a glow.
Antioxidants such as Vitamin C, Vitamin E help with brightening pigmentation and age spots. Vitamin C helps fight free radical damage and it boosts collagen production, making it a superstar for aging.
La Roche Posay Pigmentclar Serum €33
This dark spot corrector serum visibly reduces the appearance of dark spots and uneven skin tone. Formulated with a potent combination of phe-resorcinol, ferulic acid and micro-exfoliating lipo-hydroxy acid.
The Ordinary Azelaic Acid Suspension 10%  €7.80
Azelaic acid is a multi-functional support ingredient for all skin types and also acts as an effective antioxidant. This formula offers a very high 10% concentration of high-purity Azelaic Acid in a lightweight cream-gel system. 
Ren Radiance Skincare Radiance Perfecting Serum €40
A luminosity boosting serum for all type of skin, designed to energise and even the skin tone. This multi-active serum tackles the dullness, brightens and soothes tired skin.
3. Oil control
Serums are uniquely positioned to prevent breakouts before they appear. They are formulated with small molecules that can easily dive deep into the skin and deliver potent active ingredients. They work great alongside face washes and creams that work more at the surface of the skin.
They can also aid in fading acne scars, while gently removing any build-up of dead skin cells. Acne fighting serums tighten skin, unclog and minimize pores, absorb excess oil, and minimize any redness or irritation.
Beneficial acne fighting ingredients are salicylic acid, alpha- hydroxy acid (AHA) and beta-hydroxy acid (BHA), glycolic acid, citric acid, zinc, and botanical extracts like tea tree, thyme, cucumber, and green tea.
Niacinamide is a form of Vitamin B3 and is amazing at regulating sebum production and reducing oiliness without drying out the skin, it's a perfect ingredient to incorporate for those who are oily and acne-prone, but also looking to erase the scars of breakouts past.
The Ordinary Niacinamide 10% + Zinc 1% €6.40
Specially formulated to reduce the appearance of blemishes and clarify congested skin. The high concentration of Niacinamide (also known as Vitamin B3) is combined with Zinc to balance skin's sebum production.  Niacinamide also helps to reduce the appearance of enlarged and visible pores thanks to its ability to help restore skin's elasticity. 
The Ordinary Salicylic Acid €7.80
Salicylic Acid is a beta hydroxy acid that exfoliates the skin. This 2% treatment solution helps exfoliate the inside walls of pores to fight the appearance of blemishes and for better visible skin clarity with continued use. This formula should not be used on sensitive, peeling or compromised skin.
4. Hydrating
Skin lacking in water can exhibit such signs as fine lines and wrinkles, a tight and dull appearance of the complexion.
Hydrators such as ceramides, amino acids and essential fatty acids strengthen the skin's barrier and help build strong cell membranes. These ingredients protect against dryness and fine lines by replenishing naturally occurring skin lipids, improving moisture retention and protecting skin from the environment.
No other ingredient comes close to hydrating the skin like hyaluronic acid. The ultimate hydrator for all skin types is hyaluronic acid.  HA works in a number of ways, it is naturally occurring in the human body it helps keep our eyes, joints and skin hydrated and plump! HA is a humectant meaning it helps your skin hold on to water. It compliments other skincare ingredients and works at a lower level of the skin for plump, younger looking skin.
Pestle & Mortar Pure Hyaluronic Serum €43
My favorite hydrating serum this serum hydrates and soothes even the most sensitive skin while smoothing fine lines and restoring youthful elasticity. It also contains Vitamin E a powerful antioxidant.
Skingredients 02 Skin Veg - Pre-Serum €42
The ultra-lightweight Skin Veg is perfect applied post-cleansing and prior to your serums for a shot of dewy plumpness. It's the skincare version of a primer. This baby contains hyaluronic acid and your skin's 10-a-day, including real veggie goodness like broccoli extract, tomato extract and radish root extract. With a clinically-proven pro-collagen peptide to reduce the depth of lines and wrinkles and polyhydroxy acid (PHA) to help your active ingredients to penetrate optimally 
Vichy Mineral 89 Hyaluronic Acid Booster €25
Mineral 89 combines Vichy's highest concentration of Vichy Thermal Mineralizing Water, along with Hyaluronic acid, to plump and strengthen the skin barrier and protect it from pollution. Our skin is the shield between our body and the external world, protecting it from daily aggressors
5. Exfoliating Serums
An exfoliating serum works to smooth and tone complexion, diminish fine lines and wrinkles, and correct discoloration and hyperpigmentation from natural aging and sun damage. Our skin becomes dramatically less efficient at removing dead skin cells as we age, along with producing less collagen and elastin. This layer of build-up due to dead skin cells leads to dull, dry, cracked skin.
A build-up of dead skin cells also hinders the efficiency of your other facial products because they aren't being absorbed properly. Exfoliating serums are an easy way to ensure that your skin is functioning normally and optimally. They also work to unclog pores and prevent against breakouts.
Key ingredients in exfoliating facial serums are alpha hydroxy acids like glycolic acid or lactic acid, retinol, enzymes from plant or fruit extracts, and citric acid.
The Ordinary Mandelic Acid 10% + HA €7.50
Mandelic Acid 10% + HA offers superficial dermal peeling that is gentler than other alpha hydroxy acids.
6. Repairing serums
Your face tells your story and while I am all about embracing aging it can sometimes help with our confidence and overall wellbeing to repair and renew the skin that we have put through so much. Be that Acne scarring, pigmentation from lack of SPF (or even tanning beds….Gasp!) or sensitivity from using products that may not have been suitable (I do love a fad!) it might be time to call in reinforcements and show our skin a little TLC. Even The changing seasons puts additional stress on our skin, along with daily make-up application and removal, or worse, sleeping in it overnight.
Repairing serums can help stimulate your skins own natural repairing function. And help with keeping moisture at the perfect level. Some ingredients to look out for include seaweed, flower water, green tea, ceramides, Rosehip oil and Omega-3 fatty acids.
Declare Anti-Irritation Serum €59.50
Signs of stress, tiredness and redness are visibly softened, the complexion looks even and radiantly fresh and relaxed. By using hyaluronic acid and moisture complexes, the skin is padded and the appearance of fine lines and relaxed areas is reduced.
At the same time, effective plant extracts strengthen the skin's own protective function and make your skin resistant to daily stress factors. For perfectly strengthened, well-groomed skin and a relaxed-fresh complexion.

La Roche Posay Rosalic AR Serum €23.50
An intensive concentrate that combines 3 active ingredients to reduce redness at source and prevent its reappearance. Ambophenol a powerful natural extract rich in ingredients to reduce the size of blood vessels and strengthen their walls. Neurosensive, a soothing active ingredient to reduce the appearance of redness. 
Kinvara Rosehip 24 Hour Face Serum €32.95
Designed to provide intensive care to even the most demanding skin, this concentrated formula is packed with plant extracts, vitamins, antioxidants and calming ingredients, Super hydrating, helps calm redness & irritation and will leave skin glowing.