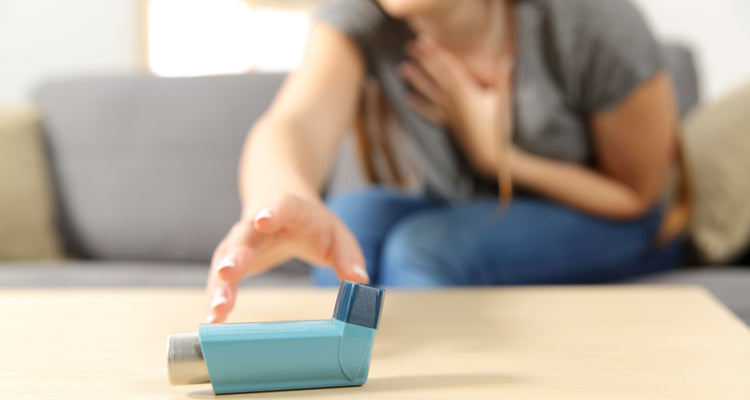 Tips for Asthmatics During Hayfever Season
It's a tricky time for those of us who suffer from asthma. Not only are we being extra cautious due to COVID-19, we also have to be wary of hayfever and the impact that can have on our asthma control. Our Pharmacist Lisa Coffey takes us through some tips for those with asthma who are also controlling their hayfever. 
Asthma and allergic rhinitis (hayfever) are related conditions linked by a common airway. According to the Asthma Society of Ireland, up to 80% of people with asthma will also have hayfever. Those who do experience uncontrolled hayfever symptoms can commonly experience an increase in their asthma symptoms. Therefore, appropriate management of hayfever symptoms is important in controlling asthma and preventing any "flare ups". Now more than ever, inhaler technique and medication compliance are essential. A typical inhaler prescription for an asthmatic would consist of two inhalers - a preventer and a reliever.
The preventative inhalers are steroid inhalers and are to be taken daily to keep the asthma symptoms controlled. Example of these are Becotides, Symbicorts, Seretides, Flixotides etc. Relievers e.g. Ventolin or Salamol, are only to be used when there is an exacerbation of symptoms and NOT for daily use. Using the correct inhaler for the correct reason is important. I would also recommend keeping your inhalers on your person, particularly your reliever (i.e. Ventolin/Salamol). These are important to have with you in case you develop breathing difficulties at any stage.
There are other tricks you can try as well as taking medication. Here are some of my top tips:
Keep track of the pollen count. There are many live pollen count trackers available online and RTE weather often give pollen updates

Wear wrap around sunglasses when out and about

Shower at night before sleeping. This will remove any pollen particles from the hair and the skin

Avoid drying clothes on days the pollen is high

Keep house and car windows closed on days with high pollen count

Place a small dab of Vaseline on the inside of each nostril. This will act as a barrier and catch pollen entering the nasal passage

Use Salt Therapy products such as Salin Plus Breathe Easy
Salin Plus is a salt therapy that can be used at home by people who are suffering from conditions such as asthma, cystic fibrosis, bronchitis, sinusitis, sleep apnoea, tuberculosis and many other respiratory and allergy conditions. The Salin Plus machine is supplied with a Salin Plus cartridges. These cartridges are filled with pure micro‐crystallised salts, primarily 98% Sodium Chloride (NaCl) and 0.5% Calcium Chloride and Magnesium. This creates a fine constant spray of NaCl in surrounding environments which help to change the ionization of the air thus helping you breathe more easily. Basically, it is an easy to use device that purifies the air. It is recommended to be used at night.
Advice for the gardeners amongst us: 
Since the start of March, many of us have hit the garden hard and channelled our inner Diarmuid Gavin. But while the garden is one of our few COVID-19 sanctuaries at the moment, it is also filled to the brim with pollen. It is advisable to follow the tips above but to also take a few extra steps:  
Shut all windows before gardening to keep dislodged pollen out of the home
Don't wear your gardening clothes in the house
After gardening it can be useful to do a saline nasal rinse like a Neilmed Sinus Rinse. This will flush out any pollen that is lodged in the nasal cavity and help alleviate nasal symptoms
Don't garden when the washing is on the line as dislodged pollen may end up on the clothes
If you have any questions on anything mentioned above or even in general, please feel free to call me at our Ranelagh Village store on 01 497 1665 or pop into us or to any of our Meagher's Pharmacies. We also have our helpline available on 01 485 3098 where we are ready and waiting to help with anything you need!
As always- We are here to help!