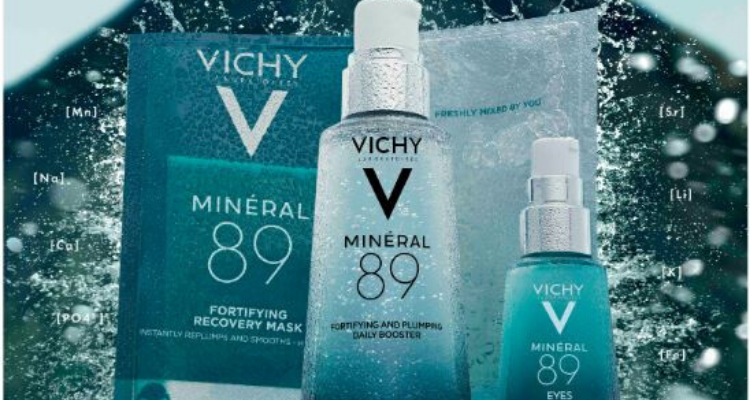 Why You Need to Add Vichy Minéral 89 to your Skincare Routine
If there is one ingredient that will transform your skincare regime it's Hyaluronic Acid. Not only does it retain moisture effectively, but it plumps and rehydrates the skin as well as, smoothing fine lines and wrinkles. The best part? It's suitable for every skin type! There are so many products available that we know it can overwhelming especially when it comes to knowing how to use them to address your specific skin issues. In this blog, we have done all the research so you don't have to! Read on to see how Hyaluronic acid can be worked in to your skin routine.
How to use Hyaluronic Acid on dry or sensitive skin
Sensitive skin is often caused by irritants in the environment that damage the skin's barrier function. This barrier plays an important role in protecting the skin from bacteria while helping to retain water. When it's damaged the skin can become more sensitive. Hyaluronic Acid can help repair and strengthen the barrier, bringing moisture and calmness to the epidermis.
Your routine:
How to use Hyaluronic Acid on Oily and Blemish-prone skin
Oily skin can be caused by a number of things including hormones and stress which increase sebum production. Excess sebum and oil isn't harmful but can congest pores over time and cause blemishes and blackheads. Drying out oily skin, the skin can create more oil to try and balance. Hyaluronic Acid helps compensate. It's hydrating but lightweight so won't clog pores or add additional oil to the skin.
Your routine:
How Hyaluronic Acid can help ageing skin
As we age, our skin starts to lose moisture, collagen and elastin. Dryness can also be caused by hormonal changes in the body especially the menopause. Sagging, lines and wrinkles can start to appear. We can't stop natural ageing however Hyaluronic Acid can help the skin look smoother and radiant. It creates a plumping effect in the epidermis which may reduce some of the visible sign of ageing.
Your routine:
Wash your face with a hydrating cleanser, then apply Vichy's Mineral 89 Booster to plump up the skin and improve the look of lines and wrinkles.
To help to strengthen the skin's barrier function and stimulate cell renewal, apply a serum. Vichy's Liftactiv Specialist Ampoules offers a concentrated dose of key ingredients, in the ampoule format for optimal efficacy, as fresh as possible.
Follow with a moisturiser like Vichy's Collagen Specialist Day Cream to provide comfort whilst improving the appearance of firmness, skin tone and wrinkles. If hormone related, try Vichy's Neovadiol Compensating Complex Day Cream, Vichy's specialist range to target menopausal skin concerns.
If you have any questions about hyalauronic serum, the Mineral 89 range or any other skincare related questions, our team of experts are here to help – don't hesitate to get in touch!