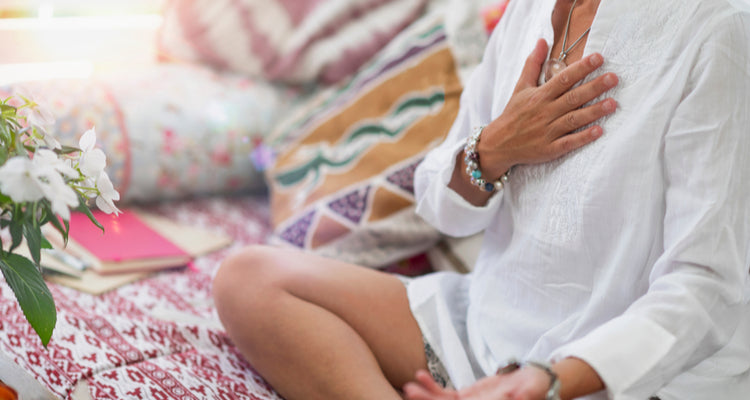 Taking time for yourself this Christmas season
The last year has been undoubtedly tough for so many of us. The impact of Covid-19 on society has been immense and many of us have experienced the loss of loved ones, illness, financial worries, job losses, fear and anxiety.
The hormones that are released by the body at times of stress are those that trigger your body into a 'fight or flight' response. It is the body's defence mechanism to help at times of emergency; our breath quickens, muscles are tensed and ready for action and our heart races. These responses are useful when your body needs to react to danger however when the stress response keeps firing day after day it puts your health at risk.
The impact of these stresses on our health and wellbeing can be immense, and it is important now to take some time to rest, reset and recharge.
So I want to share some tips that might allow you to personally handle stress better and reset and rebalance your system at the end of a stressful year.
Enhance your night time routine
Sleep is a powerful stress reducer. Following a regular sleep routine calms and restores the body, improves concentration, regulates mood, and sharpens judgment and decision-making.
Here are some of our top product recommendations to enhance your night time routine from Meaghers:
Melissa Dream
Melissa Dream tablets is a formulation that contains herbal ingredients that have a calming effect on the body. They contain magnesium, lemon balm, L-theanine and chamomile and can help to relax you also before going to bed. Just take three tablets one hour before bed to relax you and aid a great night's sleep.
The Handmade Soap Co Bath Salts
If you find it difficult to fall asleep a hot bath with relaxing bath oil can sometimes help relax your muscles and aids a more restful sleep. Alternatively, you could try a spoonful of bath salts to help ease the stress away.
Transform bath-time into me-time with these gorgeous garden-scented Epsom bath salts from The Handmade Soap Co. Fragranced with lavender, rosemary, thyme and mint it restores skin. This is a treat you deserve. 
Brighten your senses and feel the calming power of lavender ease the stress away. Enjoy the traditional herbal fragrances of rosemary, thyme and mint in a classic bath salt. Gentle and caring, it's the perfect gift for anyone who enjoys stretching out in a spa-level bath at home.
Clarins Relax Bath and Shower Concentrate 
Or if you prefer to take a shower but still want a product to relax your muscles and mind you cannot find a better product than the Clarins Relaxing bath and shower concentrate.
It has a cleansing base of plant origin (coconut), linden, St. John's wort, relaxing valerian, essential oils of basil, geranium, camomile and petit grain. A true pleasure. Calms both body and mind. The fine, creamy foam very gently cleanses the skin and helps relieve stress and fatigue. It also helps relax the body after exercise. In the bath, pour a capful of product under running water. Spread foam all over the body and inhale deeply to benefit from the aromatic properties. In the shower, use with a sponge.
My favourite thing to do is to lie up in the bath with a face mask on and let the serum soak into my skin and then use a Jade roller to tone and depuff my skin. I keep my Jade roller in the fridge so it is super cold and when I use the small size under my eyes it totally depuffs those super annoying undereye bags! 
My favouite mask these days is the Mineral 89 Instant recovery mask from Vichy as it's enriched with 89% Vichy Mineralizing Water and natural origin Hyaluronic Acid. Revitalise and plump skin with moisture, reinforcing your skin's natural barrier function to help protect against external aggressors. Proven skin barrier repairing efficacy and instant hydration that lasts up to 24 hours. Use as an instant recovery solution for your skin when it feels stressed, tired or dehydrated.
Magnesium is also brilliant to take in a hot drink before bedtime to relax your muscles. Simply add a half to one teaspoonful into a hot drink before bedtime.
Mag365 magnesium powder is a source of highly absorbable, effective, fast-acting water-soluble magnesium in ionic form. It is 100% natural magnesium and helps to both restore healthy magnesium levels and balance your calcium intake, including dissolving any excess calcium in the body.
The result of this is natural stress relief.
Deep Sleep Pillow Spray
Infused with Essential Oils of Lavender, Vetivert and Wild Chamomile, Deep Sleep Pillow Spray from This Works helps you to wind down after a hectic day by soothing the body and mind. This best-selling, natural sleep aid fragrances the room whilst calming your nerves and will become your must-have sleep solution.
Enjoy a hot water bottle
Cosy up and Relax in comfort with the Night Owl soft and luxurious hot water bottle. Ideal for adding warmth to a chilly day and night. It has a stylish knitted washable cream cover.
Or another genius idea are these new rechargeable hot water bottles. The De Vielle Luxury Rechargeable Electric Hot Water Bottle is the ultimate hot water bottle that will provide you with hours of heat.  
Simply plug it in for 15 minutes before you go to bed for night-long heat where you need it! Its permanent seal means there is no risk of leaking, making this reusable electric hot water bottle extremely safe.
Find Mindful moments
Mindfulness is the practice of purposely focusing your attention on the present moment—and accepting it without judgment.
Mindfulness is an excellent way to help with stress it makes it easier to savor the pleasures in life as they occur, helps you become fully engaged in activities, and creates a greater capacity to deal with adverse events.
Our top products to enhance mindful moments:
Spacemasks
Space masks because they are self-heating and relax the muscles around the eyes and as such will release any tension and help you drift off for a more restful sleep. They also smell of Jasmine which is simply divine. 
L-Theanine
L-Theanine is one of my favourites for when people are suffering from any anxious feelings as this has a calming and focusing affect. It usually works fast as it crosses the blood brain barrier and can help to regulate your mood and help with sleep. High levels are found in good quality Matcha Green Tea or you can get it in a capsule form below.
Exercise and fresh air
Exercise is a fantastic stress reliever that can work in minutes. Taking a walk allows you to enjoy a change of scenery, which can get you into a different frame of mind, and brings the benefits of exercise as well. Boost your energy with the following products:
Revive active
Revive Active is a premium product with a powerful formulation of 26 active ingredients offering natural energy all day long. Revive Active will bring your immune system back to normal thereby reducing the chance of colds and flus, but more importantly it will keep your heart healthy and you will feel your body totally refreshed. Revive active contains 150mg CoQ10 per sachet which gives you a sustained energy all day long.
Revive Active contains all your recommended daily allowance  of amino acids, vitamins and minerals. It contains NO added stimulants, only natural ingredients so you have no highs and lows. Contains NO artificial colours or sweeteners and is suitable for diabetics, vegetarians and coeliacs.
Revive Zest
Zest Active is your everyday nutritional boost to support energy, immune support, brain function & muscle function. It contains no sugar, caffeine, binders, fillers or artificial colours or flavours and it provides with a natural boost every day.
Zest Active contains Taurine, Biotin & Vitamin B12 which work in synergy to improve metabolic function & energy production. These are the powerhouse of Zest & help with energy generation in the heart, muscles & nervous systems. Zest also contains Vitamin B12 which aids in detoxification. 
YourZooki
Your Zooki liposomal Vitamin C is a brilliant addition not only to boost your energy levels and support your immune system but the vitamin C is also an essential ingredient in the production of collagen and so it is fantastic to give your skin a really healthy glow.
Gut Health
Finally do not forget that over 80% of our immune system resides in our gut and our gut bacteria make over 70% of the serotonin in our body AKA our happy hormone. I always say that if you have a healthy gut it really plays such a critical role in having a healthy body and the best way to support a healthy gut is to eat a diverse plant based diet high in fibre and to ensure your gut microbiome is as diverse as possible. Many things knock out your microbiome including the overuse of antibiotics, poor diet, exercise and stress which we have had plenty of this year.
The quickest way to rebalance and reset your microbiome is by taking a probiotic together with a diet rich in fibre. Without question my favourite probiotic is Symprove as the bacteria are live and active and ready to colonize your gut, rebalancing and resetting it after such a stressful year.
When you purchase 8 weeks of Symprove you get 4 weeks free.
We are here to help
So however your body has responded throughout these incredibly stressful few weeks and months there are certainly products that can support your body at this time. If you are feeling the impacts of this pandemic on your sleep, your anxiety or energy levels, or if you are noticing the effects on your skin or hair, myself and my team of pharmacists are here to help you through these challenging times and all you need to do is to reach out and ask for the help that you might need.
Contact us through our helpline to speak to a pharmacist on 01- 485 3098 or email us to help@meagherspharmacy.ie
Have a great break this Christmas and make sure you make time for you. I think after this year, we can all say that we deserve it and never feel guilty about a little bit of self-care. 
Oonagh x