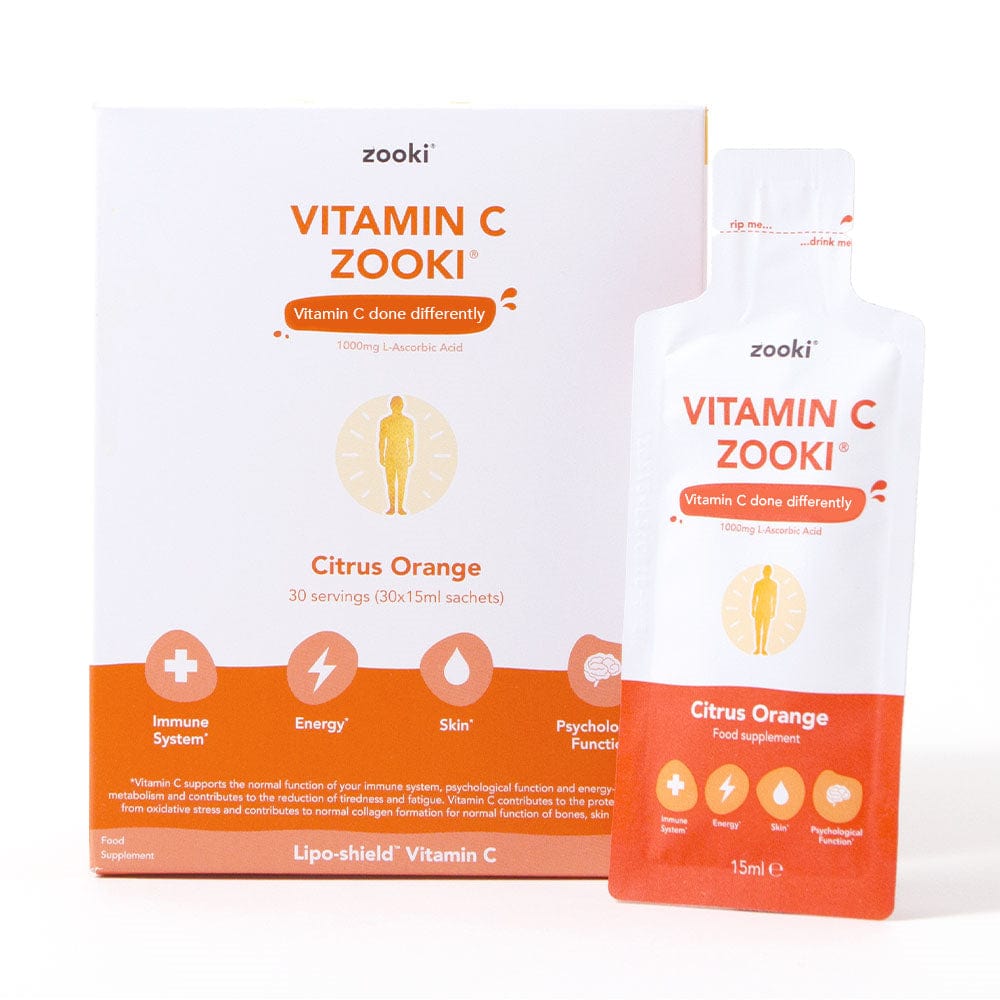 Zooki Liposomal Vitamin C 30 (1000mg) Sachets
Discover the ultimate way to supercharge your immune system with Zooki Liposomal Vitamin C 30 (1000mg) Sachets. Packed with powerful antioxidants and carefully encapsulated in liposomes for enhanced absorption, this cutting-edge supplement delivers maximum benefits to keep you healthy and thriving. Say goodbye to traditional vitamin C tablets and experience the next level of immune support with Zooki Liposomal Vitamin C 30 (1000mg) Sachets. Benefits include:
Superior Absorption for Optimal Results: Our liposomal technology ensures that each sachet of Zooki Liposomal Vitamin C delivers vitamin C directly to your cells, bypassing the digestive system for superior absorption. This means your body can utilize more of the vitamin C, resulting in enhanced immune support and overall well-being.

Potent Antioxidant Protection: Zooki Liposomal Vitamin C is a powerhouse of antioxidants that help combat free radicals, reducing oxidative stress in your body. By neutralizing harmful molecules, this supplement helps protect your cells from damage, supports collagen production, and promotes healthy skin, joints, and cardiovascular health.

Convenient Sachets for On-the-Go Use: Each Zooki Liposomal Vitamin C sachet contains 1000mg of vitamin C, conveniently packaged for easy use wherever you are. Simply tear open a sachet and enjoy the refreshing citrus flavour of our liposomal formula. No need for water or additional preparation – it's the perfect travel companion to support your immune system on the go.

Immune System Defense: Vitamin C is a vital nutrient for immune function. Zooki Liposomal Vitamin C helps strengthen your body's natural defence mechanisms, supporting the production of white blood cells and antibodies that fight off infections. By incorporating this supplement into your daily routine, you can give your immune system the boost it needs to stay resilient.

Enhanced Collagen Production: Zooki Liposomal Vitamin C plays a crucial role in collagen synthesis, a protein that provides structural support to your skin, joints, and connective tissues. By promoting collagen production, this supplement can help improve skin elasticity, reduce joint discomfort, and support overall mobility.

Overall Well-being: Beyond immune support, Zooki Liposomal Vitamin C offers numerous additional benefits for your well-being. It supports cardiovascular health, aids in iron absorption, assists in the production of neurotransmitters, and promotes overall energy levels. Incorporating this powerful supplement into your routine can have a positive impact on multiple aspects of your health.
A great-tasting Liposomal Vitamin C, to be had on the go straight from the sachet or mixed into water, smoothies, shakes, yoghurt, porridge, granola & more. 1000mg of Liposomal Vitamin C per 15ml sachet. 
Meaghers Blog
Nutritionist Lucy Brennan 

ANutr shares her tips and advice when it comes to supporting male mental health.

Read now

Nutritionist Lucy Brennan 

ANutr shares her top tips on the best foods to incorporate into your diet when going through menopause.

Read now