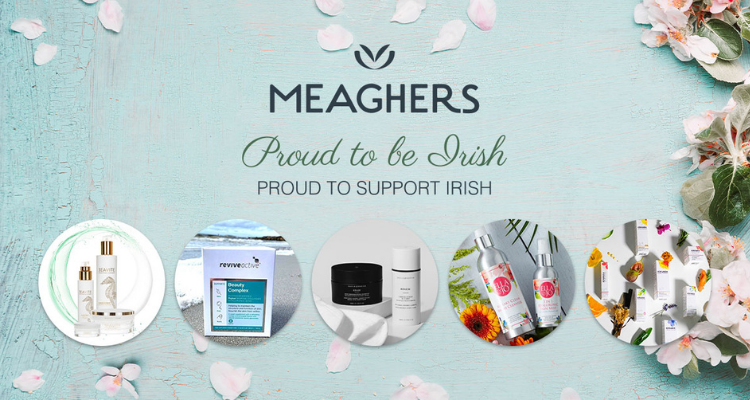 Our Top Gifting Picks from Irish Brands
This year we have all needed to pull together as a country more than ever. It has been a difficult time for Irish businesses and we are determined to do what we can to champion fellow Irish entrepreneurs and their brands where we can this Christmas season.
Did you know that in Ireland, 70% of our online shopping is done with companies abroad?
This year we are determined to bring some of that spend home by supporting local brands and Irish businesses. There are over one million people employed in small to medium sized businesses here in Ireland and we want to play our part in supporting their jobs and their families.
As an Irish business ourselves we are beyond grateful for every customer who chooses to shop with Meaghers over our international counterparts. Your support means that we can continue to grow, sustain jobs and support our local communities. Through your support we can in turn support so many other Irish suppliers, helping them to sustain employment all across communities the length and breadth of Ireland.
By buying Irish this Christmas you are supporting Irish jobs, Irish entrepreneurs and supporting the local economy. With that in mind we have put together our top gift ideas from the fabulous Irish brands that we are delighted to stock.
For the Skincare Lover
Pestle & Mortar
Pestle & Mortar is a Kildare-based company and an absolute favourite of ours in Meaghers when it comes to skincare! First launched in 2014 with their cult product Pestle & Mortar Pure Hyaluronic Serum, the brand has grown from strength to strength, and now offers 11 products and is stocked in over 26 countries. We are incredibly to proud to champion this brand and stock the fantastic range in Meaghers.
Pestle & Mortar Serum & Moisturiser Gift Set
The Pestle & Mortar Serum & Moisturiser Gift Set is the perfect gift for someone in your life who is looking to hydrate, soothe and brighten their skin. The bestselling Pure Hyaluronic Serum hydrates and soothes even the most sensitive skin while smoothing fine lines and restoring youthful elasticity. This serum can be used as part of your daily skin routine for a more radiant look. The lightweight formula, with added Vitamin E can also be used as a velvety smooth makeup primer.
This set also includes the Pestle & Mortar Hydrate Moisturiser, an anti-ageing cream which will naturally moisturise the skin leaving it softer, firmer and will dramatically reduce the appearance of fine lines and wrinkles. Hydrate is a lightweight formula packaged in an airless container, making sure the cream stays active with every use and it is formulated to suit all skin types.
Pestle & Mortar Erase & Renew Double Cleansing Set
Pestle & Mortar's Double Cleanse Method is designed to remove makeup, wash away water­-based dirt such as dust and sweat, and prep skin for serums and moisturisers. This giftset is the perfect gift for anyone who wants to take care of their skin and see a smoother, fresher complexion. Containing a meltingly soft balm cleanser to remove all traces of make-up and SPF, an illuminating gel cleanser to treat and polish the skin, and a 100% cotton face cloth designed to ensure every last trace of dirt is gently removed, this set is sure to leave skin thoroughly cleansed and hydrated.
Ella & Jo
Ella & Jo is another fantastic Irish skincare brand which is produced and packaged in Ireland. Founded in 2017 by make-up artist Charlene Flanagan and skin therapist Niamh Ryan, this gorgeous range offers a great selection of skincare products from hero product Ella & Jo 3 in 1 Hyaluronic Skin Mist to their Hydrating Hyaluronic Serum.
Ella & Jo The Ultimate Hydration Skincare Kit
For the skincare lover in your life who is looking for some hydration this Christmas, the Ella & Jo Ultimate Hydration Skincare Kit is the perfect gift. Containing their bestselling 3 in 1 Hyaluronic Skin Mist and Hydrating Hyaluronic Serum, this set is a must-have for those with dehydrated skin and those looking for a dewy, healthy glow. The supercharged collagen & hydration boosting serum is designed to reduce the appearance of wrinkles and improve collagen levels while moisturising skin while the refreshing facial mist can be used to restore moisture levels throughout the day.
Bloom
Cork-based skincare brand Bloom offer a gorgeous range of face masks and skincare products. We are big fans of this cruelty-free, organic range and their masks make for a lovely skincare gift or stocking filler. 
Bloom's Avocado Silk Sleep Mask is one of our favourites at the moment! A hydrating sleep mask, this mask drenches the skin in moisture and helps to plump the skin to fight visible signs of tired and dull skin. Formulated with Avocado Fruit & Oil Extract, 0.3% Retinol & Hyaluronic Acid, this overnight mask boosts collagen levels, improves skin elasticity and provides intense moisture to the skin while you are sleeping.
Another fantastic stocking filler from this range is the Bloom Facial Puff Trio. Gentle on the skin but tough on makeup, it will easily cleanse your face from any traces of pollution. Suitable for all skin types, remove make-up naturally by simply soak Bloom Puff in warm water and let it do its job. 
The Facial Puff Trio comes as a set of two large and one small microfiber round cleansing puffs. The two large puffs are perfect for cleansing face and body, while the smaller was created to cleanse off eye makeup. These reusable puffs are the perfect environmentally friendly alternative to cotton pads and are a lovely product to add to any skincare routine.
For the Makeup Lover
bPerfect Mrs Glam Glamorous Gift Box
The perfect gift to create a full GLAM makeup look! Get your hands on three NEW Mrs Glam products, in the Mrs Glam Glamorous Gift Box – A palette, a lipgloss and a lash. This fabulous set contains the Spotlight palette introducing 5 new shades and 2 iconic shades from the Showstopper palette, a Mrs Kisses Peachy Queen Lipgloss and Mrs Fascinating Lash. This is a gorgeous make up set for the beauty lover in your life and is from Irish brand bPerfect.
SOSU Let Them Talk Lip Collection
From Irish Beauty Queen Suzanne Jackson this SOSU Let Them Talk Lip Collection is a gorgeous set to gift this Christmas. Define and create a fuller pout with the Let Them Talk lip liner and pair with Let them Talk lipstick for added volume and dimension, while keeping lips hydrated, resulting in a flawless finish! Let Them Talk Lip shimmer gloss and Lip tint gloss allow for the ultimate glow up!
Sculpted by Aimee Skin Secrets Gift Set
Sculpted by Aimee is of course the brainchild of Irish make up artist Aimee Connolly and we are big fans of the range here at Meaghers. The Skin Secrets gift set from Sculpted by Aimee contains Beauty Base Pearl, Hydrate & Hold Setting Sprayand 1 Hydration Sheet Masks to give that party season glow! A gorgeous gift for the beauty Queen in your life this Christmas!
The Perfect Gift
Celtic Candles Double Wick Cinnamon & Winter Berries
Gift the scent of Christmas this year with this naturally scented candle that can add a touch of festive excitement to any space. These 100% plant wax candles are made with a unique blend of soy, palm and rapeseed. With 50-60 hours burn time this candle offers a long-lasting subtle aroma that will bring warmth and comfort. Celtic Candles is a family-run Irish business established in 1993, using natural sustainable ingredients to produce quality candles.
Spotlight Teeth Whitening Giftset
Spotlight Teeth Whitening Gift Set includes the necessities you need to keep your smile white and bright. Beautifully presented and great value, this limited edition gift set is a the perfect gift for a loved one this year. The set contains 28 strips, a full size Spotlight Whitening Toothpaste, Spotlight White Teeth Whitening Mouthwash, a bamboo tooth brush, lip mask and lip treatment.
The Handmade Soap Company Because You're Amazing Gift Set
The Handmade Soap Company is an Irish range offering handmade vegan products that are made from 100% natural ingredients. We stock many products from the range and are proud to support such a gorgeous brand. Offering soaps, skincare, candles and diffusers, there is something for everyone from this range. Their Because You're Amazing Gift Set is one of our favourites and would be make a beautiful gift for a loved one this year.
Full of essential oils and made from the finest natural ingredients, the Because You're Amazing gift set brings the gorgeous scent of lemongrass and cedarwood into the shower routine. This set contains a wonderfully natural shower gel which is delicately fragranced and full of essential oils, a silky body lotion and a rich and creamy hand cream. It's everything needed to make the skin feel amazing, and a great gift for an amazing someone in your life.
As you can see there are so many incredible Irish brands producing such high quality skincare, beauty and gifts all across Ireland so if you can show them your support and let's bring some of that 70% spend abroad home this year.
Oonagh x