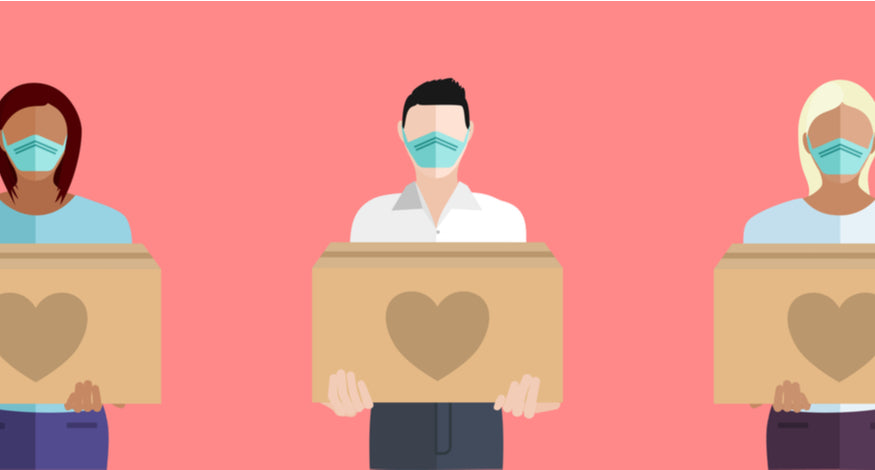 How to Help Others During Lockdown
Right now, is a really worrying and anxious time for the entire country, we are worried about our families, our friends, our communities and ourselves. You may be feeling overwhelmed and confused about everything that is happening. It is easy to get lost in the negative news cycle and loose our perspective.
What really matters right now is managing and best dealing with what is in our control, ensuring we take personal responsibility for our behaviour and choosing to help others where we can. We can band together as a community and weather this crisis together.
It is more important now than ever before that we take care of ourselves, both mentally and physically. Helping others really has an effect on our mental health and well being, boosting self-esteem, reducing stress and improving our mood.
 At times of crisis, we can feel helpless and a little lost. With that in mind we have compiled a list of ways in which you can help others during the pandemic.
Stay at home
The most important thing that you can do right now for those around you and for healthcare workers is to simply stay at home. If we all continue right now to keep our contacts to the absolute minimum- acting like we have the virus and don't want to pass it on, the rate of community infection will fall and thus the numbers of people contracting the virus will fall. It really is the most important job to do right now.
When you leave your house for whatever reason make sure you continue to wash your hands, wear a face covering and maintain social distance at all times.
Check in on others
A phone call or a text can really brighten up someone's day. Can you think of someone who may be particularly struggling right now? Maybe a friend who is a lone parent dealing with lockdown or a frontline worker who is working around the clock right now? Perhaps you know someone who is far away from their family right now or an elderly person who may be feeling particularly isolated.
A handwritten note can be super special right now or even just a call to check in on them, human connection is what we are really missing right now.
Be medicine aware
If you are concerned with how a family member is taking their medication a blister pack may be of help. Check out the Meaghers Easymed service where we can also dispense medicines into convenient 7-day packs known as 'Blister Packs'. The tablets are divided into separate compartments, all clearly marked with the time of day. These packs help you or your family member to keep track of your medicines and ensure the right medication is taken at the right time.
Or you can arrange for a medicine use review with our online pharmacist via Videocall here https://www.meagherspharmacy.ie/pages/video-pharmacist
Become a delivery angel
Can you check in on an elderly neighbour or someone who may be vulnerable, delivering groceries or prescription items or even just the paper can really help with the practical challenges of lockdown.
If you know of someone with COVID-19 symptoms, consider doing a grocery run for someone who would benefit, just leave it on their step and keep your distance when they answer the door.
If you know of someone who has a health concern they would like to discuss pass on the Meaghers helpline number: 014853098 or email us at help@meaghers.ie
Spread good news
What we see and hear has a huge impact on our mental wellbeing. Constant messages on the news, social media and in papers can have a really negative impact on our wellbeing. Try and balance that negative news cycle by spreading some positive news. Try sending messages of good news stories to friends and family members especially when its positive news relating to the pandemic, how it is bringing out the community spirit in us all. For some positive news check out this website: https://www.thegoodnewsmovement.com/
Support Local Business
Whether you want to support your local restaurant who had to temporarily shut their doors or you want to support a small café, hairdressers or beautician, buying a gift card right now could help them immensely.
A gift card will give the establishment funds right away. This could help support them now if business is slow or help them to re-open later if they've had to close down.
Check their website to see if you can buy a gift card online so you don't have to leave home. Even if they aren't open to the public at the moment, they may still be able to process gift cards.
Volunteer where you are needed
If you feel well enough and are open to volunteering find your local volunteer centre and log your interest at https://www.volunteer.ie/about-us/vcs-and-viss/find-your-vcvis/