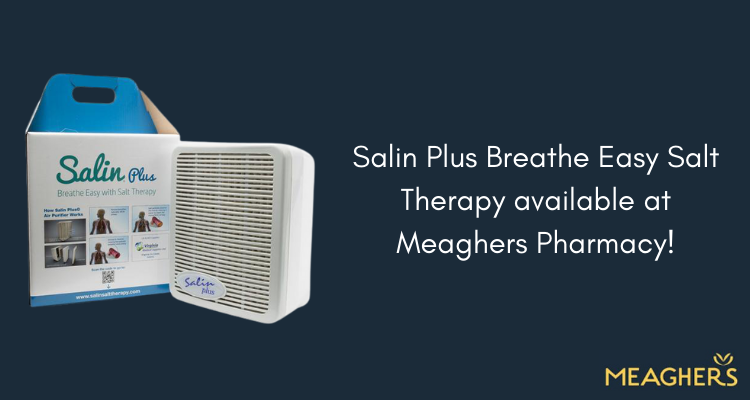 Answering all your questions about Salin Plus
What is Salin Plus?
Salin Plus is a Salt Therapy device that helps those with breathing difficulties to breathe better. Salt therapy may also be known as halotherapy and is a holistic, natural therapy that uses microparticles of salt similar to those found in salt rooms. It has been used for many years in eastern Europe and Russia where salt caverns are plentiful. In these countries, salt caves are use for the treatment and prevention of respiratory conditions.
The Salin Plus device is the world's first, 100% natural dry salt therapy device that is clinically proven to relieve a wide variety of respiratory conditions. It is a revolutionary device that enables you to experience the benefits of salt therapy from the comfort of your own home. To access salt therapy in Ireland you would often spend €20 for one hour in a salt therapy room. This device gives you access to salt therapy in your home as often as you need it.
How does it work?
The Salin Plus machine is supplied with a Salin Plus cartridges. These cartridges are filled with pure micro‐crystallised salts, primarily 98% Sodium Chloride (NaCl) and 0.5% Calcium Chloride and Magnesium. The fan pushes air through the cartridge which creates a fine constant spray of micro-crystalline salts in the surrounding environment which help to change the ionization of the air thus helping you breathe more easily and have a better night's sleep. It has different levels and can be turned up and down. There is a very quiet hum from the product that can hardly be heard on the lowest level.
What are the benefits of using Salin Plus?
Breathe better
Sleep better
Improved quality of life
Increases energy and mood
Help reduce the frequency and severity of infection
It is a natural anti-inflammatory and antihistamine
As a pharmacist, it is important to note that although there has been plenty of research there still remains a lack of robust scientific evidence to prove how it benefits. However, if there were to be larger randomised controlled trials we may be able to scientifically prove that there are evidence-based benefits to using salt therapy. This therapy should be used in addition to any prescribed medications or treatments and no changes to this should be made without having a discussion with your prescriber.
How do you use it?
This easy-to-use device purifies the air in many different types of rooms/areas.
This machine is recommended to be used at night to ensure minimum exposure to the environment of 8 hours a day. The more it is used the more effective it will be.
You can use this machine for a whole day and night if necessary.
The machine should be placed on a raised surface with room behind it, ensure it is in a safe stable area for air to flow. It is then plugged in.
As salt hygroscopically (naturally) draws moisture from the air it is important that the room in which Salin Plus device is being used is dry and NOT DAMP. If Salin Plus is being used in a humid or damp room/environment it could lead to the release of salty water from the device. This is not harmful to your health but it will drastically reduce the effectiveness of Salin Plus.
Who would benefit from Salin Plus?
We highly recommend this salt therapy product to our customers who are suffering from conditions such as:
Asthma
Cystic fibrosis
Bronchitis
Sinusitis
Sleep apnoea
Tuberculosis
COPD
Post nasal drip
Pneumonia
Cold and Flu
Snoring
Ear infections
Who is it suitable for?
It can be used by infants, children of all ages and adults alike.  
It is safe for use by pregnant women and is a good alternative to medication to treat congestion while pregnant.
Do I need to avoid if I am restricting salt in my diet?
No, Salin Plus emits about 0.1g of natural rock salt over a full 24-hour period. Only 0.1mg can be inhaled. The Irish Heart Foundation recommend no more than 4 grams of salt per day.
How much does it cost?
The cost for the device is €159 and the replacement filters cost €43.50.
Where can I get it from?
It is available to order into any of the Meagher's pharmacy stores or can be purchased online here. 
Our team is always here for you in any way that we can be. If you have any questions about Salin Plus then please contact any of our stores to discuss this with one of our expert pharmacy teams or contact our helpline on 01 485 3098 or email help@meagherspharmacy.ie.