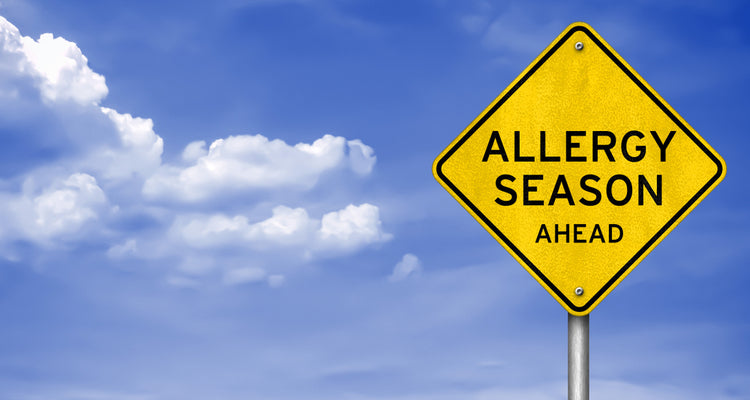 Telfast Antihistamine now available over the counter at Meaghers
With the peak of allergy season fast approaching we here at Meaghers are delighted to be able to provide you with the antihistamine Telfast over the counter.
Did you know that 25% of the Irish population suffer from hay-fever?
Allergies can impact significantly on your quality of life. There are many different treatment options available to manage your symptoms and now there is the option of Telfast too. If you are suffering with allergies speak with your pharmacist today to find the best options for you.
What is Hayfever?
Hayfever is a type of allergic rhinitis. Allergic rhinitis is a condition where an allergen (something that causes an allergic reaction) makes the inside of your nose inflamed. It also affects the sinuses (small air-filled cavities behind your cheekbones and forehead), throat and eyes.
The most common symptoms include but are not limited to:
Sneezing
Itchy, blocked or runny nose
Red, itchy, watery eyes
Itchy throat/mouth (oral allergy syndrome)
Itchy inner ear
Fatigue
Reduced sense of taste and smell
Headaches
Loss of concentration and generally feeling unwell.
Given that some of the symptoms are similar to those experienced by patients suffering from COVID-19 it is important to note that if you are in doubt at all around any symptoms, please contact a Healthcare Professional via phone or email to get more information.
What causes hayfever?
Allergic rhinitis can be caused by either pollen or spores. Trees, grass and plants release pollen as part of their reproductive process mainly during these months. This is then called seasonal rhinitis or more commonly hayfever. Allergic reactions often result in an increase in a substance called Histamine being produced in the body. Histamine is released naturally in response to something "harmful" being detected in the body. It causes blood vessels to expand and the skin to swell in an attempt to fight the "harmful reaction". In the case of hayfever, the body produces histamine in response to pollen. This then results in an itchy throat, runny nose, itchy red eyes, sneezing etc.
What is Telfast?
Telfast contains the medication fexofenadine hydrochloride and was previously only available on prescription. It is now available at a dose of 120mg over the counter from your pharmacist. Telfast provides allergy sufferers with fast, non-drowsy 24-hour relief from their symptoms.
It is a new generation oral antihistamine

It works to relieve nose, throat and eye symptoms of allergic rhinitis

It provides 24-hour relief

It starts to work within one hour
Who can take it?
It is suitable for those aged 12 and above. It is not suitable in pregnancy or breastfeeding. Always check with your pharmacist if you have any underlying allergies to any ingredients in Telfast, have heart conditions, liver or kidney problems or are taking any medications to make sure that this medicine is safe for you.
How do I take it?               
It is a tablet and should be swallowed once per day at the same time each day with water before a meal.
Are there any side effects?
Some people have reported headache, drowsiness, dizziness and nausea. If you experience any side effects from this medicine be sure contact your pharmacist for advice.
It is best not to take this medication with alcohol as this may make you very sleepy. Avoid drinking grapefruit juice with this tablet as it may make you more likely to suffer from the side effects.
Sometimes taking an antihistamine alone will not be enough to treat all of the symptoms that you are suffering from. Often, we will also recommend that you use eye drops, a nasal rinse or nasal spray in combination with your antihistamine to ensure that you aren't suffering. For information on the other treatments for hay fever check out our blog on allergies.
For any more information about this product or to get advice on the best way to treat your allergies please be sure to contact us by phoning any of our expert pharmacy teams, calling our helpline on 01 4853098 or emailing us at help@meagherspharmacy.ie.