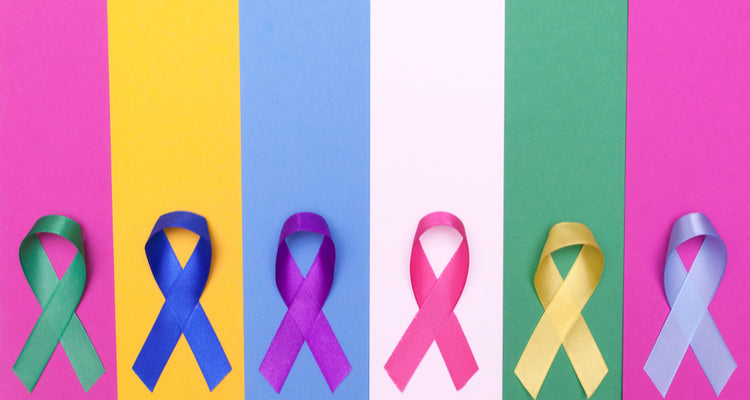 What Products are safe to use when undergoing cancer treatment?
When faced with the battle of your life, taking on breast cancer, it is so important to take pleasure from whatever will boost your physical and mental wellbeing. Be that a nice stretchy yoga class or a bright red lipstick, whatever boosts your mood - do more of that!
Aside from enhancing your mental wellbeing, using the correct products while going through treatment is vital for the health of your skin. Choosing non-toxic products that will be milder on sensitive skin will help avoid exposure to irritants and keep your skin's natural defence function intact.
Here are a few of our favourite products to use during cancer treatment.
For the Bath and Body Care:
Trilogy Botanical Body Wash
This gentle botanical cleanser leaves the skin feeling lovely and refreshed, it is a light texture gel and the scent will relax and soothe the mind, a real treat for the bath or shower because you deserve it!
Bioderma Atoderm Shower Oil
This oil is creamy and silky and non-greasy. Its ultra-light foam is specifically designed to respect the most sensitive skin. Use in the bath or shower in place of your shower gel.
Human and Kind Body Souffle
Lightly whipped for the Ultimate in Kindness, Human and Kind's 2-in-1 light and fluffy Body Soufflé is quickly absorbed and very effective on dry skin, it smells dreamy and is not sticky.
MooGoo Irritable Skin Balm
There's lots of things you won't find in this cream like Paraffin and Mineral Oil. It's a lightweight balm that easily sinks into skin soothing irritation, redness and dryness. This is so gentle you could almost eat it- please don't!
For the Hospital Bag:
Vichy Thermal Water
This light mist mineral water is rich in 15 minerals which help build a stronger skin barrier. When receiving treatment, you may notice your skin becoming weak, thin and easily irritated, this light mist, when sprayed directly onto the skin not only soothes but cools the skin providing relief when you need it.
Ren Hot Cloth Cleanser
This gentle, rich balm cleanser will leave the skin feeling refreshed, soft and nourished. Use with a damp flannel or a muslin cloth to purify and refresh the skin without fuss or mess.
Spacemasks
Spacemasks are self-heating eye masks that will transport you into deep relaxation - relieving tiredness, eye strain and tension. The warmth comes alive as soon as you open it. The heat will soothe tired eyes and help you unwind.
This Works Deep Sleep Pillow Spray
The ultimate aid in helping you fall asleep. The sleep super blend of Lavender, Camomile and Vetivert, helps to reduce sleep anxiety and improves your sleep quality. Spritz your pillow at bedtime and relax with the scent of relaxation.
Indeora Deodrant
When going through treatment for cancer it is suggested that you avoid the harsh toxins found in traditional anti-perspirant sprays and roll ons. Indeora deodorant is a natural magnesium-based deodorant with a faint scent of coconut and vanilla this super deo will not clog the pores, dries clear and contains 0% Aluminium or sulphates.
Skin Saviours
During treatment you may notice some changes to the skin on your face. Perhaps it is much drier than normal or you find a dullness to the tone. Maybe it's sensitive, showing signs in redness and irritation. It is important to remember that the powerful medicines that is helping you through this journey unfortunately will have an impact on the skin, your natural exfoliation process slows way down causing dullness and your skin becomes very sensitive. When the skin's protective barrier is compromised irritant rashes and infection may break open the skin's protective barrier.
Opt for a soothing and gentle skincare routine, swap out all exfoliators and acids for omega oils and calming ingredients. Rehydrate and soothe the skin when going through treatment.
Skingredients Good Fats
This incredible ceramide barrier balm works by replenishing your skin's essential fats, vitamins and goodness to bring equilibrium to your skin. Featuring skin-native lipid ceramide NP, shea butter glycerides and grapeseed oil, Skin Good Fats is packed with not only good fats but a clinically-proven, patented anti-irritation ingredient to stop those itches. For those feeling their skin is a little dull, it's also filled with potent antioxidants too, such as niacinamide – vitamin B3 – and vitamin E.
Trilogy Very Gentle Calming Serum
Trilogy's SOS serum contains a botanical complex to reduce irritation and protecting the skins natural barrier function. Calendula, chamomile and green tea will soothe and calm but also brighten the skin- a real treat for dehydrated and dry skin.
La Roche Posay Anthelios Sun Intolerance 
Specifically designed for people with sun-sensitive skin who are prone to UV intolerance. Full coverage sun protection is essential for anyone battling cancer. This formula delivers high tolerance, ultra-protection combined with antioxidants and soothing neurosensine to nourish skin, and limit sun-induced discomfort. It also provides a very high, broad, and photostable UVA/UVB protection with an optimal SPF of 50+/PPD39.