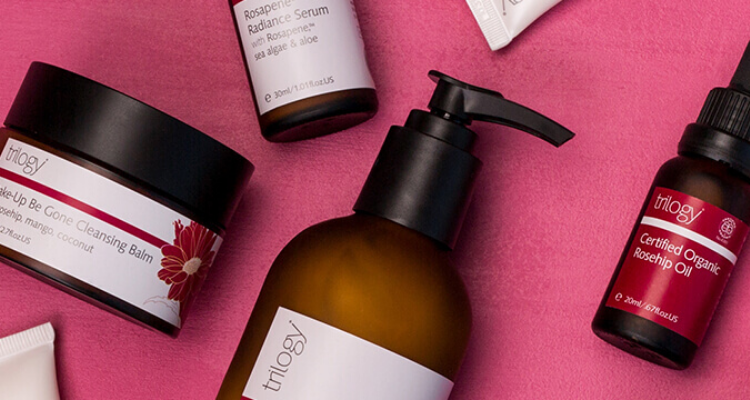 Oonagh's Top Picks from the Trilogy Range
As you know in Meaghers we are so passionate about skincare and have such a variety of brands to suit all skin care types and problems. I have noticed that many people are looking for a "natural" skincare routine and something that is very gentle and a real pamper for their skin.
Throughout the restrictions I have been taking a few hours out on a Sunday night and having a "pamper night" with a few hours in the bath and some TLC for my skin and body and one of the skincare brands I have been using and loving is the Trilogy range. It is completely natural and reminds me of being in a spa as it smells divine too.
Here are my top tips in the Trilogy range:
Rosehip Transformation Cleansing Oil
My cleanser from Trilogy, it is so quick and easy to use. Just two pumps onto your face and gently message the oil into the skin and around the eyes. It is safe to use on your lashes and around the eyes to get rid of stubborn mascara . While the Rosehip Oil and Sweet Almond Oil nourishes the skin, the Papaya lifts dead skin cells to ensure a truly cleansed result.
The pure oil blend transforms to a milky formula so you are not left with an oily residue on the skin.  Double cleanse with this product for gorgeous soft clean skin. It is super quick to use and suitable for all skin types melting away make-up, including long-wear make up and waterproof mascara.
Conventional cleansers and make-up removers typically contain alcohol or sodium lauryl sulphates which are known to dry out the skin and often leave a tight feeling, because this is when they strip skin off its protective sebum layer, and subsequently it's moisture.
The Rosehip Transformation Cleansing Oil is made with pure plant oils and free from mineral oil, alcohol and sodium lauryl sulphates, therefore never leaving your skin feeling tight or dry.
Hydrating Mist Toner
The Hydrating Mist Toner is refreshing and hydrating with Rose, Geranium, Lavender and Aloe Juice . It balances the PH of the skin after cleansing.  Spray it directly onto the skin after cleansing or if you wish to remove residue from the skin just spray it onto a cotton pad and sweep across the skin to give the skin a final cleanse. Hydrating Mist Toner smells amazing and can be used any time as a pick-me-up or to refresh make-up, I love to use it at my desk or in the car to hydrate my skin throughout the day. Because of the fine mist applicator, spraying over a made up skin does not smudge your make up and can be used as a fantastic refresh through the day.
Certified Organic Rosehip Oil
Made from 100% pure Rosehip Seed Oil, rosehip oil is loaded with skin-nourishing vitamins and essential fatty acids. You can use it all over your body and face to repair, nourish, hydrate and reduces inflammation of the skin. Trilogy grade their Rosehip Oil to ensure that it is the best quality rosehip oil on the market.
How to apply:
After Cleansing apply 3 drops and gently massage into the skin. The oil absorbs deeply into the skin to penetrate the layers allowing the oil to work where it is needed. Apply Rosehip Oil before your moisturiser of choice. You can use it morning or night. I personally use it morning and night for extra nourishment and hydration to keep those dreaded wrinkles at bay.
Using Rosehip Oil really improves the appearance of aging skin and any skin conditions including dry skin, psoriasis or eczema.
It is safe to use during pregnancy and is ideal for sensitive & delicate skin. It is proven to help the appearance of stretch marks by 43%, scars by 41% and Wrinkles by 23%.
As well as improving the health of the skin you will be delighted with how it gives your skin a beautiful glow.
Rosapene Radiance Night Cream
A beautiful light and fluffy night cream that is packed with Multi-vitamins to nourish, regenerate and restore a radiant and healthy complexion. Because of its light texture, Rosapene Radiance Night Cream it is suitable for all skin types and does not feel heavy on the skin. It contains Rosehip oil with a blend of antioxidants, goji berry, manuka honey, marula oil and avocado oil.
The Ingredients are slowly released into the skin during the night to give you glowing and hydrated skin to start your day.  Rosapene Radiance Night Cream can be used straight onto cleansed skin or after you apply Rosehip oil. This is a firm favourite with Trilogy lovers.
Mineral Radiance Mask
It draws impurities from the skin and absorbs excess oil on oily or combination areas yet revitalizes dry or mature skin for radiant results. Think of this mask as a vitamin injection for the skin when it feels like it needs a little help or a boost.
Mineral Radiance Mask contains our hero product Rosehip oil, Kaolin clay to draw out impurities, pohutukawa which helps calm and soothe the skin and evening primrose oil which is has natural anti-inflammatory properties.
The masks Non-drying and creamy formula means it does not tighten or dry out on the skin. It's anti-inflammatory properties are beneficial for acne prone skin or inflamed skin that needs nourishment whilst remaining gentle. After cleansing, apply a thin layer to clean skin, you can leave the mask on for 15 – 20 minutes and then remove with a warm damp face cloth. Used regularly, this mask gives you instant results and radiance.
Hydrating Jelly Mask
This is a leave on and wash off hydration mask. It restores radiance and suppleness to all skin types.  With Hyaluronic Acid to hydrate, Manuka Honey to heal and Rosehip Oil to nourish, repair and strengthen the skin, really is suitable for all skin types.
It is quick and easy to use, you just apply after cleansing. When applied it has a soft jelly texture. You can feel the skin soak in the goodness of those ingredients and the skin feels a little tight as the mask works its magic. After 10 –15 minutes wash off with a warm damp cloth.
A great all-rounder as it Hydrates and plumps the appearance of fines lines & wrinkles and is perfect for dehydrated tired skin.
Plus when you buy two products from the Trilogy range we have a FREE gift of two products – the VITAL moisturising cream and the Cream cleanser – both are very luxurious and like all the Trilogy products, they smell divine – When you close your eyes when using them you will feel that you are in your very own home spa.