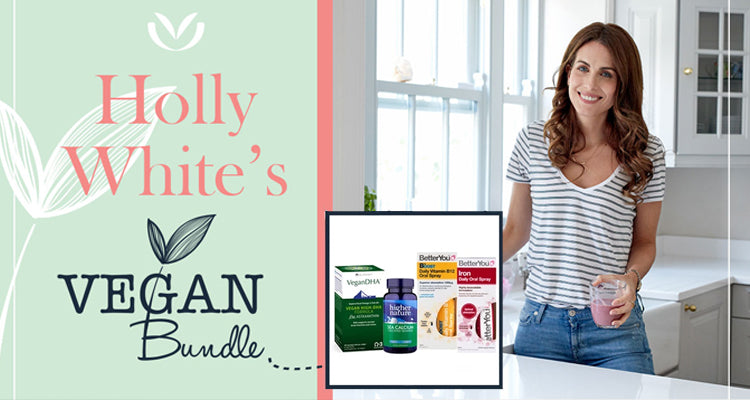 My Vegan Supplement Bundle Launches at Meaghers Pharmacy
One of the best decisions I have ever made was to adopt a vegan lifestyle five years ago.
When I look back on the beginning of my journey there was a lot of confusion around what to eat and what supplements to take to maintain my health and energy levels. Adjusting to the whole lifestyle took time and also involved educating myself both formally by doing several vegan cooking classes and also becoming certified in Plant Based Nutrition as well as gaining a diploma in general nutrition.
I feel it's one of the most empowering choice I have ever made. When I learnt about the environmental impact, I realised it was important for me to become more vocal. Given Ireland is now in a declared Climate Emergency this is not a time to be quite about the reality we are all facing.
Agriculture is one of the largest contributors to greenhouse gas emissions (more than all transport), potentially increasing to 50pc by 2050. Rearing livestock for animal-based products requires far more land, water and energy than producing grain; 27kg CO2 is generated per kilo beef in comparison to 0.9kg per kilo of lentils. According to a 2016 Oxford study, the adoption of a vegan diet globally would cut food-related emissions by 70%.
I have so many recipes on my site here and of course in my cookbook Vegan-ish but what I wanted to create was a definitive supplemental package to reassure everyone who wants to make the change. Naturally food is my first port of call for all my nutritional needs but especially when I am a bit run down, too busy to be cooking fresh foods every day or travelling, supplementation is a huge security.
Since my 36th birthday I feel healthier than I did a decade ago. I ran a 10 mile race with relative ease a few months back and haven't been ill in long time and I put this down a lot to my lifestyle. As a freelancer I am juggling different projects and client's needs and maintaining high energy levels is vital so I like to eat as well as I can and effectively supplement.
I had a discussion a long time ago with the team in Meaghers Pharmacy and said I wanted to create the best, most thoroughly researched Vegan Supplementation package. I am so excited to be collaborating with them to launch this. 
What's included:
Holly White, Vegan Supplements, Meaghers,
Better You Iron
I chose this Iron Oral Spray as being a liquid it quickly absorbs and also unlike other liquids it doesn't need to be dissolved in juice or liquid to take so it's very convenient to have in your bag or on your desk. Iron contributes to the normal function of the immune system, cognitive function and helps with the reduction of tiredness and fatigue.
Four Sprays under your tongue is a daily dose delivering 5 mg of iron.
Better You B12 Boost
This liquid B12 has a superior absorption and four sprays deliver an impressive 1,200μg of vitamin B12 and tastes delicious.  Vitamin B12 supports psychological functions and energy release and one of the trickier nutrients to get into a Vegan diet so supplementing is important. B12 has been shown to help form healthy red blood cells, contribute to a healthy heart, aid concentration and memory and combat tiredness and fatigue.
Higher Nature Sea Calcium
Calcium is a mineral necessary for bone and teeth. It also plays a role in muscle function, nerve signalling and heart health. Many people seem unaware of the many vegan sources of calcium. This Sea Calcium is formulated with calcium found in sea plants, lithothamnion calcareum, which is harvested from the pristine seas off the west coast of Ireland. This particular form of calcium is easily absorbed by the body and contains a number of other beneficial trace minerals and magnesium, which also aids bone health. I take tablets per day.
Vegan DHA
VeganDHA is a highly concentrated (75%) omega-3 food supplement (250 mg DHA + 750 mcg Astaxanthin) which contribute to the maintenance of a normal vision and a normal brain function with a daily intake of at least 250 mg DHA. While algae sourced Omega 3 supplements typically contain good levels of DHA and minimal levels of EPA, studies have suggested a diet high in algae sourced DHA can also lead to increased EPA levels in the body, due to retro conversion of DHA to EPA. 1 capsule gives you your daily intake of DHA.
You can purchase the Vegan Supplement pack in all Meaghers Pharmacies or order online HERE
An additional probiotic that I swear by and can be added to your Vegan Supplementation pack is Symprove. RRP for 1 months supply of Symprove is €99.99
I begin my day with Symprove and have been since January. It's quick to take and is a unique, liquid formulation containing four strains of live and activated bacteria which are delivered to the gut to support the microbiome. The 4 strains of naturally occurring bacteria are grown on an extract of germinated barley so it's totally vegan friendly. Each cup contains about 10 billion live colony forming units. Critically, Symprove is water-based so it doesn't trigger digestion, meaning it survives the hostile environment of your stomach. The four unique strains of bacteria in Symprove work together to ensure they thrive in the intestines and target areas of your gut quickly and effectively. There are some amazing studies showing that probiotics and probiotics increased bioavailability of micronutrients so this lays the perfect foundation for a healthy day and increased nutritional benefit.