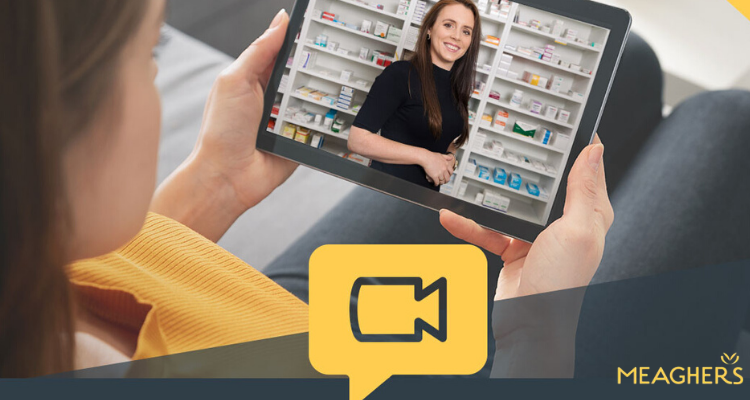 Meaghers Video Pharmacist Service
We are delighted to now offer a Video Pharmacist service, the first of its kind in Ireland. Our team of pharmacists are available for face-to-face consultations via an online video service, meaning you can still get great advise from our team without having to leave the comfort and safety of your own home.
This service is available for anyone who may have queries around their medicines and would benefit from a consultation with their pharmacist. These consultations are carried out via a secure video link, allowing you or your carer to have any medication queries answered and concerns addressed without having to physically visit your pharmacy. Any queries or concerns that you would normally discuss with your pharmacist in store, can now be addressed in a private, secure setting without the need to leave your home.
At Meaghers, we know that often when we dispense a new medicine to a customer there can be questions around side effects, drug interactions and how to take it. If you have been prescribed a new medicine by your doctor and would like to know more about it, our pharmacists are available to offer you advice, reassurance and peace of mind. 
The areas we can advise on include:
How your medication should be taken
The potential side affects you may experience
Any concerns you may have around your medication
If its an OTC product we can advise on possible interaction with existing medicines
Recommend OTC products to lessen side effects
*Please note that we are unable to prescribe medication. You must speak to your GP regarding new prescriptions and any medical concerns you have. 
For those of you who have had a prescription sent directly into us by your doctor, our pharmacists can agree a time that suits you for a video call before arranging to have your medicines delivered directly to your door. We can talk through the medication with you and address any concerns that you may have. These calls can take place on your mobile phone device, tablet or PC without the need for any additional technology.
Our highly experienced pharmacists are available Monday to Friday from 9-6pm.
To request a video call with one of our pharmacists – simply send a request to help@meagherspharmacy.ie or call us on our Helpline 01-485 3098.
Please see below for some Frequently Asked Questions: 
Who can request a video call with a pharmacist?
The following people or their carers can request a video call with one of our pharmacists:
• If you have a prescription from one of our pharmacies or have a prescription on file with us.
• If your GP has e-mailed an electronic prescription directly to us via Healthmail
• If you have a prescription at home and would like to get it dispensed.
• If you would like some advice around Over the Counter (OTC) medicines.
How do I request a call with a pharmacist?
The process could not be easier, simply email help@meagherspharmacy.ie and include the following:
• Name
• Mobile Number
• Brief reason for Video Call request
We will reply to your e-mail with a scheduled time and link for your video call, you are now in the hands of our highly skilled pharmacy team.
I need to get a prescription from my GP, what should I do?
Your GP can e-mail your prescription directly to us via Healthmail to meaghers@healthmail.ie. We will then contact you to schedule your video call and to discuss the items prescribed and any concerns you may have.
My prescription is at home, how do I get it to you?
Don't worry we can help, simply send us your prescriptions via FREEPOST to the following address:
Meaghers 
Licence Number: F5146
A3 Airton Business Park
Airton Road
Tallaght
D24 
Once we receive your prescription, we can then contact you to arrange your video call and go through any queries you may have or indeed if there are any OTC items that you may need.
How does a video call work?
In response to your e-mail, you will be sent the following message:
'Your appointment starts at 15:00 on 01/01/2020. Your access code is ABCDEF. Click here to connect to your video call: link to your appointment'
You simply click on the link and you will be sent directly to your video call. You do not need to download any additional apps or software and your call is secure and completely private.
What device do I need to use this service?
You can access this service using your smart phone, tablet or laptop. An internet connection will be required and if you are using a PC or laptop, you will need to make sure you have a camera.
What will the pharmacist discuss with me?

The pharmacist will advise you on the best and safest way to take and store your medication. They will provide advice around side effects, doses and durations of medicines. They will also answer any queries or concerns you may have around your medicines. Our pharmacists may also assist you in choosing the correct OTC medicines for your ailment.
How long does a video call typically last?
Calls will last a maximum of 15 mins.
Is there a charge for this service?
No, this service is available FREE OF CHARGE.
How long does it take to get an appointment?
During opening hours, you will have an appointment time within an hour.
When is this service available?
This service is available Monday to Friday 9am-6pm.