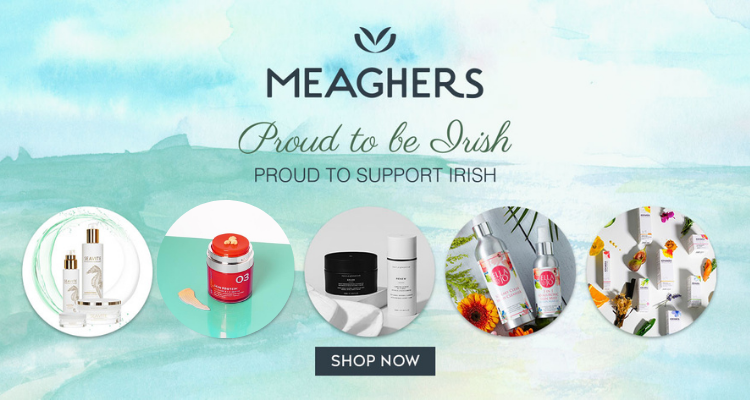 Irish Skincare Heroes: Our Top Picks!
Every year in March we love to celebrate all things Irish, and especially the amazing Irish brands that we stock. As an Irish owned and operated company, we really appreciate every customer that chooses to shop in Meaghers rather than on an international website or in a large chain of pharmacies who are owed by large corporations. Every time you shop local and with a small business you are making a real difference to that business and to the team behind the business, supporting jobs and the Irish economy. 
This March we want to shine a light on some of the amazing Irish brands that are stocked in Meaghers. These indigenous Irish brands are competing on a world stage against some of the most powerful and largest cosmetic companies in the world and they are holding their own! Our little island is rich in natural resources, the best quality ingredients and most importantly expertise! The Irish entrepreneurs behind these brands are a force to be reckoned with and we salute every one of them. 
Below are a number of the incredible Irish skincare brands we stock and my top picks from the brands.
Kinvara Skincare
Dr Joanne Reilly has a degree in natural sciences from Trinity College Dublin and a PhD from Manchester Metropolitan University, as well as a post graduate diploma from the National University of Ireland in Community Development. This lady combined her passion for science and the natural world to create a brand of skincare that turned to plants as a natural resource, a natural apothecary. What we love about Kinvara skincare is that they source the ingredients for their products, primarily from plant extracts in different forms as well as minerals, clays and seaweeds. Including seaweeds from the West Coast of Ireland. They use a high % of plant extracts, effectively making Kinvara products ml for ml some of the most plant powered products on the market today. 
Kinvara Absolute Cleansing Oil is the perfect cleanser for all ages and skin types. It really is a cult buy from the brand because it is an effective yet kind cleanser, transforms your daily cleansing routine into a spa experience, and the blend of nourishing and balancing plant oils feels and smells amazing! Apply all over a dry face and remove with a warm, damp washcloth for perfectly soft and cleansed skin.
Pestle and Mortar
Pestle and Mortar is now an iconic Irish brand, the founder Sonia Deasey is an inspiration! The brand itself is rooted by Sonia's Indian heritage in Natural Healing. For six generations, her family have practised as Medicine Men in India. Pestle and Mortar have a suite of products that are effective, cruelty free, clean and hero ingredients are included throughout the range but not repeated so you can layer the products without doubling up. Genius!
The hero product from the range for me is the Pestle and Mortar pure Hyaluronic serum. Many have tried and no brand has succeeded in topping this product in terms of effectiveness. This silky non-sticky formula contains 3 levels of molecular weights of HA, meaning that it provides distinct skin benefits. High molecular weight HA locks in moisture, mid molecular weight HA provides hydration to mid-dermal layers, and low molecular weight HA penetrates deep into the skin to stimulate the body's own HA production systems. The all-round skin hero for all skin types to boost hydration and plump up those signs of aging. 
Skingredients
Created by Ireland's Queen of Skin Jennifer Rock, an award winning facialist and all-round Skin Nerd! The Skingredients range is comprised of a capsule collection of 4 products Numbered accordingly, these Core 4 are suitable for all skin types, genders and ages, the mix and match products tackle specific skincare concerns, a really intelligent way to customise your skincare to match your skins needs. The highly effective products are also vegan friendly and don't include any synthetic fragrances and respect the skin!
My go to product from the range is the Skin protein skin serum (number 3 from the core 4). This intelligent multi ingredient product contains Vitamin A, C and E all active anti-aging ingredients, a fuss free twice a day serum that will help brighten and smooth the skin with antioxidants + a pro-collagen peptide + tea extracts (not suitable for use during pregnancy).
Ella & Jo
An amazing homegrown brand of skin and beauty products by Charlene Flanagan and Niamh Ryan, two of Ireland's leading makeup artists. Ella & Jo are a brand that makes functional and effective products that make everyday beauty easier! The innovative, effective products were created to simplify and boost your beauty routine.
The 3 in 1 Hyaluronic Skin Mist is a multifunctional product that helps condition and protect the skin. This soothing facial spritz with extracts of Chamomile, Cucumber, Witchhazel, Aloe Vera & Green Tea is specially formulated with mild ingredients including Hyaluronic Acid to help hydrate the skin. This is one of our favourite products to help boost the skins hydration while wearing a face covering.
Bloom
Bloom is a small Irish company delivering a new wave of innovative skincare products to help boost the skin's health using the best of skin ingredients. From the reusable facial and body puffs to their active serum and day creams Bloom delivers glowing and healthy skin.
Their Turmeric clay mask is a sensational product that uses natural turmeric extract along with bentonite clay powder to help smooth and brighten the skin while clearing pores and tightening the skin for a fresher and clearer appearance. 
Alisio Beauty
The brainchild of Irish businesswoman Andrea Roche, Alisio Beauty is a brand to watch! Their natural, organic lip balms already have a cult following and are free from preservatives, petroleum-based ingredients and synthetic ingredients. Alisio uses only the best of natural ingredients to deliver the results we all want! 
The Fresh Mint Moisturising Lip Balm leaves a non-sticky, beautifully brightening sheen on the lips for the perfect pout. The balm is packed with super-food ingredients to deliver deep nourishment and hydration to your lips. 
Seavite
A real Irish family business, Seavite was started in the 1980's by Patrick Mulrooney, a Marine scientist in search of a treatment for his daughters' eczema from the seaweed off the West Coast of Ireland. Those daughters, Katherine, and Jane, both went on to become medical doctors, with Masters' in Clinical Dermatology. The now iconic Irish doctors have built on their father's legacy using the latest scientific developments and proven anti-ageing ingredients, while staying true to the brand's core values of purity and healing.
The brands Super Nutrient Firming and toning body lotion is powered with stimulating seaweed extracts and advanced active botanicals, this energising body formula helps to tone and firm the silhouette, while nourishing even the driest skin.