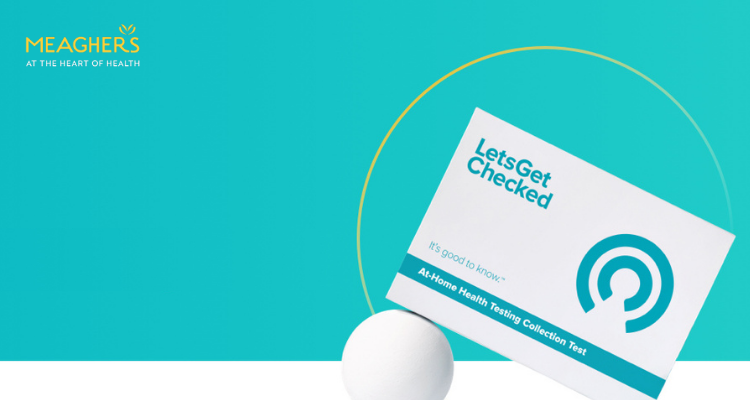 All You Need to Know About LetsGetChecked
Are you struggling to find time to prioritise your health? LetsGetChecked have you covered with a better way to manage your health. Meaghers are now proud to offer the convenient at home testing kits from LetsGetChecked. There are a wide variety of home testing kits that can be delivered to your home and carried out with results being returned in a matter of days. Meaghers offer a 30% discount on all testing kits when ordered through our website.
The process is simple:
Choose your test from over 35 different options
Enter the code MEAGHERS at checkout for 30% off
Receive the test in the post with fast delivery
Collect your sample
Send the sample to the LetsGetChecked lab in the post
Results are reviewed by the LetsGetChecked medical team
Receive your results within 2-5 days
Having received your results you have the support of the LetsGetChecked team to discuss your test results and guide you through the next steps.
Some of the testing kits that LetsGetChecked offer are: 
Male Hormone Advanced Testing
This test provides a comprehensive overview of a man's hormonal health which will help to identify imbalances and give a boost to performance. Did you know that testosterone levels in men typically fall an average of 1% every year after the age of 30. Testosterone plays a crucial role in mental health, bone density, energy, muscle distribution, fat distribution and sex drive.
This test is ideal for men in a couple looking to improve their sex drive and fertility, men interested in strength training and also men who live very busy and stressful lives.
It is important to have this test carried out for the following reasons:
You are undergoing chemo or radiation
You suffer from Type 1 or Type 2 diabetes
You are obese
You suffer from chronic stress or depression
You take steroids
You have a family history of low testosterone
You have thyroid issues
You have kidney or liver disease
You have anorexia
You have had a testicular injury
Thyroid Testing
Up to 1 in 8 women will develop a thyroid problem and over 60% are unaware that they have the condition. Although it is more common for women it can affect men too. Your thyroid is a gland in the neck that produces hormones that regulate many different systems such as heart rate and body temperature. People who suffer with thyroid disorders have a thyroid that is producing too much or too little thyroid hormone.
People who have an imbalance of their thyroid suffer from many different symptoms such as poor gut health, irregular temperature, hair growth or loss, dry skin, sleep disturbances, fatigue, weight fluctuations, mood disorders and more.
A simple blood test can determine if your thyroid is not functioning correctly which can be done in the comfort of your own home thanks to LetsGetChecked.
Fertility Testing
Have you ever wanted to get an insight into your fertility? Now you can with a simple at home kit that will give you the answers you are looking for. No clinic, no appointments - just answers! These tests give you a comprehensive overview of your hormonal health.
Diabetes Testing
84% of people with diabetes are unaware that they have it and that is why it is so important to test your blood sugars in order to ensure that you are not suffering in silence. The LetsGetChecked diabetes test measures your hBA1C, which is an indicator of how well your body is managing excess sugars in your blood.
Heart Testing
High cholesterol does not show symptoms whatsoever and therefore it is crucial to have your cholesterol checked. Having high cholesterol puts you at risk of heart disease, stroke and heart attack. It can be managed if identified early by lifestyle and dietary changes and in other cases you do need medication to treat it. The LetsGetChecked team are there to guide you through your diagnosis regardless of the results.
If you would like more information about any of the LetsGetChecked kits please be sure to reach out to any one of our teams or check out those available through our website. Remember that you get 30% off when you order a kit through our website or click here to order yours now.