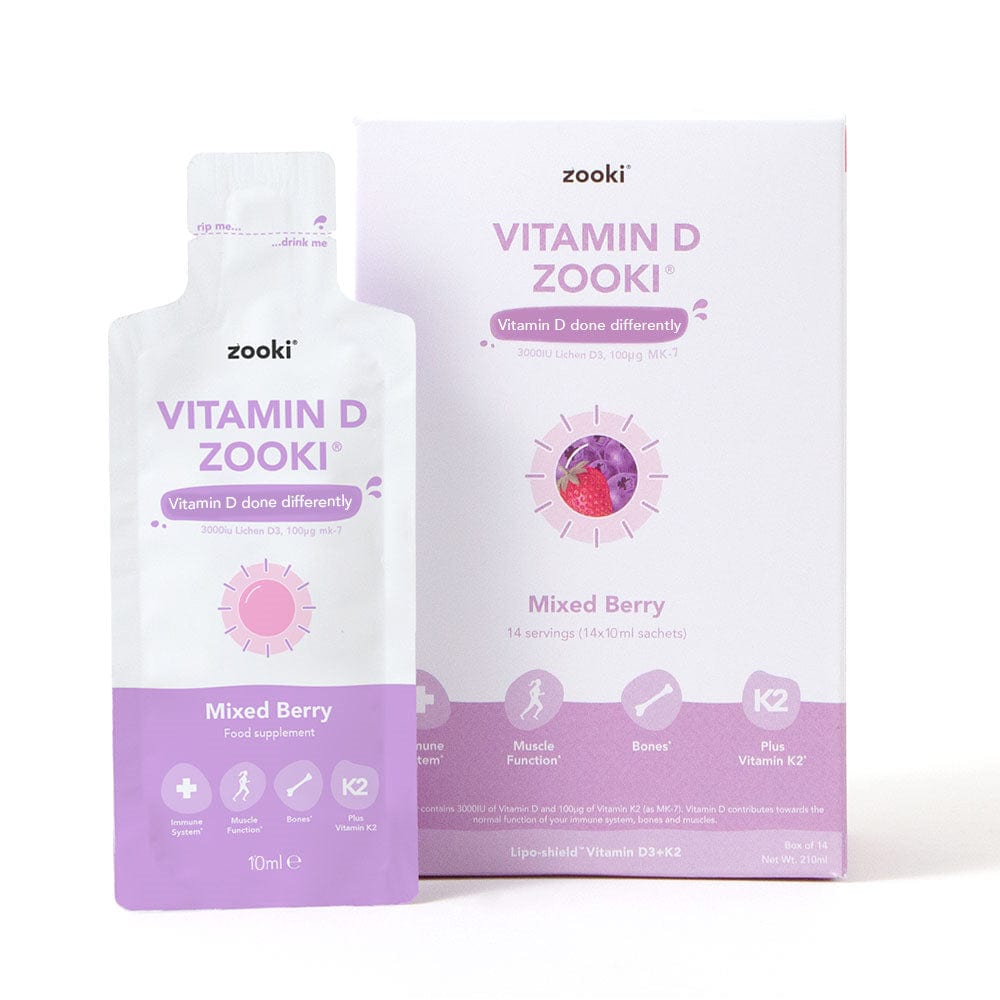 Zooki Liposomal Vitamin D3 +K2 Mixed Berry
Description

Directions

Reviews
A delicious daily dose of Vitamin D to support the immune system, muscle function and bones. 14 servings per box.
Each sachet of Vitamin D Zooki contains 3000IU Lichen D3 and 100UG K2 wrapped in "Liposomes". Vitamin D contributes towards the normal function of the immune system & muscles and both Vitamin D & K support bone health.
Liposomal encapsulation
We wrap Vitamin D and K2 inside "Liposomes" made up from essential phospholipids
Added Vitamin K2
Vitamin D3 and Vitamin K2 work together synergistically to support the strength of our bones
100% natural ingredients
We use only 100% natural sustainably sourced ingredients
Vegan friendly
Unlike most Vitamin D, we use plant-based Vitamin D3 (Cholecalciferol) from a type of algae called Lichen
Mixed berry
Flavoured with natural strawberry and blueberry extracts for a delicious taste straight from the sachet
Free from
Sugar free, gluten free, dairy-free, soy free and alcohol free
Each box of Vitamin D Zooki contains 14 sachets, which can be enjoyed straight or added to water, smoothies, yoghurt, porridge, granola and more. Take Vitamin D Zooki in the morning as part of your daily routine!
Meaghers Blog
 By choosing ethically and sustainably produced beauty products we contribute to a more environmentally conscious and socially responsible industry. 

Lets look at some sustainable choices you can make in your beauty routine

Read now

This is the perfect time of year to look at the habits we would like to build to be the best version of ourselves for the term ahead. Small changes to nutrition, movement, sleep and gut health can make a huge impact on our wellbeing.

Read now