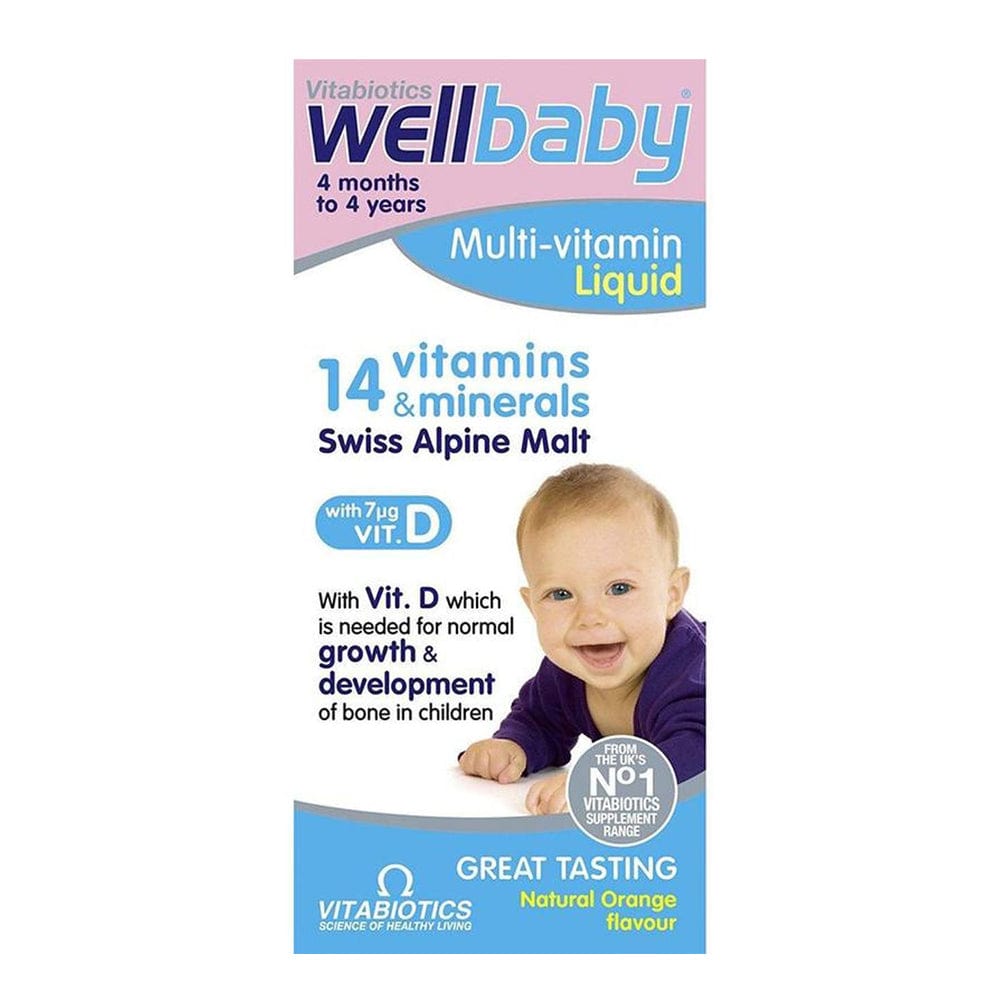 Vitabiotics Wellbaby Infant Liquid 150ml
Save

Liquid error (snippets/product-badge line 106): Computation results in '-Infinity'

%
Wellbaby Multi-vitamin Liquid is ideal for babies and young children from 6 months to 4 years to provide a carefully balanced, comprehensive range of 14 essential vitamins and minerals. Wellbaby Multi-vitamin Liquid with Swiss Alpine malt has a delicious taste your little one will love.
Wellbaby Multi-vitamin Liquid formula includes vitamins A, C and D. The UK Department of Health recommends that all children aged 6 months to five years should be given a supplement that contains these vitamins.†
Wellbaby Multi-vitamin Liquid provides an ideal nutritional safeguard during a time when babies and infants have a high nutrient requirement in relation to body size, to support their rapid physical growth and development of bones, muscles, blood and the brain. Key nutrients include iron, which contributes to normal cognitive development, and 10mcg vitamin D, which is needed for normal growth and development of bone in children. Vitamin D also contributes to their normal immune system function.
For convenience and to avoid spillages, we recommend that the liquid is mixed into your baby's usual milk or water. (See formula page for Directions)
†Unless your child is drinking 500ml (or approx. 1 pint) of infant formula a day, as infant formula has vitamins added to it.
What is cognitive development?
It's easy to keep an eye on your newborn and observe the changes in weight and size as he or she grows from baby to toddler to young infant and child. However, it's not so easy to see what's happening inside the brain, but all the while it is busy developing. Right from your baby's arrival in the world, he's looking around and learning at an incredible pace.
Over time, your baby's brain will develop the skills of perception, thought, memory, language and physical co-ordination and this process by which your baby gradually learns these skills is called cognitive development.
Directions for use
USE SPOON TO MEASURE LIQUID, THEN MIX INTO YOUR BABY'S USUAL MILK OR WATER
6 months to 4 years: 5ml daily (1 teaspoonful)
5ml daily (1 teaspoonful)

For children aged 3 - 4 years the amount may be administered directly from spoon if desired.
Meaghers Blog
 By choosing ethically and sustainably produced beauty products we contribute to a more environmentally conscious and socially responsible industry. 

Lets look at some sustainable choices you can make in your beauty routine

Read now

This is the perfect time of year to look at the habits we would like to build to be the best version of ourselves for the term ahead. Small changes to nutrition, movement, sleep and gut health can make a huge impact on our wellbeing.

Read now