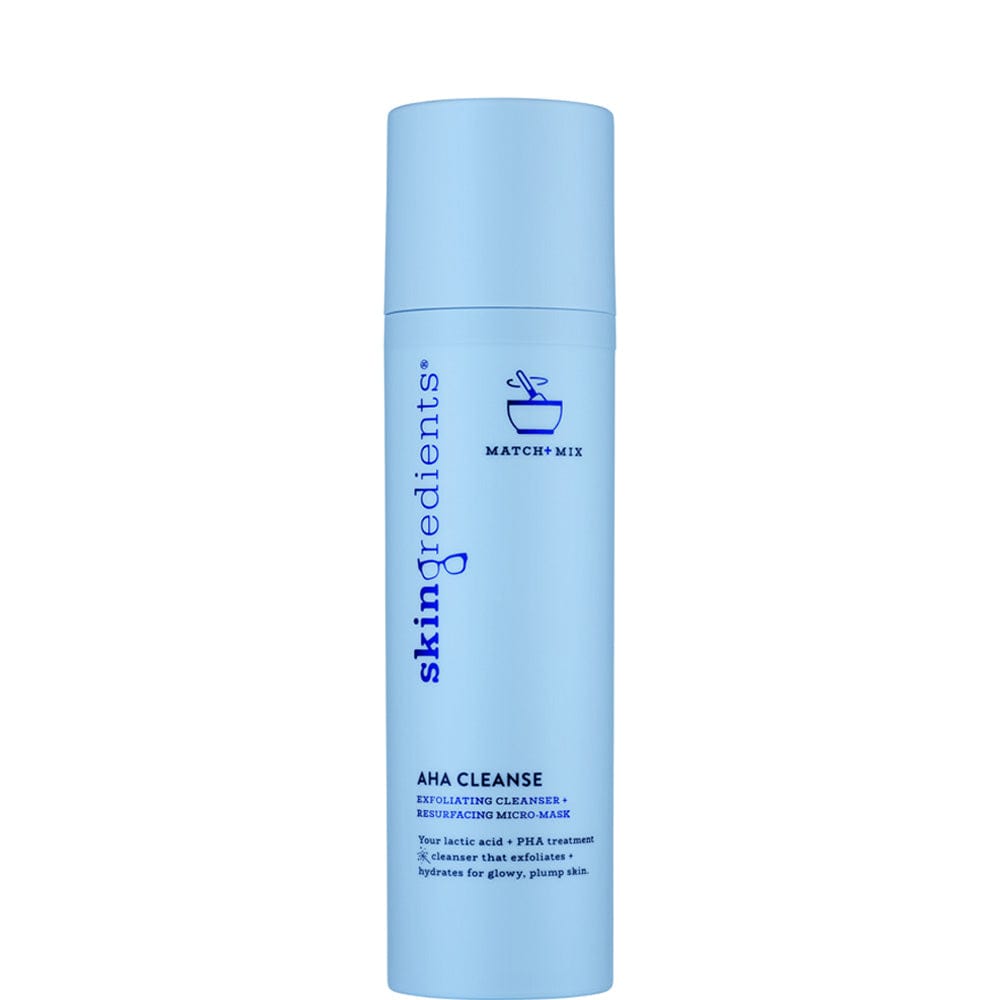 Skingredients AHA Cleanse Brightening and Exfoliating Lactic Acid Cleanser
Save

Liquid error (snippets/product-badge line 106): Computation results in '-Infinity'

%
Description

Who it's for?

Directions

Ingredients

Reviews
Skingredients® NEW AHA! Cleanse® (100ml) is an active cleanser and micro-mask that contains 8% lactic acid and 1% PHA, which work in harmony to brighten, exfoliate, hydrate and plump the skin. Part of the Skingredients Match + Mix range, use AHA Cleanse 2 to 3 times a week, alternating with PreProbiotic Cleanse, for luminous, glowing skin.

Lactic acid is an alpha-hydroxy acid that exfoliates the skin by gently loosening and sweeping away dead skin cells from the skin's surface. This cleanser promotes smooth, even skin and increases the rate of skin cell turnover. Exfoliating yet importantly also hydrating, our nerdie panellists have been loving the instant glowing results whilst not over-exfoliating the skin. Found your favourite new way to GLOW?
You must buy the refillable long-life primary pack first to enable you to pop in your refills! This Primary Pack tube is your tube-for-life that's made from resilient, ultra-durable materials. Ensure you keep your primary pack and switch to buying a refill tube next time. The slot-in Refill inner tube clicks into the refillable original primary pack product from our the NEW Skingredients refillable range only.
Benefits:
Vegan
Cruelty Free
Refillable
Main Ingredients:

Lactic acid:

 

an alpha hydroxy acid (AHA) that loosens the bonds keeping dead skin cells attached to the skin, large molecule size for gentle exfoliation, brightening
Polyhydroxy acid (PHA):

 

a gentler exfoliating acid that has humectant abilities, which means it attracts and retains moisture within the skin for hydrated skin
Those with dull, fatigued or lacklustre skin

 

– the blend of lactic acid and a PHA will reveal the skin's inner glow
Not for those with super sensitive skin

 

– we always recommend patch testing
Suitable for mamas-to-be

 

(suitable for use during pregnancy)
Use in the PM two to three times a week, after pre-cleansing – remember, be careful of your delicate eye area! Pump a coin-sized amount of cleanser into wet palms. Massage into your face using firm, circular, outward motions. After 60 seconds, rinse and remove with hands or a face cloth.
To use AHA Cleanse as a Micro-Mask: Massage AHA Cleanse into cleansed skin, leave for 7 minutes and then remove. We recommend that you do this once a week, maximum. It's 2 products in 1 – we love it just as much as you!

How To Refill:
To begin, twist your inner tube out.
Twist off the pump and the collar – keep your pump and collar.
Take your refill tube, remove the lid, replace the collar and twist the lid back on.
Screw the inner tube into the outer tube and away you go, ready to cleanse.
Aqua (Water), Lactic Acid [1], Glycerin [2], Myristyl Myristate [3], Glyceryl Stearate [4], Squalane [3], Caprlylic/Capric Triglyceride [3], Ethylhexyl Palmitate [3], Cetearyl Alcohol [3], Propanediol [2], Sodium Hydroxide [5], Stearic Acid [3], Gluconolactone [6], Phenoxyethanol [7], Xanthan Gum [8], Caprylyl glycol [3], Citric Acid [5].
Glossary:  [1] Alpha Hydroxy acid (Exfoliating AHA), [2] Hydrator (Humectant), [3] Emollient, [4] Emollient [5] pH Balancer, [6] Polyhydroxy Acid (Exfoliating PHA), [7] Preservative, [8] Texture Enhancer.
Meaghers Blog
 By choosing ethically and sustainably produced beauty products we contribute to a more environmentally conscious and socially responsible industry. 

Lets look at some sustainable choices you can make in your beauty routine

Read now

This is the perfect time of year to look at the habits we would like to build to be the best version of ourselves for the term ahead. Small changes to nutrition, movement, sleep and gut health can make a huge impact on our wellbeing.

Read now