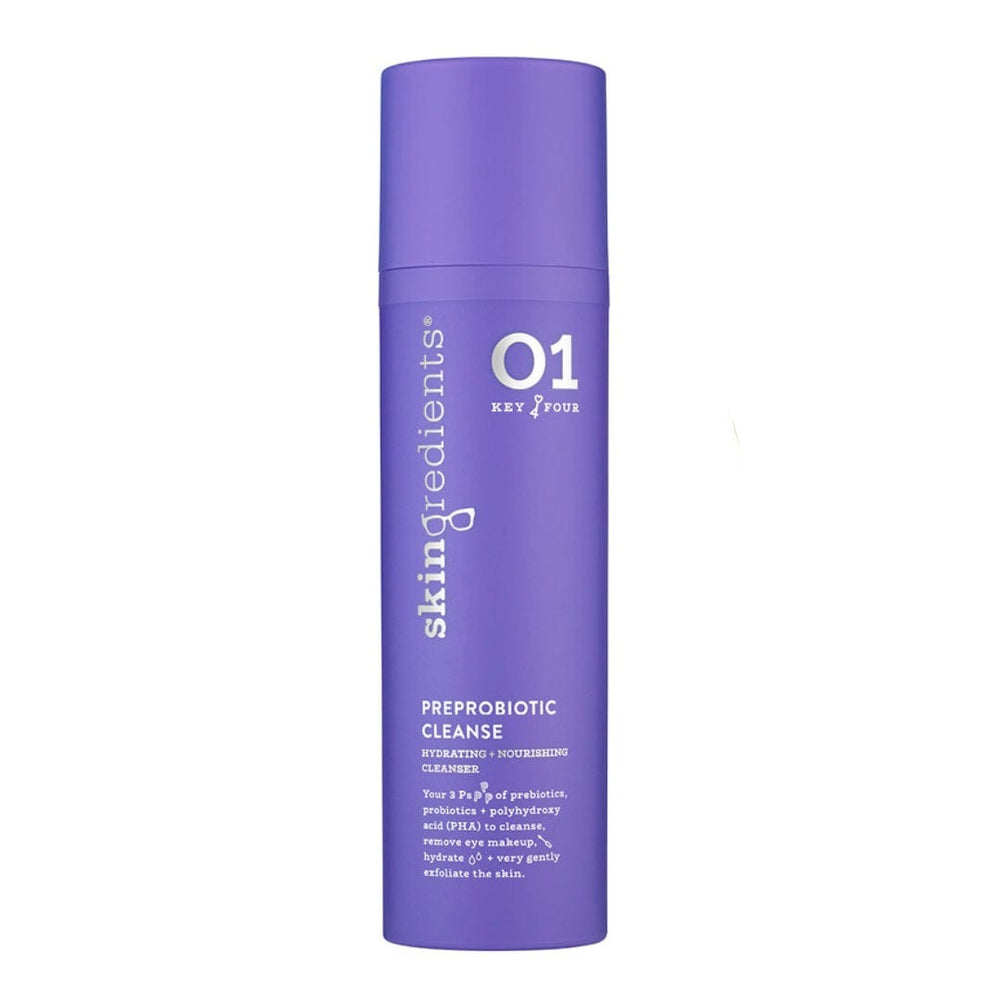 Skingredients PreProbiotic Cleanse Hydrating Cleanser
Description

Who it's for?

Directions

Ingredients

Reviews
Skingredients® PreProbiotic Cleanse Hydrating Cleanser (100ml) is your dreamy, creamy, lightweight cleansing lotion that's suitable for all hooman's® skin – oily skin types too! It's a cleanser that's gentle enough to nurture + balance your skin, with the muscle to remove stubborn eye makeup and cleanse away the remains of the day. Because you deserve a cleanser that can do both.

The clue is in the name: this cream cleanser is formulated with the three 'p's, it's brimming with prebiotics, probiotics and polyhydroxy acid (PHA). But it doesn't stop there, it's also non-comedogenic and powerful enough to remove oil, pollution particles, SPF and makeup, including stubborn eye makeup, while remaining respectful to your skin's natural barrier. After falling in love with 01® (aka the purple one) and using every last pump, keep your primary pack and switch to buying a refill tube next time. This Primary Pack tube is your tube-for-life that's made from resilient, ultra-durable materials.

You must buy the refillable long-life primary pack first to enable you to pop in your refills! This Primary Pack tube is your tube-for-life that's made from resilient, ultra-durable materials. Ensure you keep your primary pack and switch to buying a refill tube next time. The slot-in Refill inner tube clicks into the refillable original primary pack product from our the NEW Skingredients refillable range only
PreProbiotic Cleanse is the 01 in the Skingredients KeyFour regime. Use it in the AM + PM to cleanse and prep your skin for the skincare that follows. PreProbiotic Cleanse keeps moisture on lockdown and gives back to your skin, we're sure you + your skin will be obsessed – the skincare hall of fame is calling, we think!
Benefits:
Vegan
Cruelty Free
Refillable
Main Ingredients:
• Oligosaccharide: a hydrating + skin-soothing prebiotic that helps to prevent trans epidermal water loss (TEWL)
• Lactobacillus: a dairy-free probiotic that boosts the skin's natural moisturising factor for hydrated skin
• Gluconolactone: a polyhydroxy acid (PHA) for hydration and ultra-mild exfoliation
• Capric triglyceride: a combination of coconut oil + glycerin for skin-softening + hydration
• All hoomans® (aka humans)– regardless of your skin type, including mamas-to-be
• Dry or dehydrated skin – wave goodbye to that feeling of too-tight skin with our skin respectful formula
• Oily or congestion skin – non-comedogenic because you need balance too
• Irritated, flaky or red skin – free from fragrances and drying alcohols
Use daily, AM + PM as a first or second cleanse, or alternating with a treatment cleanser.
Pump a coin-sized amount of cleanser into wet palms. Massage into your face using firm, circular, outward motions. After 60 seconds, rinse and remove with wet hands or a face cloth (we love our Cleanse Off Mitt!)

Please note: The slot-in refill tube clicks into our original, primary packaging. You must buy the refillable PreProbiotic Cleanse Primary pack first to use your refill tube.

How to refill PreProbiotic Cleanse:
1. To begin, twist your existing inner tube out.
2. Twist off the pump and the collar – keep your pump and collar close!
3. Take your refill tube, remove the lid, replace the collar and twist the pump back on.
4. Screw the inner tube into the outer tube.
5. Wash, dry + recycle your refill.
6. Away you go, ready to cleanse!

Tip: Apply PreProbiotic Cleanse to the skin and leave for 20 minutes as a soothing + hydrating micro-mask, before removing with a face cloth.
Aqua (Water), Ethylhexyl Palmitate [1], Caprylic/Capric Triglyceride [1], Glycerin [2], Glyceryl Stearate [3], Myristyl Myristate [1], Alpha-Glucan Oligosaccharide [1], Palmitic Acid [3], Stearic Acid [3], Gluconolactone [4], Cetearyl Alcohol [3], Phenoxyethanol [5], Polymnia Sonchifolia Root Juice [2], Lactobacillus [6], Punica Granatum Seed Oil [1],  Arginine [7],  Lysine Hcl  [7], Creatine [7],  Calcium Gluconate [2], Xanthan Gum [8] , Sodium Benzoate [5], Maltodextrin [9],Citric Acid [10], Sodium Hydroxide [10]
Gossary: [1] Emollient, [2] Hydrator (Humectant), [3] Emulsifier, [4] Polyhydroxy Acid (PHA), [5] Preservative, [6] Probiotic Bacteria, [7] Amino Acid, [8] Texture Enhancer, [9] Stabiliser, [10] pH Balancer.
Meaghers Blog
Nutritionist Lucy Brennan 

ANutr shares her tips and advice when it comes to supporting male mental health.

Read now

Nutritionist Lucy Brennan 

ANutr shares her top tips on the best foods to incorporate into your diet when going through menopause.

Read now