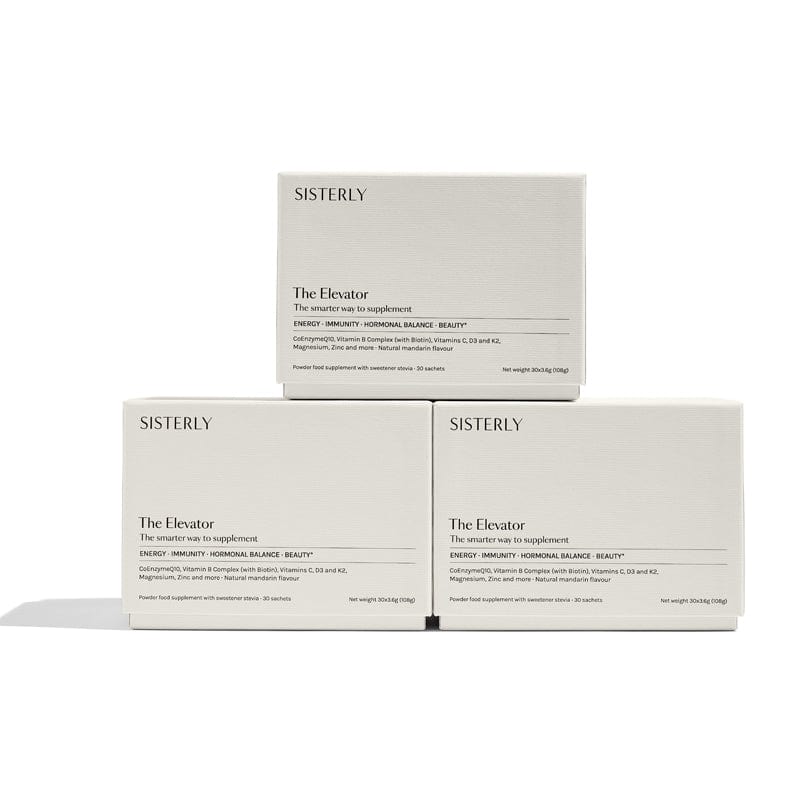 Sisterly The Elevator Bundle
Description

Directions

Ingredients

Reviews
Elevate your health with the must-have nutrients the female body really needs. Simplify and upgrade your daily routine and start to bring your body back into balance. 
✓ Support energy and metabolism
✓ Prime your immune defences 
✓ Better hormone balance
✓ Naturally glowing skin, hair and nails
Sisterly's vision is to give female health the time and attention it deserves. All products are developed and designed by a formidable team of doctors, nutritionists and female health experts who are guided by science, each with over a decade of experience. 
Step 1. Empty the sachet into a glass or water bottle.
Step 2. Add water, a favourite juice or smoothie.
Step 3. Stir and enjoy. We recommend taking The Elevator in the morning so you can benefit from an all day energy boost. Ideally leave a 15 minute gap before consuming other food or beverages for maximum absorption.
Magnesium Citrate, Chicory Root Soluble Fibre Powder, Vitamin C (Calcium Ascorbate), CoEnzymeQ10 (Ubiquinone), Natural Mandarin Flavouring, Vitamin E (D-Alpha Tocopheryl Acetate), Vitamin B5 (Calcium Pantothenate), Anti Caking Agent: Silicon Dioxide, Vitamin B3 (Nicotinamide), Sodium Selenite, Zinc Citrate, Vitamin K2 (Menaquinone -7), Vitamin D3 (Cholecalciferol Vegan), Vitamin B6 (Pyridoxal 5-Phosphate), Iodine (Potassium Iodide), Vitamin B2 (Riboflavin 5-Phosphate ), Vitamin B1 (Thiamine HCI), Black Pepper Extract 95% Piperine, Vitamin A (Retinol Acetate), Sweetener: Steviol Glycosides from Stevia, Manganese (Trimanganese Citrate), Copper Gluconate, Vitamin B12 (Methylcobalamin), Folate (L-5-Methyltetrahydrofolate Calcium), Chromium Picolinate, D-Biotin, Molybdenum (Sodium Molybdate)
Meaghers Blog
Nutritionist Lucy Brennan 

ANutr shares her tips and advice when it comes to supporting male mental health.

Read now

Nutritionist Lucy Brennan 

ANutr shares her top tips on the best foods to incorporate into your diet when going through menopause.

Read now