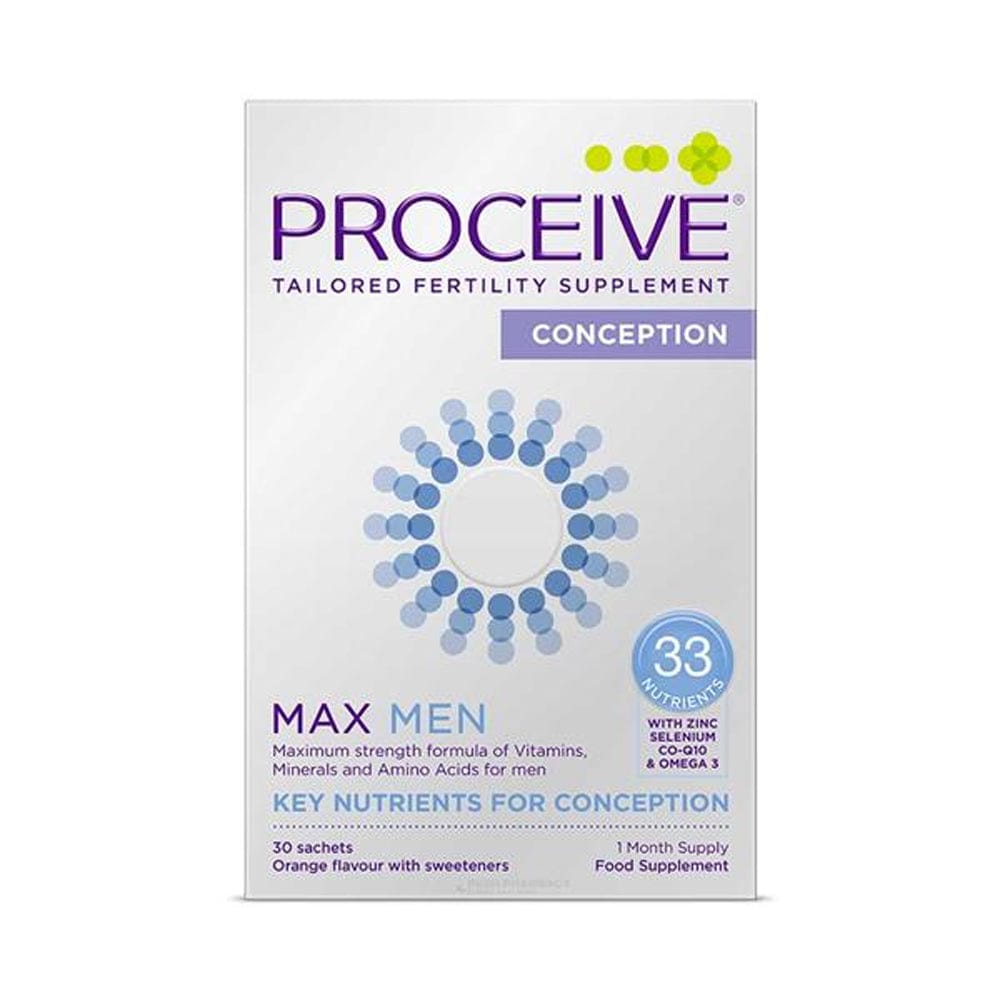 Proceive Max Men 30 Sachets
Description

Directions

Reviews
Proceive Max Men is tailored to support the nutritional needs of men over 40 when trying for a baby as well as those (of any age) who have been trying to conceive a year or more.
It contains the highest level of nutritional support in the Proceive range. Based on scientific research by fertility experts using over 600 clinical studies, Proceive Max Men provides 33 carefully selected amino acids, vitamins, minerals and omega 3. Each ingredient is delivered at the optimal strength in a highly absorbable form.
HOW PROCEIVE MAX MEN WORKS?

Men have to produce between 40 and 300 million sperm cells to be fertile. This puts a strain on the body because it is a vast amount of cells to create. The nutritional requirements for male fertility is a well-established principal. A deficiency in any nutrient may have an impact on male fertility. Male fertility, like female fertility, is governed by our hormonal process.
Proceive Max Men is designed to support the nutritional demands of the male reproductive system. It supplies the key nutrients to conception, including
Amnio Acids L-Arginine, L-Carnitine, L-Glutamine and more

Co Q10

Omega 3 DHA (vegetarian source)

Zinc contributes to normal fertility and reproduction

Selenium contributes to normal spermatogenesis

Vitamin C contributes to normal physiological function which helps in producing good quality cells

Vitamin D contributes to the normal function of the immune function

Vitamin B12 has a role in the process of cell division

Magnesium contributes to the psychological function and also has a role in the process of cell division

Vitamin E contributes to the protection of cells from oxidative stress
Take one sachet per day with approximately 300ml of water or juice. Best taken on a full stomach in the morning.
Proceive can be taken for up to 3 months before you start trying for a baby. Proceive MAX Men has no ingredients containing gluten / Suitable for vegetarians
Meaghers Blog
 By choosing ethically and sustainably produced beauty products we contribute to a more environmentally conscious and socially responsible industry. 

Lets look at some sustainable choices you can make in your beauty routine

Read now

This is the perfect time of year to look at the habits we would like to build to be the best version of ourselves for the term ahead. Small changes to nutrition, movement, sleep and gut health can make a huge impact on our wellbeing.

Read now