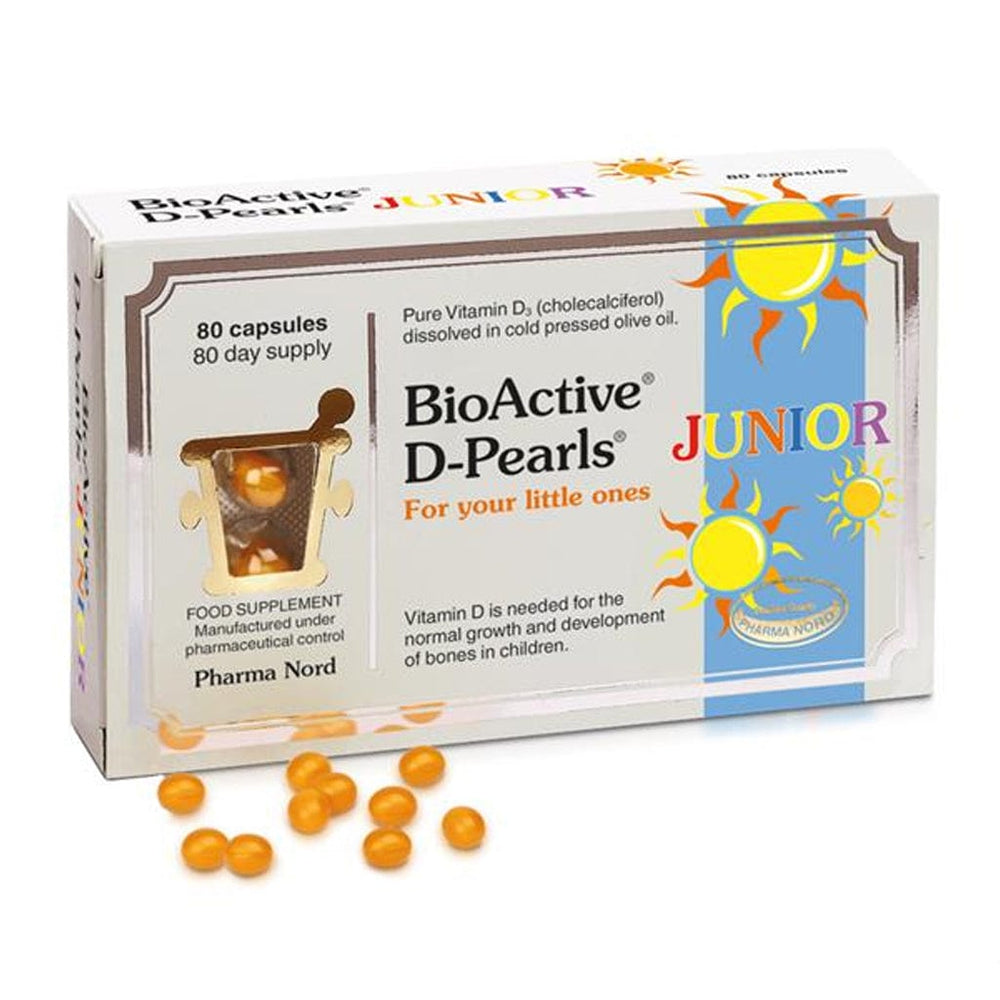 Pharma Nord BioActive D-Pearls Junior (80)
D-Pearls Junior consists of tiny soft gelatin capsules each containing 5 microgram (200 IU) of vitamin D3. Their size makes them easy to swallow. The vitamin D is dissolved in cold-pressed olive oil, as vitamin-D is a fat-soluble vitamin. Research has shown that D-Pearls have a high absorption in the body. D-Pearls Junior are suitable for children over 2 years of age.
D-pearls and children
Vitamin D is even more important during childhood as the nutrient plays an important role in supporting normal growth and development of bone tissue. When the weather allows for it, it is important for children to get access to sunlight. A supplement like D-Pearls Junior makes it easier to get sufficient amounts of this nutrient all throughout the year.

Vitamin D supplements (as drops) are recommended for children in the age group 0-2 years. From that point on, a capsule preparation is the best way to supplement. The small gelatin capsules are easy for children to chew or swallow. You can even pierce the capsule and squeeze its content out into food or liquid.
Directions for use:

1 capsule daily, or as recommended by a physician. To be taken with food and a glass of water.

Do not exceed recommended amount.

Not suitable for children under the age of 2.

Pregnant and lactating women and those on medication should seek professional advice  prior to taking supplements.
Meaghers Blog
As we go through various stages of life, as women, our hormones fluctuate meaning that we may see changes in our skin. Here we discuss how you can handle how your hormones effect your skin in puberty, pregnancy and menopause.

Read now

 By choosing ethically and sustainably produced beauty products we contribute to a more environmentally conscious and socially responsible industry. 

Lets look at some sustainable choices you can make in your beauty routine

Read now