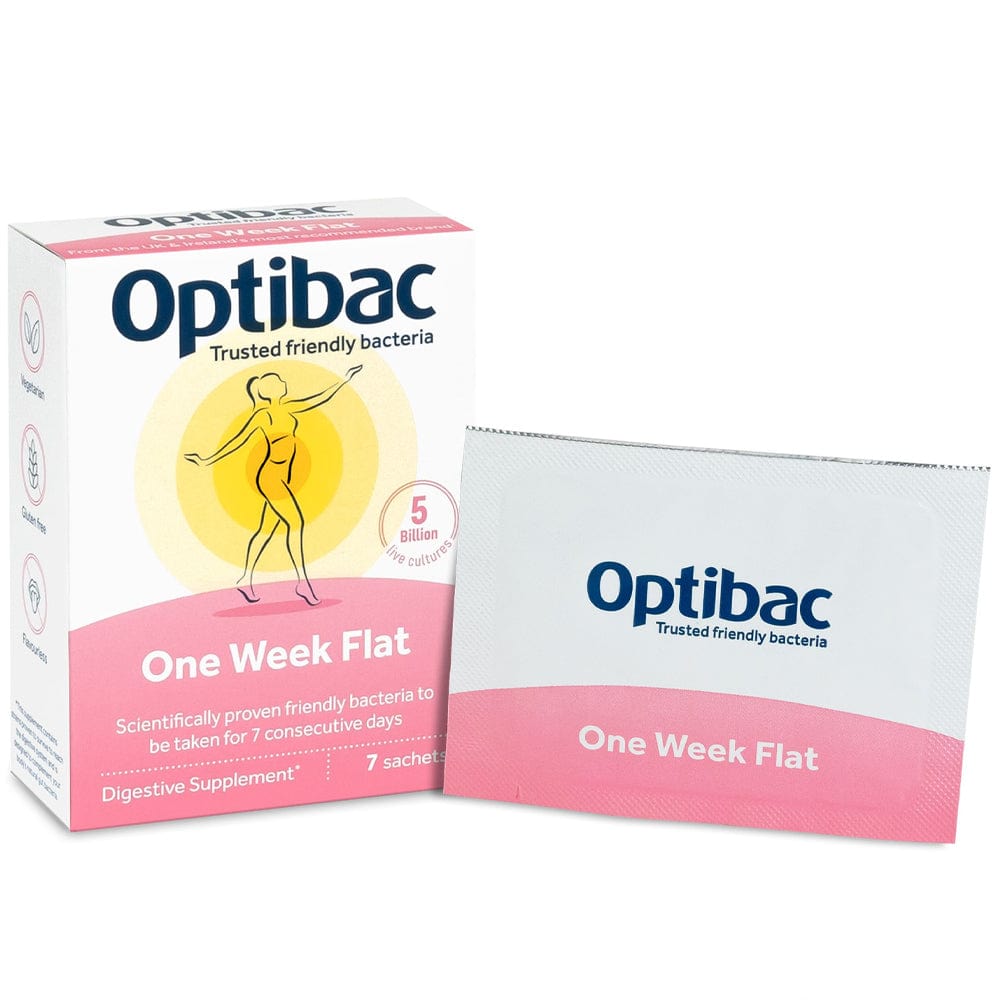 Optibac One Week Flat Sachets Probiotics
Description

Directions

Ingredients

Reviews
Optibac Probiotics One Week Flat is an easy seven-day course of probiotics and prebiotics, formulated to support digestive health, especially in those with occasional bloating*. Contains four high-quality probiotic strains which complement the natural gut bacteria.
Benefits

Specially formulated -

 

for those who suffer from occasional bloating*
An easy, short-term option

 

– designed to be taken over 7 consecutive days (1 sachet per day) 
Scientifically proven - to pass through stomach acidity and reach the gut
Quality, multi-strain formula – containing various high quality probiotic strains to support a healthy intestinal tract, digestion & aid transit*
Highly researched strains - such as L. acidophilus Rosell-52, found to support digestive enzymes including lactase & α-glucosidase, involved in the breakdown of lactose in milk & starch
5 billion CFU + 0.3g prebiotic FOS (Fructooligosaccharides)

 

 - the billions count is guaranteed until end of expiry
A more natural option - complements your natural gut bacteria, and free from artificial flavors often found in other food & drinks containing live cultures
Highly recommended - from the UK's most trusted & recommended brand of friendly bacteria supplements. As determined in an independent survey of 1000 British women+.
One Week Flat can be taken occasionally for 7 consecutive days once a month or on an ongoing basis.
Natural dietary supplement suitable for adults and children (from 4 years onwards) with the following recommendations:
Take 1 sachet daily for 7 consecutive days, preferably with breakfast.
Pour an inch of water into a tall glass, leaving plenty of room for swirling.
Shake the sachet before gently sprinkling the powder into the glass.
Vigorously swirl the water around in the glass making sure the powder is dissolved.
We highly recommend you take One Week Flat for 7 consecutive days. Many consumers like to take this course once a month. However, it can be taken on an ongoing basis or as desired.
Prebiotic FOS (Fructooligosaccharides 0.3g); Probiotic blend: Bifidobacterium bifidum Rosell-71, Lactobacillus casei Rosell-215, Lactococcus lactis Rosell-1058 and Lactobacillus acidophilus/helveticus Rosell-52; maltodextrin
Each sachet guarantees 5 billion CFU + 0.3g FOS prebiotics.
Meaghers Blog
As we go through various stages of life, as women, our hormones fluctuate meaning that we may see changes in our skin. Here we discuss how you can handle how your hormones effect your skin in puberty, pregnancy and menopause.

Read now

 By choosing ethically and sustainably produced beauty products we contribute to a more environmentally conscious and socially responsible industry. 

Lets look at some sustainable choices you can make in your beauty routine

Read now