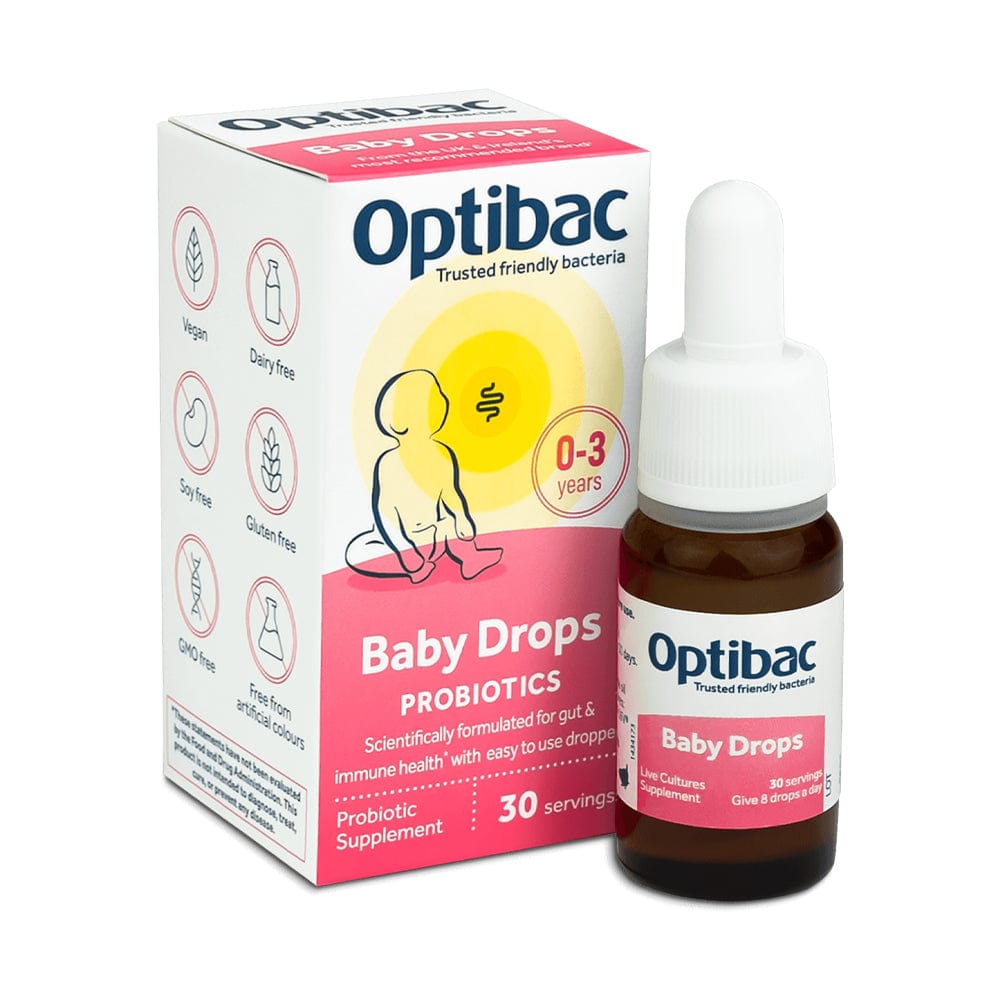 Optibac Probiotics Baby Drops - 30 Servings
Description

Directions

Reviews
Optibac Probiotics Baby Drops (0-3 Years) has been especially formulated for newborns and babies. A high-quality, liquid drops supplement especially developed for use from birth to complement the baby's natural gut flora.
Benefits
Contains the world-renowned

 

Bifidobacterium breve

 

M-16V®

 

live bacteria strain
Strain naturally occurs in the human body & is uniquely adapted to reside in humans
Complements the gut flora naturally present in your baby's digestive system
Suitable for use alongside medication for colic
Studied in numerous gold-standard clinical trials in thousands of babies and young children
Proven to be safe for babies and children
Helps maintain balance in the baby's gut flora by increasing levels of Bifidobacteria
1 billion live cultures per serving, guaranteed until end of expiry
Proven to reach the gut alive
Easy-to-use dropper - administer directly into baby's mouth*, on a spoon or mix into cool  milk or food
Recommended for daily use
For best results give 0.3ml (8 drops) daily. 8 drops contain a minimum of 1 billion live Bifidobacterium breve M-16V®. Do not exceed recommended daily dosage.
Shake bottle well before each use - separation is natural.
Discard original lid.
Give 0.3ml as indicated on dropper (8 drops) in any of the following ways:
Directly into the mouth*
On a spoon
In a bottle of formula milk or expressed breast milk
On a clean finger (one drop at a time)
On the nipple (a drop or two at a time)
For older children, mix the drops into cool food or drinks
Do not wash the dropper.
Meaghers Blog
 By choosing ethically and sustainably produced beauty products we contribute to a more environmentally conscious and socially responsible industry. 

Lets look at some sustainable choices you can make in your beauty routine

Read now

This is the perfect time of year to look at the habits we would like to build to be the best version of ourselves for the term ahead. Small changes to nutrition, movement, sleep and gut health can make a huge impact on our wellbeing.

Read now