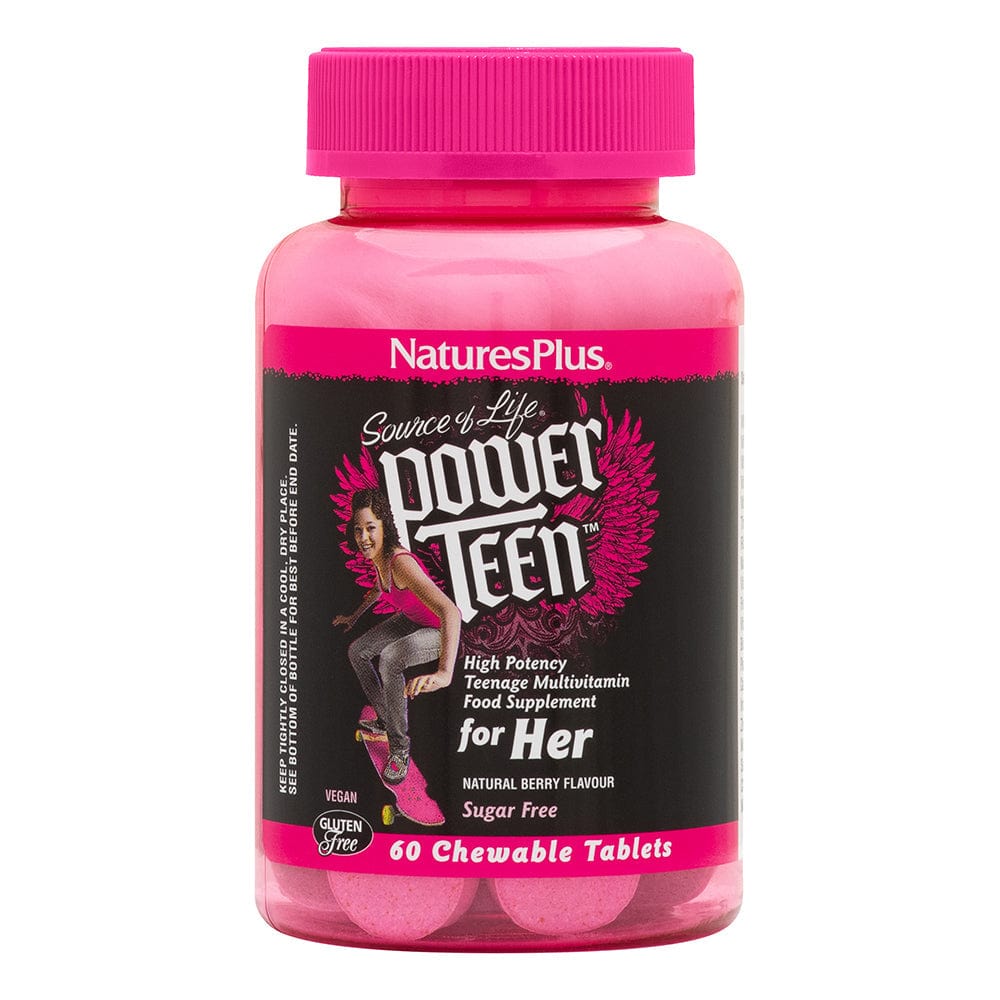 Natures Plus Power Teen For Her 60 Chewable Tablets
Description

Directions

Ingredients

Reviews
Power Teen for Her is the ultimate young women's high-quality multivitamin supplement. A broad array of vitamins and minerals provides the peace of mind that essential nutrient requirements are being met, and promotes normal growth and development.
Benefits
FORMULATED FOR TEENS: NaturesPlus Power Teen for Her is formulated with the nutrients teenagers need for a healthy mind and body. Each serving contains the full recommended daily dose of 13 vitamins and minerals, Vitamins A, B12, C, D3 and K2. It contains all the nutrients needed for healthy Immunity and healthy energy production and is designed to reduce tiredness and fatigue throughout the day.*

These statements have not been evaluated by the Food and Drug Administration. This product is not intended to diagnose, treat, cure or prevent any disease.

SUPPORTS HEALTHY SKIN: Power Teen for Her contains cranberry extract and Streptococcus thermophilus (K12 and M18) to support natural defences. The formula also supplies Zinc, Biotin and Vitamin C which contribute to healthy hair, skin and nails††.
CONTAINS HIGHLY ABSORBABLE IRON: Each serving contains 9 mg of Iron which young women often need in additional quantities and that may not always be met by dietary requirements.
SUITABLE FOR VEGANS: Our supplement is vegan, gluten free, hypoallergenic and free from artificial colours, flavourings and preservatives.
QUALITY YOU CAN TRUST: NaturesPlus only uses NON-GMO, Gluten-Free and pure ingredients. Free From major allergens. All NaturesPlus products are crafted with safe, high-quality natural ingredients and are Independently, third-party tested guaranteed. Our state of the art manufacturing facilities maintain adherence to superior standards and are FDA and NSF registered.
Take 2 chewable tablets daily
Vitamin A (as beta carotene) 5000 IU, Vitamin C (as ascorbic acid) 60 mg, Vitamin D3 (as cholecalciferol) 500 IU, Vitamin E (as d-alpha tocopheryl acetate) 30 IU, Vitamin K2 80 mcg, Thiamin (vitamin B-1) (as thiamine HCl) 1.9 mg, Riboflavin (vitamin B-2) 2.1 mg, Niacin (as niacinamide) 25 mg, Vitamin B-6 (as pyridoxine HCl) 2.5 mg, Folate (as folic acid) 400 mcg, Vitamin B-12 (as cyanocobalamin) 7.5 mcg, Biotin 63 mcg, Pantothenic Acid (as calcium pantothenate)12.5 mg, Calcium (as di-calcium phosphate aminoate complex) 100 mg, Iron (as fumarate aminoate complex) 9 mg, Magnesium (as aminoate complex) 10 mg, Zinc (as aminoate complex) 15 mg, Selenium (as aminoate complex) 35 mcg, Copper (as aminoate complex) 1 mg, Manganese (as gluconate) 1 mg, Chromium (as aminoate complex) 60 mcg, Molybdenum (as sodium molybdate) 37.5 mcg, Potassium (as aminoate complex) 1.4 mg, Feminine Complex with BlemiShield 110 mg, Cranberry (Vaccinium macrocarpon), Fenugreek (Trigonella foenum-graecum seed extract) (standardized galactomannan), Yam (Dioscorea spp. tuber), S. salivarius M18, S. salivarius K12 (1 billion viable cells at time of manufacture). Lemon Bioflavonoid Complex (from Citrus limon fruit) 40 mg.
Meaghers Blog
 By choosing ethically and sustainably produced beauty products we contribute to a more environmentally conscious and socially responsible industry. 

Lets look at some sustainable choices you can make in your beauty routine

Read now

This is the perfect time of year to look at the habits we would like to build to be the best version of ourselves for the term ahead. Small changes to nutrition, movement, sleep and gut health can make a huge impact on our wellbeing.

Read now