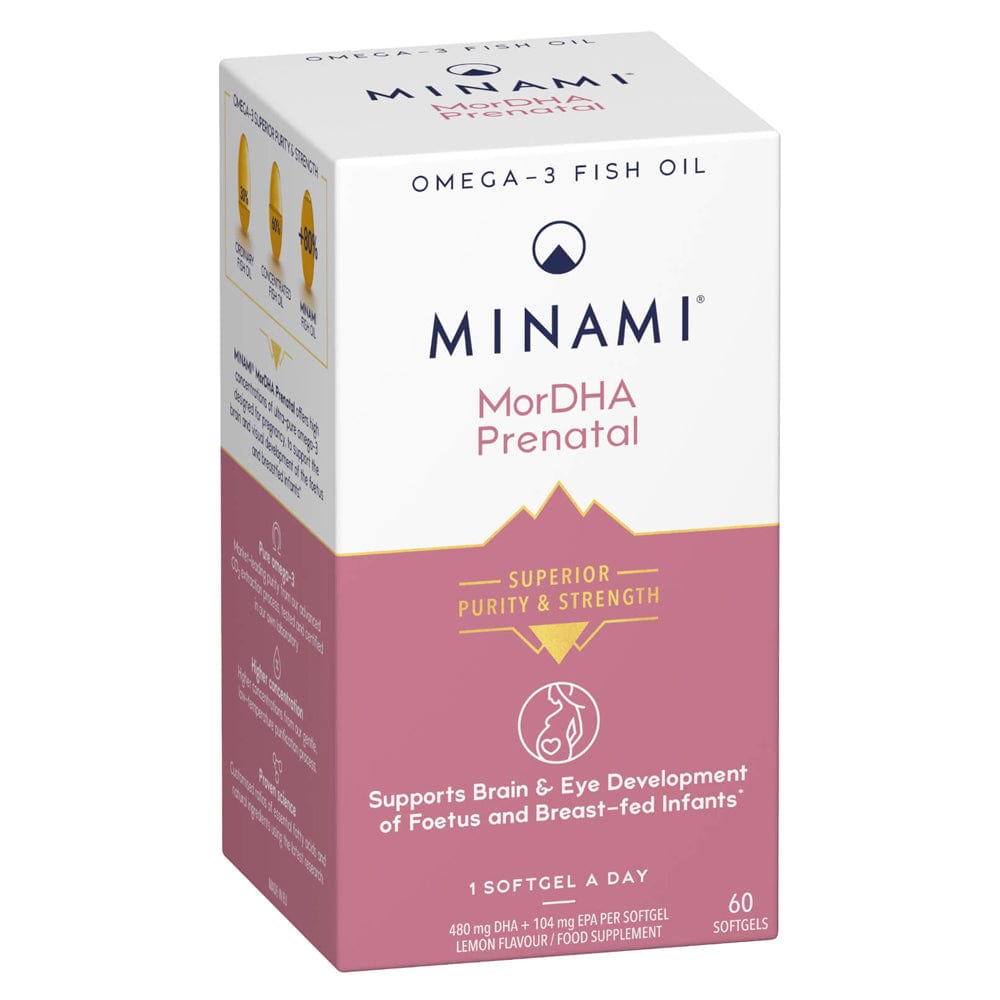 Minami MorDHA Prenatal 60 Capsules
Description

Directions

Reviews
MorDHA Prenatal is a highly concentrated omega-3 food supplement (104 mg EPA + 480 mg DHA), ideal for pregnant women, the foetus and women that breastfeed.
EPA and DHA contribute to:
the normal function of the heart with a daily intake of at least 250 mg EPA+DHA (1 softgel/day)
DHA contributes to:
the maintenance of a normal vision and a normal brain function with a daily intake of at least 250 mg DHA (1 softgel/day)
Extra intake of at least 200 mg DHA by the mother, on top of the recommended daily intake of 250 mg EPA+DHA contributes to the normal development of the eyes and the brain of the foetus and breastfed infants.
For pregnant women and when breastfeeding: 1 softgel per day, with a meal.
Ingredients / content per softgel
Deep-sea fish oil concentrate (from anchovy, sardine and mackerel), fish gelatin, humectant: glycerol, natural lemon flavor, antioxidant: a mix of rosemary and tocopherol rich extract (Miradoxan).
Meaghers Blog
 By choosing ethically and sustainably produced beauty products we contribute to a more environmentally conscious and socially responsible industry. 

Lets look at some sustainable choices you can make in your beauty routine

Read now

This is the perfect time of year to look at the habits we would like to build to be the best version of ourselves for the term ahead. Small changes to nutrition, movement, sleep and gut health can make a huge impact on our wellbeing.

Read now