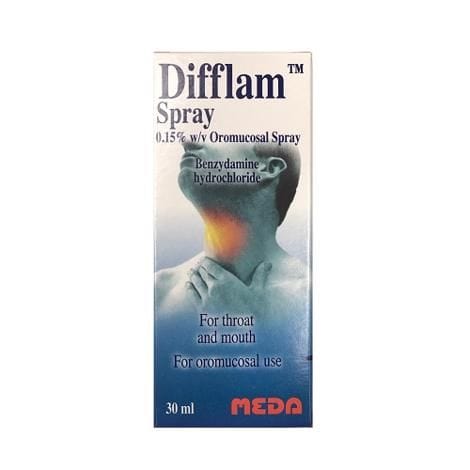 Save

Liquid error (snippets/product-badge line 106): Computation results in '-Infinity'

%
Difflam Oral Spray is used for the relief pain and inflammation of the throat. The active ingredient benzydamine is an anti-inflammatory and local analgesics.
Dosage
Adults and elderly: 4 to 8 puffs, 1½ - 3 hourly.
Children: (6-12): 4 puffs, 1½ - 3 hourly.
Children under 6: One puff to be administered per 4 kg body weight, up to a maximum of 4 puffs, 1½ - 3 hourly.
Contains
Benzydamine hydrochloride 0.15% w/v.
Each puff (175 microlitres) contains 262. 5 micrograms of benzydamine hydrochloride (0.15% w/v).
Excipients: Each puff contains 0.17mg of Methyl parahydroxybenzoate (E218) and 14mg of Ethanol.
Other Ingredients: Glycerol, Saccharin, Sodium hydrogen carbonate, Ethanol (96 per cent), Methyl parahydroxybenzoate (E218), Mouthwash flavour, Polysorbate 20 and Purified Water
Important Information
Uninterrupted treatment should not exceed 7 days, unless under medical supervision.
The spray should be directed onto the affected are, see enclosed leaflet for usage instructions.
Avoid contact with eyes.
If you are pregnant do not take this medicine unless a doctor has instructed you to do so.
Do not use if you are allergic to any of the ingredients.
After use, the nozzle should be wiped with a tissue to prevent blockage.
Storage Instructions
It is important that the unit be used and stored upright.
Store in the original package.
Do not store above 30°C.
Do not refrigerate or freeze.
Keep out of the sight and reach of children
Always read packaging and enclosed leaflet before use.
Meaghers Blog
 By choosing ethically and sustainably produced beauty products we contribute to a more environmentally conscious and socially responsible industry. 

Lets look at some sustainable choices you can make in your beauty routine

Read now

This is the perfect time of year to look at the habits we would like to build to be the best version of ourselves for the term ahead. Small changes to nutrition, movement, sleep and gut health can make a huge impact on our wellbeing.

Read now