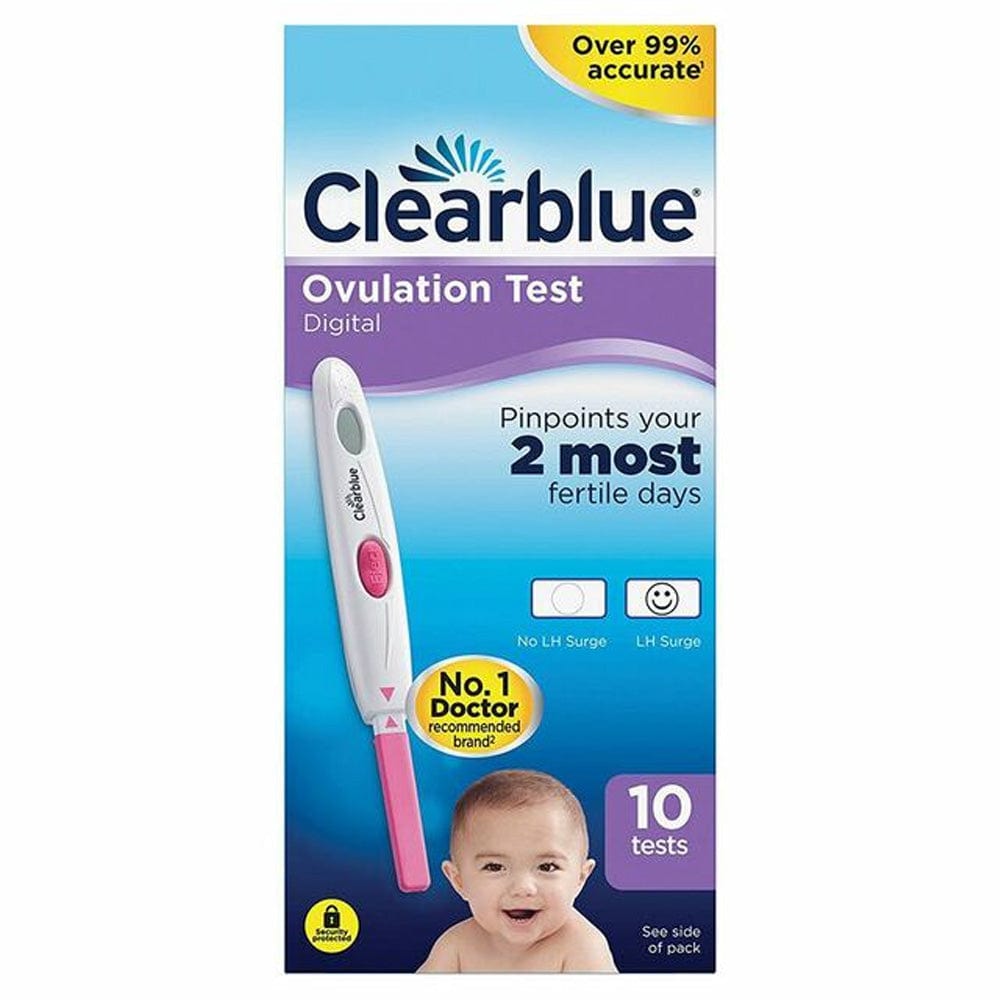 Clearblue Digital Ovulation Test Kit 10 Tests
Save

Liquid error (snippets/product-badge line 106): Computation results in '-Infinity'

%
Description

Directions

Reviews
Clearblue Digital Ovulation Test pinpoints your 2 most fertile days. The simple urine tests are proven to be over 99% accurate at detecting the LH surge.  Your ovulation period is vital to keep track of in order to have a successful conception. The Ovulation Test from Clearblue helps you maximize your chances of getting pregnant by keeping track of the two hormones and your high/peak fertile days.
The Digital Ovulation Test helps pinpoint the 2 most fertile days so you have peace of mind when trying to conceive.
Document your usual cycle length before using for the first time, this enables you to test at the correct time to know your LH surge.

To work out your cycle length, count the day your period starts (first day of full menstrual flow) as Day 1, and continue counting through to the day BEFORE your next period starts – the number of days is your cycle length.

You are able to test at any time of the day but we do recommend that you test at the same time of day each day

Try not to urinate for four hours before you do the ovulation test, and you should avoid excessive fluid intake before testing – you might find it easier to use the first urine of the day.

Remove the test from the foil packaging.

Before applying urine to the ovulation test stick it must be inserted into the test holder.

Wait for the 'test ready' symbol to appear and take the ovulation test immediately.

Place the absorbent sampler downwards into the urine for 15 seconds.

Wait for three minutes and read your results.

A smiley face means that LH has been detected and your 2 most fertile days are today and tomorrow.

A blank circle means that no LH surge has been detected, and test the same time tomorrow with a new ovulation test stick.
Meaghers Blog
 By choosing ethically and sustainably produced beauty products we contribute to a more environmentally conscious and socially responsible industry. 

Lets look at some sustainable choices you can make in your beauty routine

Read now

This is the perfect time of year to look at the habits we would like to build to be the best version of ourselves for the term ahead. Small changes to nutrition, movement, sleep and gut health can make a huge impact on our wellbeing.

Read now