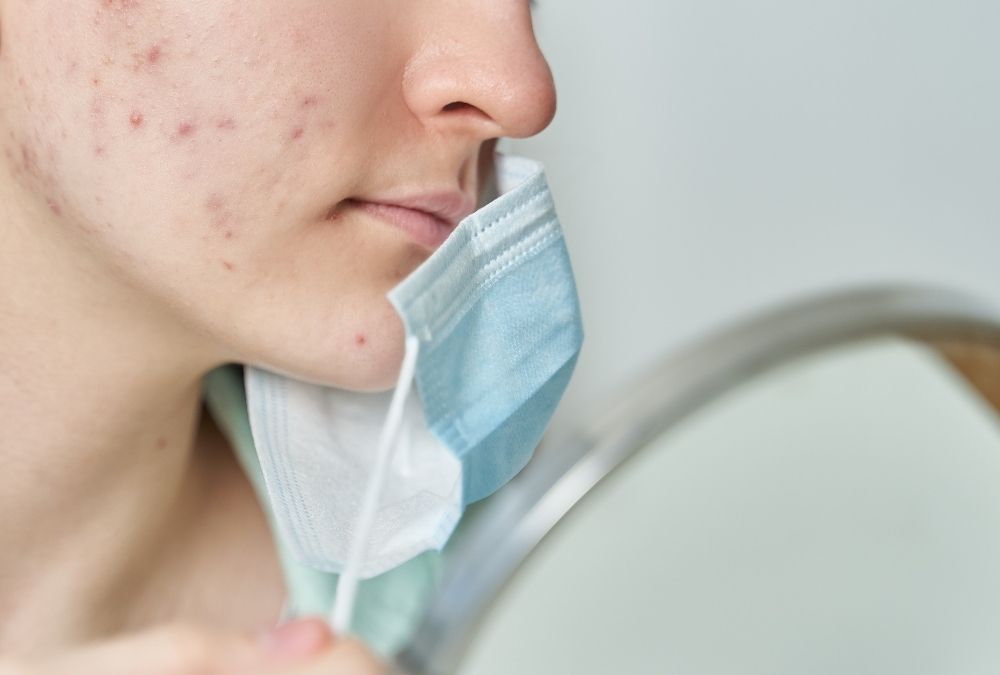 How to Tackle Winter Breakouts
Winter is here and with it comes a drop in temperature. The winter normally spells a period of dry skin in many of us it can also bring about winter breakouts. 
Why is my skin breaking out in the winter?
In the winter the colder weather also brings with it less moisture in the air, what that means is that our skin reacts by producing more sebum, more sebum flowing through the pores mean that there is a greater chance of a blockage in the pore leading to pimples and spots. For those with acne, inflammation can also be a concern, the cold weather can trigger the inflammation response in the skin and cause a breakout. Cold dry air also cause harm to the skins natural protective barrier meaning that superficial dryness is also a problem for many. Some common culprits that may add to sensitive skin, drier skin and skin irritation in the winter months is central heating, a change in diet, stress and the general environment.
 How to tackle breakouts and dryness
Many of us are battling winter breakouts and dryness to the surface of the skin both of which are worsened with the wearing of face coverings and the friction and heat they bring with them causing mask-related breakouts. You may be prone to an acne breakout or oily skin but now are also noticing your skin dry, tight, sensitive or even flaky skin. So how do you treat the breakouts without worsening the dryness and vice versa? As well as some lifestyle changes such as staying hydrated by drinking more water, ensuring you are getting enough sleep and switching your showers and baths from hot water to warm water, there are some daily skin routine changes that can help. Here is my step by step guide to a clearer complexion in the cold winter months. 
Step 1- Alternate your cleansers
The best place to begin in tacking any breakouts is to introduce an active cleanser that will penetrate the pore and clear any debris or excess oil from the pore wall, however to avoid a flare up of inflammation and dryness alternate your active cleanser with an inactive, soothing cleanser to repair the barrier damage and help reduce inflammation.
This fresh, foaming cleanser lathers away excess oil and sebum and gently exfoliates pore-clogging surface skin cells with salicylic acid, a proven acne-fighting ingredient, so skin feels smooth and soft. This is your secret weapon in fighting acne breakouts, Apply to wet face morning and evening and massage for 1 minute do this every second night.
On the alternate night use an inactive gentle cleanser to tackle the inflammation and restore the skins barrier. the Image ormedic balancing cleanser is a mild, refreshing gel cleanser that gently foams away impurities, leaving skin soft, hydrated and clean. A nourishing complex with organic aloe vera and botanical extracts soothes delicate skin. The satiny texture restores softness and balance to the skin.

Step 2- Hydrate the skin
When tackling excessive oil that is causing breakouts it is still vital to keep the skin moisturised to ensure the protective barrier is as healthy as possible. The best strategy for congested skin is to layer hydrating skincare products rather than lathering on thick and rich moisturisers that will add to congestion in the pores. A hydrating serum and a oil free moisturiser is a great option for tackling dryness with congestion.
An essential everyday serum that soothes the skin and strengthens its defenses against damage.The blend of antioxidants will also give skin a healthy glow. The humectants in this serum will help with attract water and plump the skin with hydration. Nutrient-rich organic grape water and hyaluronic acid restore balance and hydration to dehydrated skin. Apply morning and night before moisturiser to hydrate and repair the skin.
This self-adjusting hydrator for troubled skin delivers moisture where skin needs it and absorbs surface oils in shiny areas, leaving skin with a healthy, smooth and matte finish. It controls oil production and helps to protect skin and reduce irritation. Ideal for use in the morning over a hydrating serum.
Step 3- Dont Skip the SPF!
the most important step for healthy and glowing skin is to protect the skin from UVA and UVB rays, using a broad spectrum SPF is the best possible choice you can make to improve the health of your skin.
This oil-free, broad-spectrum UVA/UVB sunscreen delivers high sun protection in a mattifying, antioxidant-rich base that's perfect for oily and acne-prone skin types. Micro-sponge technology absorbs surface oils and gives skin a flawless, shine-free finish. It doubles as a protective primer to create a healthy glow before makeup application. Because it is a mineral formula it will not cause any congestion in the skin.
Step 4- Treat by Multi-Masking
 Once a week a treatment mask can help tackle specific skin concerns such as blackheads, congestion and inflammation brought about by blockages in the pores. In the same fashion a balancing and repairing mask will help bring down the redness associated with the inflammation response in blemish-prone skin. 
This ultra-gentle gel masque instantly soothes and refreshes delicate, dry and tired skin. It hydrates the skin and restores balance with soothing botanical extracts and organic aloe vera. Mondo grass extract and prickly pear cactus water help to soothe the skin and support resilience against dryness and environmental damage.
As a spot treatment or allover remedy for acne breakouts, this fast-acting clay masque draws out excess oil and impurities to leave skin soft, fresh and mattified. Boosted with salicylic and glycolic acids to reduce the buildup of dead skin cells, it also delivers beneficial antioxidants and botanicals that lessen the appearance of redness and calm irritated skin.
 All products are available here in the Skin Lab at Meaghers or in our store in Churchtown.
If you have a question reach out to one of our experts here in Meaghers.