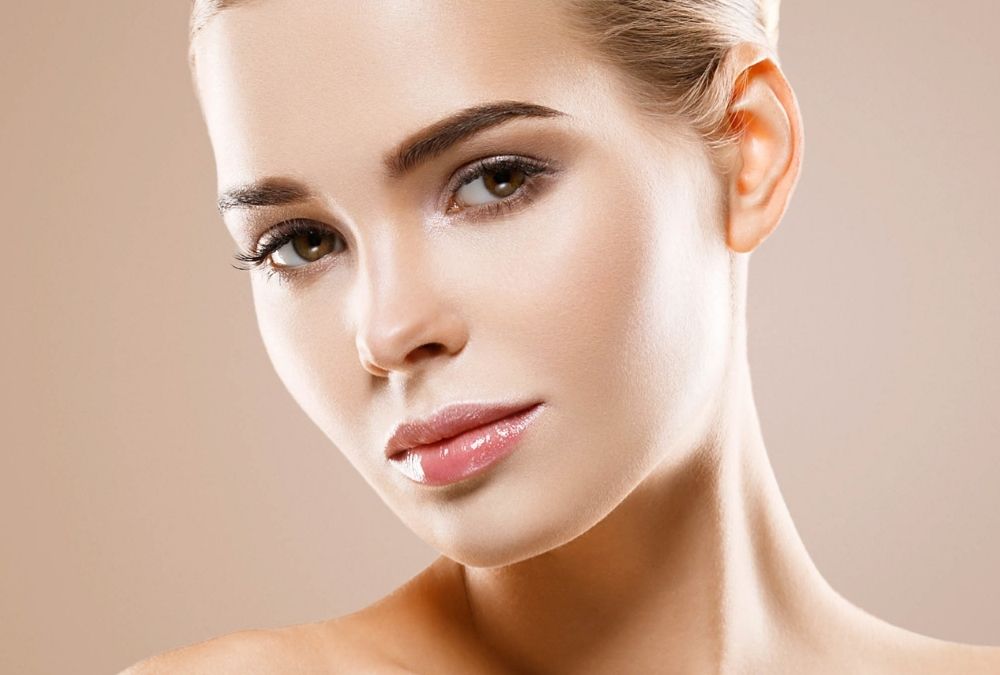 5 Steps to Glowing Skin
If you are struggling with dull and tired skin achieving that illusive glow where your skin looks healthy and bright and fresh can be a challenge when faced with cold weather, stress, pollution and health conditions however we are here to reveal our five steps to glowing skin with Skincuticals the advanced dermatologist recommended skincare range.
1. Cleanse the skin
thoroughly
Cleansing is the most important step in your journey to glowing skin it is essential to remove impurities such as pollution, debris dead skin cells and sebum from the pores – all of which can dull the complexion and affect skin texture. 
Gentle Cleanser is a creamy, mild cleanser formulated with an emollient-rich surfactant and 3% concentration of key ingredients combining allantoin, glycerin, and orange oil to soften and restore skin's surface. This non-foaming, gentle skin cleanser efficiently removes impurities and long-wear face and eye makeup without any traces of residue. 
To encourage a healthy glow for  those who prefer a face wash with warm water, SkinCeuticals Simply Clean is a great option. Not only does it cleanse the skin effectively and remove makeup, but it also refines skin texture with a gentle enzymatic exfoliating action, removes excess oil and calms the skin with botanical extracts. Simply Clean is ideal for normal to combination skin types. Your complexion should be left feeling fresh and clean but not tight.
2. Treat your skin with a weekly mask
A face mask makes an excellent addition to every skincare routine to improve uneven skin tone, tackle dehydration or clear congestion for oily skin it is an excellent way to introduce active ingredients into your routine and achieve radiant skin.
SkinCeuticals' Clarifying Clay Masque helps to lift glow-blocking impurities from the skin with a non-drying formula that combines high-quality earth clays, botanicals, minerals and hydroxy acids. Apply it once a week to promote a healthier-looking complexion.
Phyto Corrective Mask contains highly-concentrated botanical extracts, a calming dipeptide, and hyaluronic acid to intensively soothe and replenish temporary skin reactivity. This intensive calming facial mask cools on contact, comforts skin sensitivity, and restores natural radiance and smoothness. Phyto Corrective Mask has been clinically tested post-procedure to effectively reduce visual redness and discomfort. This versatile botanical facial mask has multifaceted uses post temporary skin reactivity so is especially great if you are spending time outdoors, your skin becomes irritated in the cold or if you experience sensitive skin from increased blood flow after exercise. 
3. Introduce a hydrating serum
A serum is a really effective way of loading your skin with glow-boosting active ingredients that will protect and perfect the look of your skin throughout the day. 
H.A. Intensifier is a multi-beneficial corrective serum proven to amplify skin's hyaluronic acid levels. This unique formulation contains a high concentration of pure hyaluronic acid, proxylane, and botanical extracts of licorice root and purple rice to support skin's hyaluronic acid levels and deliver surface hydration, helping improve the visible appearance of firmness, smoothness, and facial plumpness. This serum is considered to be the Rolls Royce of hydrating serums as it amplifies skin's hyaluronic acid levels by 30%
An excellent option for all skin types is Skincuticals Hydrating B5 Gel an oil free hydrating serum replenishes moisture and restores radiance for a smoother complexion it replenishes nutrients the skin needs to feel smooth and appear younger. This oil free moisturiser combines vitamin B5 with hyaluronic acid, the body's natural hydrator, to help bind moisture to the skin. It can be used alone or with a daily moisturizer to provide extra hydration, and is an ideal moisturizer for acne prone skin.
4. Brighten and protect with an antioxidant
An antioxidant serum is an absolutly essential step in protecting skin cells from environmental damage, brighten and correct the signs of skin damage and to protect against the signs of ageing. Skincuticals antioxidants are world renowned for their potency and their ability to penetrate the skin barrier to tackle dull skin.
CE Ferulic serum is a patented daytime vitamin C serum that delivers advanced environmental protection and improves the appearance of fine lines and wrinkles, loss of firmness, and brightens skin's complexion. Now clinically proven to reduce combined oxidative damage from free radicals generated by UV, Ozone, and Diesel Exhaust by up to 41%, this cult buy will deliver antioxidant protection and tackle ageing.
To improve the skin health of those with oily and congested skin Silymarin CF Vitamin C serum is ideal. Often those with oily and blemish-prone skin will go without an antioxidant due to concern about a breakout, but this oil-free formula is the perfect solution because it provides environmental protection as well as reduces skin oiliness. It will help Oily Skin types achieve that gorgeous glow, tackle the signs of ageing and reduce congestion!
5. Use an overnight treatment
When asked about the ingredients and skin care tips they recommend for a healthy glow, most dermatologists will recommend retinol as an active ingredient to tackle the signs of ageing, enlarged pores and breakouts. It is a potent ingredient that accelerates the rate in which your skin exfoliates itself. 
Retinol 0.3 is recommended for first-time retinol users. This potent nighttime treatment features 0.3% pure retinol enhanced with the latest delivery technologies to ensure a steady, even release. Formulated with soothing bisabolol to minimize irritation and specially packaged to preserve its potency, this retinol cream for face helps improve the appearance of fine lines, wrinkles, discoloration, blemishes, and pores by accelerating cellular turnover. Retinol 0.3 is ideal for continued use or for conditioning skin as a prerequisite to SkinCeuticals Retinol 0.5.
In the evening, apply a pea size amount to clean dry skin, avoiding the eye area. Allow product to absorb before applying other skincare products. Limit initial use to once or twice a week, gradually increasing frequency to every other night, then every night as tolerated. It is important to establish consistent skin tolerance before advancing to a higher concentration.
Retinol may increase photosensitivity. It is important to always use a high-protection, broad spectrum sunscreen when using a retinol product
As a precaution, retinol cream products should not be used by pregnant women or women who intend to become pregnant in the near future.
To improve many skin issues encouraging sell renewal and effective exfoliation is key. Using a chemical exfoliator like glycolic acid will help keep skin soft and tackle skin conditions such as discolouration, irregular texture, enlarged pores and dehydrated skin.
Glycolic 10 Renew Overnight is formulated with a free acid value of 10% glycolic acid, allowing it to work at a true 10% concentration proven optimal in promoting effective exfoliation and natural cell turnover.  This potent night cream is synergistically blended with 2% phytic acid to promote skin clarity and brightness, and a triple action-soothing complex to help support the skin barrier. Proven tolerable for nightly use, Glycolic 10 Renew Overnight improves the appearance of skin texture and tone to promote a bright complexion and 36% average improvement in glowing skin.
Glycolic acid can be an irritating acid when introduced initially so it is best to introduce gradually by limiting initial use to once every other evening.
Apply an even, pea-sized layer over entire face and neck. After one week, increase to every evening or as advised, ensure you avoid the eye area and include a sunscreen in your routine. 
With use of a high-concentration glycolic acid, it is common to experience mild symptoms of skin detoxification such as redness and temporary skin purging. Generally, these side effects resolve with continual use.
 You can shop the Skincuticals range at the Meaghers Skin Lab