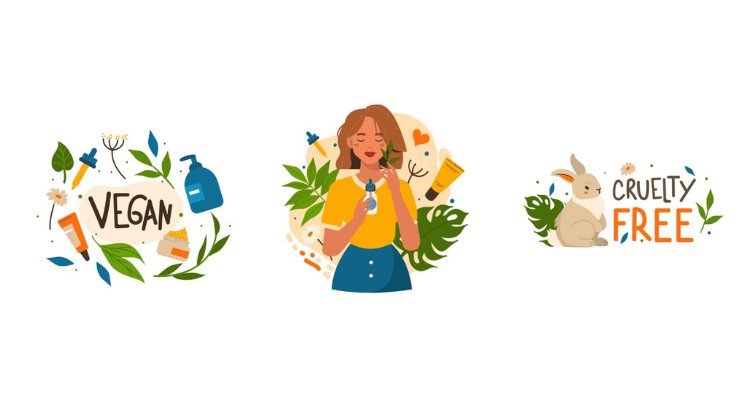 Top Tips and Recommendations for Vegan Products
With Ireland ranked among the top 10 vegan countries in the world, it's clear that more and more Irish people are choosing to adopt a vegan lifestyle. It can be overwhelming to make this change and get used to what to eat, what supplements to take and what products are vegan-friendly including cosmetics and skincare! At Meaghers, we are proud to stock a wide range of vegan-friendly products, and we have pulled a few of our favourites together in one place to make the process a little easier for you!
Supplements    
If you are following a vegan diet, it's important to make sure that you are getting all the nutrients you need. This can be achieved by planning well and understanding what makes up a healthy and balanced vegan or vegetarian diet. However, this can take some time and adjustment and often essential nutrients can be missed out on when following a vegan diet. See below for some of our top picks when it comes to vegan supplements.
BetterYou Iron Daily Oral Spray
Iron contributes to the normal function of the immune system, cognitive function and also helps to reduce tiredness and fatigue. As high levels of iron are found in animal sources such as red meat, chicken and turkey, it's important to ensure you are supplementing your iron intake through your diet, and iron supplements if needed. While lower levels of iron are found in plant-based foods, some non-meat food sources of iron include beans and lentils, tofu, dark green leafy foods such as spinach and wholegrain breads so ensure that these are staples of your diet.
BetterYou Iron Oral Spray comes in a liquid form and is easy to take, requiring 4 sprays daily inside the mouth which can be taken at any time of day. Its liquid form means it is quickly absorbed and is formulated to be gentle on the digestive system. This small spray is also convenient to keep with you on the go.
BetterYou Daily Vitamin B12 Oral Spray
Meat and dairy products are also a high source of vitamin B12, one of the trickier nutrients to get into a vegan diet, so supplementing is important. Vitamin B12 is involved in making red blood cells, supporting the nervous system and releasing energy from food. A lack of vitamin B12 can lead to vitamin B12 deficiency anaemia. As vitamin B12 is not found naturally in fruit, vegetable and grains, vegans may not get enough of it. BetterYou Daily Vitamin B12 oral spray has superior absorption and four sprays deliver 1,200μg of vitamin B12 and tastes delicious.
Higher Nature Sea Calcium Tablets
Calcium plays a role in healthy muscle function, heart health and is necessary for healthy bones and teeth. This Sea Calcium is formulated with calcium found in sea plants, lithothamnion calcareum, harvested from the seas off the west coast of Ireland. This form of calcium is easily absorbed by the body and contains a number of other beneficial minerals and magnesium, which also aids bone health.
VeganDHA High DHA Formula 60 Capsules
VeganDHA is a highly concentrated omega-3 food supplement which contributes to the maintenance of normal vision and normal brain function. One capsule daily gives you your recommended daily intake of DHA.
Altrient Liposomal Vitamin C
If you're looking for a vegan-friendly vitamin C supplement, look no further than Altrient Liposomal Vitamin C. Vitamin C contributes to a healthy immune system, reduces tiredness and fatigue, and supports healthy skin, bones and gums! Altrient's liposomal delivery system means that the vitamin C is delivered within minutes directly to the cells, increasing absorption by the body.
Vegan Skincare
With many ranges now being vegan and cruelty free, there is much to choose from when it comes to skincare! We are delighted to offer a wide range of vegan products which you can incorporate into your daily skin routine.
Ren Evercalm Gentle Cleansing Milk
This gentle cleansing milk fights environmental aggressors, increases skin resilience and minimises the signs of irritation and sensitivity that can lead to visible premature ageing. Skin is left hydrated with redness, irritation and itchiness reduced. This cleanser can be used morning and evening and is the perfect vegan addition to your routine.
The Ordinary Hyaluronic Acid 2% + B5
With 3 kinds of hyaluronic acid, The Ordinary Hyaluronic Acid 2% + B5 offers intense skin hydration and visibly smoothes and plumps the skin. Hyaluronic acid can attract up to 1,000 times its weight in water and retains this moisture in the skin, combatting dehydrations which can cause dullness, flaking, fine lines and a tight, uncomfortable feeling. Also containing Vitamin B5, this product heals and regenerates skin, making it great for dry, rough or flaky skin. This product is silicone-free, nut-free, cruelty-free and vegan, and can be applied morning and night after cleansing and before moisturising.
Seoulista Charcoal Detox Instant Facial
The Seoulista range is a favourite of ours at Meaghers, and with all of their instant facials being vegan, they are the perfect facial treatment to use for a bit of relaxation and extra TLC for your skin! The Charcoal Detox Instant Facial is a natural bamboo mask designed to help purify and cleanse the skin. Infused with a duo of charcoal and volcanic ash, this mask leaves skin cleansed, defined and detoxified after just 20 minutes!
Elave Dermo Renew Hand Treatment
There is no doubt that the pandemic has been tough on our hands, with excessive washing and hand sanitiser use which has left many of us with dry, coarse and itchy hands. Elave Dermo Renew is a vegan hand treatment which has a unique combination of shea butter, coconut oil and hydrating emollients to repair and hydrate dry hands. Hands are left nourished and soothed as this hand cream helps to replace moisture lost throughout the day, while vitamin B5 leaves the hands soft.
Haircare and Cosmetics
We Are Paradoxx Game Changer Hairmask
This multi-use hair mask is vegan, organic and cruelty-free with no parabens, toxins or perfume. It can be applied to dry or wet hair for as long as you like – the longer you leave it, the better the result! Dull, damaged and dry hair is transformed into healthy looking hair with improved texture, strength and shine. This mask hydrates and deeply conditions the hair, while also helping to rejuvenate the scalp!
SOSU By Suzanne Jackson Hot Fire Remastered Eyeshadow Palette
With 16 matte and shimmer shades, you need look no further than the Hot Fire Remastered Eyeshadow Palette for your vegan eye shadow fix! These highly pigmented and long-lasting shades range from pale cream to deep chocolate, shimmery gold to metallic copper and are effortless to apply. Perfect for a soft daytime look or a deeper night-time look, this palette is suitable for all skin types!
Moogoo Dry Shampoo
Dry shampoo is a must-have product, and the Moogoo Dry Shampoo is a natural, vegan option to keep handy in case of emergencies! Perfect for keeping hair fresh between washes, this dry shampoo is made with natural powders such as corn & tapioca starch to absorb oils and is delivered through a non-aerosol shake bottle to avoid harmful chemicals. Free from harsh chemicals that can coat and irritate the scalp, this dry shampoo is suitable for all hair types and colours!
Aliso Organic Lip Scrub Sweet Mint
This vegan lip scrub from Aliso is the first step to having smooth and healthy lips. Formulated using 100% certified natural ingredients such as organic shea butter, coconut oil, rosehip extra and vitamin E, the Aliso lip scrub is cruelty-free, paraben-free and packed with hard-working antioxidants. Massage onto lips in a gentle, circular motion and wipe away excess using a damp cloth. Finely ground crystals gently exfoliate the skin, renewing the condition of your lips!
These are just a few of our favourites from our wide range of vegan products, which you can shop here! Our team are always here to help and advise, so if you have any questions relating to vegan products don't hesitate to get in touch via social media, by contacting any of our Meaghers stores or phoning our helpline: 01 485 3098.