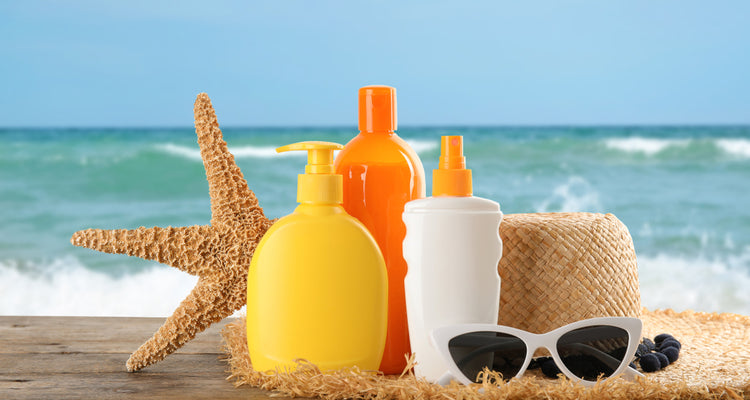 Stay Sun Safe this Summer: Top SPF Picks
Summer is here and with it comes the gentle optimism of brighter evenings, warmers days and more time outdoors. After the long year we have all had we deserve to enjoy the summer and the sunny days.
This time of season transition is a great time to remind ourselves of the importance of wearing SPF every day, it is the greatest choice you can make for the health of your skin and to ensure you look and feel fresh, youthful and avoid any serious or superficial impacts of sun damage of the skin.
While we have enjoyed some high temperatures recently, it's important to remember that the sun does not need to feel hot to be damaging. UVA and UVB rays affect the skin all year round and even in the months we are not outside all that much, these sneaky rays can even travel through glass!
Sun damage in the skin can range from the very serious in the form of skin cancer to the more cosmetic issues of hyper pigmentation, the breakdown of collagen and elastin and the dehydration of the skin.
To protect your skin from such damage, the number one thing to do is to apply an SPF daily all year round. UVA rays break down the supportive collagen and elastin fibres in the skin, when this happens the skin will lose some of its bounce and stretch meaning that lines and wrinkles are more pronounced and skin is looser with less volume.
Uneven skin tone, hyper pigmentation, age spots and acne and rosacea can all be accentuated by UV rays. To avoid these skin issues, apply SPF daily. Below are our top picks to protect your skin.
La Roche-Posay Anthelios Ultra-Light Invisible Fluid SPF50+
We love this super easy to use, fuss-free option from La Roche Posay. The light fluid consistency melts straight into the skin and is completely invisible, so no chalky marks and no excess shine. This is particularly effective for the scalp, ears and back of the neck for active women and men.
La Roche-Posay Anthelios Invisible Fresh Mist 50+ 75ml
For those of you who want a no-fuss, easy to apply option, the Anthelios Invisible mist is a super fine aerosol spray that leaves the skin mattified and protected, you can even spray directly over makeup and top up throughout the day! 
Vichy Ideal Soleil Protective Hydrating Water SPF30 
If your skin is feeling a little parched and in need of some hydration, the Vichy Soleil Protective Water spray is a fantastic option. This light weight non-greasy option is perfect for protecting and hydrating the skin and is suitable for all skin types.
La Roche-Posay Anthelios Kids Invisible Mist SPF50
For the little ones it is important that you have full confidence in the sunscreen you are using to protect delicate young skin. The Anthelios Kids invisible mist helps give you that confidence. With its full factor broad spectrum protection, this easy to apply invisible mist is perfect for spraying on the kids before any outdoor activities. Simply shake and spray!
You can shop all of the above products and our full SPF collection here. If you have any queries around sun protection and which product is best for you, don't hesitate to contact any of our stores.