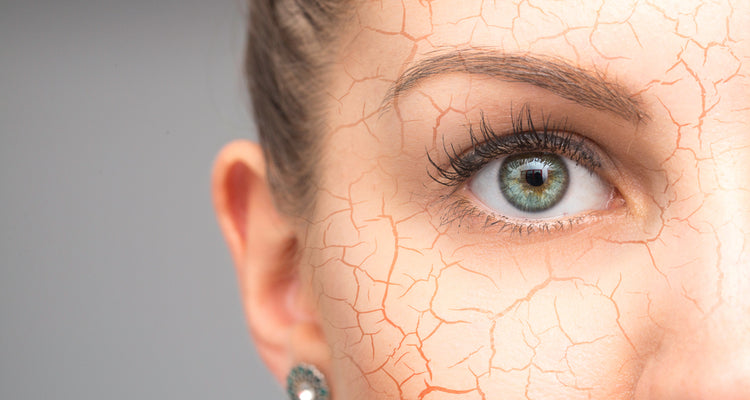 Signs of dehydrated skin and how to treat it
The winter chill is in the air and as we are all spending a lot more time at home than ever before, our skin is feeling the effects. One of the most common skin concerns we hear at this time of the year is excessive dryness. Does your skin feel tight, flaky, itchy or maybe just a little dull and tired? Your skin may not be dry, you may be dehydrated.
So, what's the difference?
Dry skin is a skin type, it can be genetic and is not likely to change; as Lady GaGa said 'You were born this way', and the dryness will appear everywhere else on your body, including hands, scalp, and legs.
Dehydrated skin on the other hand is not a skin type, it is a condition that can be brought about by many different factors such as diet, lifestyle or the weather. Stress can also have a huge impact on the skin.
The main difference between the two is dry skin is lacking in oil and dehydrated skin is lacking in water. When the skin is dehydrated it makes more oil to compensate the lack of water so can also experience breakouts and blackheads- with the tightness and flaking associated with dehydration.
As we are spending more time indoors in false heat and also being exposed to cold air outside, our skins barrier is impaired, meaning water is lost through the surface layer of the skin resulting in dehydration. So those who have never before experienced tight, flaky and dull skin may be feeling the effect of the lockdown on their skin.
So, what can you do?
The first step of tackling dehydration is to start to strengthen the skins barrier as this will avoid further water loss and will tackle any dullness of the skin.
Start by feeding the skin barrier from within; adding an omega supplement to your routine is the best way to start the journey to soft and hydrated skin. Omega-3s help hydrate your skin and protect it from irritants by improving skin barrier function and sealing in moisture.
Help it hold onto water
Dehydration can send skin into crisis mode where it is trying hard to protect itself, resulting in flaking, itching and breakouts. Help it hold onto the water it desperately craves by adding a hyaluronic serum into your routine, use it after cleansing and toning when the skin is slightly damp and before your moisturiser day and night.
We love the Mineral 89 serum from Vichy it combines Vichy's highest concentration of Vichy Thermal Mineralizing Water, along with Hyaluronic acid, to plump and strengthen the skin barrier and protect it from pollution.
For an instant fix Vichy has created an instant recovery solution for your skin when it feels stressed, tired and to reduce tightness and dullness the 10 minute mask from Mineral 89 will pack the skin full of hydration and reduce signs of tiredness. 
If you are in a hurry for hydration, the Vichy Hyalu Mask will plump and freshen the surface layer of the skin, making lines and wrinkles appear smoother, skin will be plumper and any dullness will be reinvigorated.
The eyes can often be the first place that signs of dehydration will show, in the form of crows feet, dark circles and expression lines. For a specialist solution the Mineral 89 eye gel is our go to, even for sensitive eyes.
If your skin is showing signs of dehydration such as dullness, fine lines, wrinkles and irritation, using a supplement that combines hyaluronic acid with collagen and antioxidants is a great way to combat the declining levels of moisture as you age. Revive Active Beauty complex combines Hyaluronic acid with Marine collagen, antioxidants and phytoceramides to plump and hydrate the skin from within.
If you suffer from oily dehydrated skin you will notice the surface of the skin is dry or flaky with a layer of oil sitting on top, all accompanied by blemishes, or dry patches of skin accompanied by blackheads and open pores. This can be a little tricky to treat but some main points to remember are:
Avoid using drying soaps, harsh scrubs, astringent toners and heavy emollient creams. Instead opt for a beta hydroxy acid wash such as La Roche Posay effaclar microfoliant, it contains salicylic acid that will clear the pore but will also act as an anti-inflammatory on the skin.
Also, products containing retinol and niacinamide can help to improve dullness of the skin, minimise the appearance of pores and help balance the skin to refresh and brighten the skin.