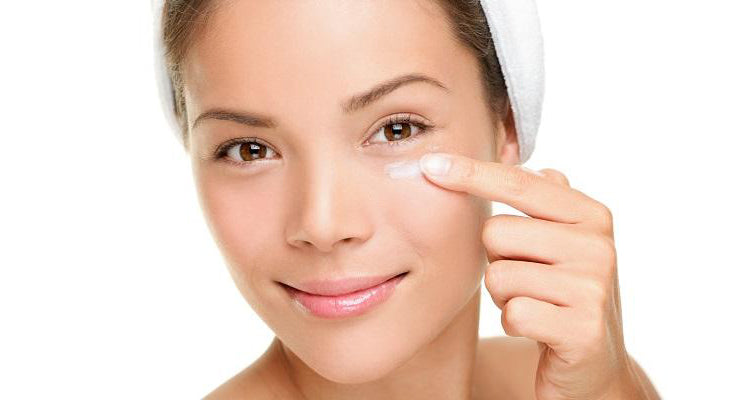 Say goodbye to tired eyes with these 5 eye treatments
Say goodbye to tired eyes with these 5 eye treatments
The delicate skin around your peepers is less than a millimeter making it the most fragile skin on your face. This means it's prone to dryness,fatigue and signs of aging. And it also works very hard, we blink typically 29,000 times a day! Additionally, the eyelids and surrounding areas are very vascular, meaning that a lot of blood flows through vessels around the eye.
The eye area has a very low supply of oil glands compared to the rest of the face so is normally the first part of the face to show dryness and irritation and it is often rubbed by our grubby fingers especially if you are tired. 
Eye creams can help target some of the following issues:
Dryness and redness
If you suffer from atopic skin conditions such as dermatitis or eczema the eye area can often flare up, leaving the eye area red, irritated and the area dry. Because the area is thin any dryness looks and feels much more pronounced. A hydrating eye cream moisturises this area and will help to keep it smooth.
Allergies
In allergy season, pollen in the air can trigger an immune response causing the body to react with swelling, irritation and inflammation. My favourite eye cream to use when this happens is La Roche-Posay Toleriane Ultra Eyes 20ml
Toleriane Ultra Eye Contour is specifically designed to hydrate and soothe irritated or dry skin around the eyes. It is proven to immediately relieve skin discomfort as well as reduce skin sensitivity around the eyes, day after day.
As well as dry skin, it soothes irritated skin around the eye contour that has been aggravated by hay fever, allergies or eczema.
Enriched with neurosensine, niacinamide and Thermal Spring Water, Toleriane is the first skincare range to be given the Seal of Approval by Allergy UK Enriched with neurosensine
Dark Circles and pigmentation
Dehydration is a common cause of dark circles under your eyes. When you are dehydrated skin beneath your eyes begins to look dull and your eyes look sunken. This is due to their close proximity to the underlying bone. Plumping up the skin surrounding the eye with a hydrating eye cream can really help.
Vichy Aqualia Awakening Eye Balm, with an association of sugars, Hyaluronic Acid + Aquabioryl  and caffeine, promotes hydration around the delicate eye area, restoring optimal and even hydration.
Overexposure to the sun can cause your body to produce an excess of melanin, the pigment that provides your skin with colour. Too much sun can cause pigmentation in the surrounding skin to darken.
                                                                                                                                  Alpha- H Absolute Eye Cream SPF 15 combines triple peptide technology with broad-spectrum UVA/UVB filters and antioxidant Enznogenol to protect and firm the delicate eye area, while stimulating collagen and minimising dark circles.
Genetics - Unfortunately family history also plays a part in developing dark circles under your eyes, it may be an inherited trait. 
So, what can I do for my eye area?
It is true that some hydrating serums are suitable for use around the eye area and may be beneficial at plumping out those tired lines. It is important however that you do not use your regular moisturiser around the eye area. Some moisturisers and serums contain strong active ingredients that would irritate and possibly damage the eye area e.g. AHA's Retinol or BHA's.
When using creams around the eye area be careful not to choose one that's too rich for your skin type. Millia are common little white bumps under the skin, they look like whiteheads without the ring of red around it. They can be caused by a build up of rich oil-based creams in the pore that then becomes keratinised and harden. These are difficult to treat and hard to get rid off so prevention is better than the cure in this case!
Using an eye serum rather than a cream can help reduce the chances of developing Millia. Another favourite of mine is Declare Essential Eye Lifting Serum
While sleep deprivation can play a part in producing those dark bags under your eyes, sometimes it's how you sleep. Elevate your head with a few pillows to prevent fluid from pooling under your eyes which can make them look puffy and swollen
Targeting crow's feet wrinkles and dehydrated eye contours.
For an instant fix these Vichy Liftactiv Micro Hyalu Eye Patches work wonders for smoothing out crows feet. With 100% hydrolyzed Hyaluronic Acid, widely used by dermatologists for its anti-aging benefits. The 160 micro-cones of Hyaluronic Acid diffuse onto the epidermis for an anti-aging effect. Suitable for sensitive skin and for sensitive eyes.