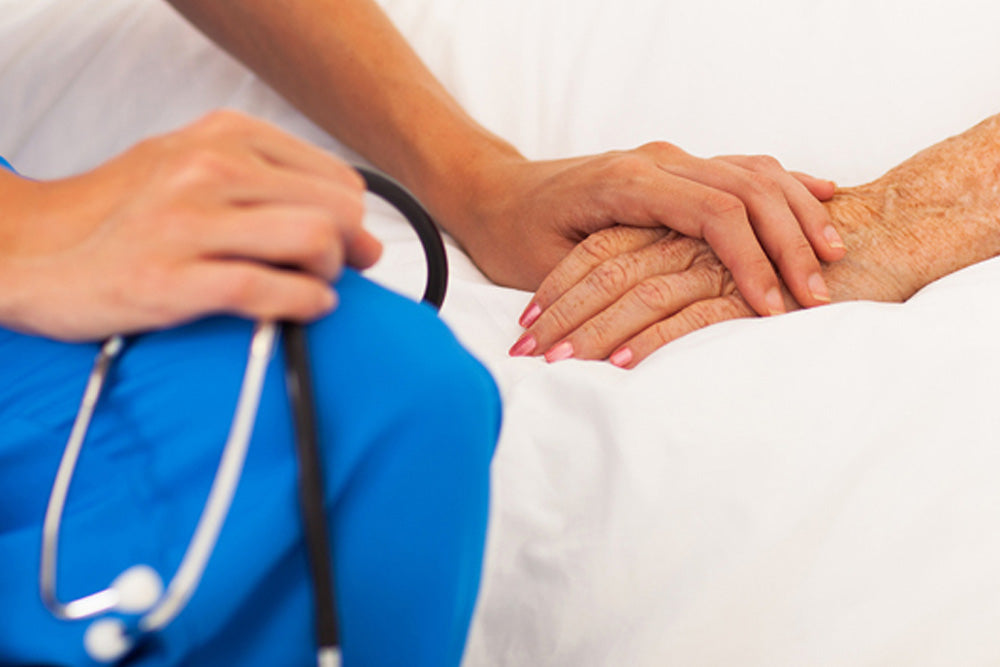 Pain Management After Surgery
Following a surgical procedure, such as a hip replacement, knee replacement, heart operation, or indeed an operation on any body part or organ, some degree of postoperative pain is to be expected unfortunately.
Postoperative pain can prove unpleasant, uncomfortable and frustrating. To help ease your pain, your doctor may explore various medical and non-medical techniques to control pain after surgery. 
If the pain management process after either elective or emergency surgery is flawed in any way, there is a chance you may experience chronic pain, so it's important you understand what's involved and what your options are when seeking pain relief remedies.
Successful pain management here in Ireland generally involves prescribing highly-effective medications (NSAIDs or opioids) to keep postoperative pain under control.These pain management aids are explained in further detail below. 
Your doctor may use opioids, together with a local anaesthetic to sedate you and keep you asleep during surgery. Also, an opioid dose may be administered to relieve pain during anaesthesia when you are in the surgical recovery room.
Besides providing greater comfort, the use of proper pain control after surgery speeds recovery, aids comfort and prevents long-term health complications.
Importance of Pain Control After Surgery
Effective postoperative pain control is a critical component in providing medical care for patients who have undergone surgical procedures. In order to ensure the recovery and wellbeing of the patient post-surgery adequate pain control is essential.
The benefits of effective post-surgical pain management are varied. They are both short-term and long-term. Pain relief affords you comfort and peace of mind both in the hospital and at home. 
Furthermore, studies suggest that pain medicines may reduce cardiac and pulmonary complications. Successful pain control on patients during surgery also plays a role in minimising the risk of acquiring deep vein thrombosis.
How to manage Postoperative pain
Pain without loss of consciousness or, to give it its medical term, analgesia, is most commonly treated with an analgesic (or painkiller) here in Ireland.
The HSE broadly defines pain as 'what the patient says it is' in its analgesic policy (PDF) meaning it's quite a difficult term to categorise as every individual patient's body is unique and can respond differently to different forms of pain and indeed, treatments.
The procedure undertaken during your specific surgery will dictate what your doctor considers to be the ideal pain control method. Various therapies applied to manage your pain are relatively safe but not entirely risk-free. 
It's always advised to ask your doctor about the possible side effects likely to occur to you following surgical pain control interventions. 
You are likely to experience mild side effects after surgery. These effects include nausea, vomiting, itching, and drowsiness. They can be distressing, but in most cases, there are readily available medicines to help treat these symptoms.
Intravenous Patient-controlled Analgesia PCA
Intravenous patient-controlled analgesia PCA will require the doctor to use a computerised PCA pump to deliver small amounts of medicine into your intravenous IV line, usually located on your arm. 
Intravenous patient-controlled analgesia is popular with many doctors and patients as you receive zero injections to your muscles. Furthermore, the patient is directly involved in the postoperative pain control process.
The pump is programmed to deliver calculated amounts of medications to your body. 
The patient-control aspect of treatment is an important safety feature of the pump and will restrict your friends and relatives from pushing the button for you when you need medication.
Always ensure you are awake to make certain the decision to self-administer the pain medication is a rational one.
Patient-controlled epidural analgesia
This is the preferential form of analgesia during childbirth. In this case, a PCA pump delivers small amounts of pain medicine in an epidural catheter placed at your back. 
You will experience fewer discomforts from placing a pump attached to an analgesic catheter than when starting an IV. The IV administers a sedating medication that aids in relaxation. 
Your back will be cleaned with a sterile solution and a local anaesthetic numbs it. The doctor then carefully inserts a needle in the dura space of the spinal cord. 
Pain medications are infused in your body using the catheter and this will prevent both preoperative and postoperative surgery pain. When in need of additional surgical pain relief you, the patient can then press the PCA pump button. 
Epidural analgesia is more potent than intravenous analgesia. If you receive this form of analgesia, you will most likely experience reduced pain when walking, coughing, or taking short breaths. 
For patients with a medical complication such as heart or lung disease, this type of analgesia may also reduce the risk of adverse complications like pneumonia and heart attack.
Like intravenous analgesia, it is safe but not entirely risk-free. There are instances when there is inadequate pain relief from the epidural. In this case, you will either receive alternative treatments or the doctor conducts the epidural replacement.
Nausea, vomiting, drowsiness, and itching are some common side effects of epidural analgesia. Occasionally, you may experience numbness and weakness of your legs, which becomes less severe when medication is reduced or stopped. Some of the less common adverse effects from the epidural such as infection and nerve damage are unlikely to occur. 
Oral pain medications
During recovery, it reaches a point when your doctor will recommend oral pain medication. You should generally take your oral medicine (in either pill or liquid format) at an interval of 4  hours, though this can vary depending on dosage and medication so always read the label and follow your doctor's advice.
Once you are in pain talk to your doctor so that you receive the oral pain medicines. If they are ineffective after 30 minutes, you should consult your doctor for medical advice. The doctor may then give you alternative oral pain medications. You do not have to wait for 4 hours if the severe pain persists, you should consult with your doctor and they will ensure that your pain relief is tailored to your unique case.
NSAIDs
NSAIDs stand for nonsteroidal anti-inflammatory drugs. Examples of nonsteroidal anti-inflammatory drugs (NSAIDs) include Ibuprofen, naproxen, acetylsalicylic acid, and metamizole (dipyrone).
Nurofen falls within the category of anti-inflammatory drugs NSAIDs. It is a pain medication ideal for relieving muscle pain, dental pain, headaches, migraines, among other discomforts arising from surgery pain. 
The pain medicine capsule contains an active ingredient, Ibuprofen, as a soluble fluid that is easier to swallow and quickly absorbs into your body. 
Opioid Analgesics
Sometimes called narcotics, opioids are medications prescribed by doctors to treat persistent or severe pain.
The opioid analgesics most commonly prescribed here in Ireland include methadone, codeine, buprenorphine, meperidine, dextromethorphan, oxycodone, tramadol, acetaminophen (Tylenol) and morphine. Morphine is a strong opioid painkiller and is one of the most widely-used opioids.
Opioid medication works by binding receptors of your body cells in areas such as the brain, gastrointestinal system, or spinal cord.
Non-Opioid Analgesics
These are over-the-counter prescription medications commonly used to alleviate pain. They are safe and effective medicines that act as an alternative for opioids analgesics. 
These medicines include ibuprofen, acetaminophen, steroids, and adenosine, among others. Acetaminophen (paracetamol) also reduces fever.
NB: Ibuprofen and naproxen should not be used together. Such a combination increases the risk of side effects in the gastrointestinal tract like ulceration, inflammation, and bleeding. 
Other Pain Medication
Additional postoperative pain management solutions are available to control chronic pain after surgery. 
They include physical therapy devices which promote electrical nerve stimulation blocking the pain signals, improving blood flow and reducing inflammation, such as Nurokor, or over-the-counter topical ointments which help moderate pain and reduce inflammation, like Voltarol. 
Alternative methods of non-medical relief can also aid in your recovery, such as breath work, yoga, light exercise, certain supplements (such as Revive Joint Complex, Turmeric and Solgar), probiotics and food supplements like Symprove.
Depending on the type of surgery you've had and the associated pain signals or symptoms, your GP will advise on the best course of action when it comes to ensuring a return to full health during your postoperative period.
Nerve blocks
Peripheral nerve blocks can help manage pain in an isolated area such as your arm or leg. In case of prolonged pain during and post-surgery, the physician inserts a catheter to block pain in the nerves. It is a solution that reduces the intake of opioids used for pain relief in your body. Hence, it reduces common side effects such as nausea, vomiting, drowsiness, and itching.  
There are cases where a nerve block is the anaesthetic of choice during a surgical procedure. Such instances require the doctors to give you specific medicine that makes you comfortable, relaxed, or sleepy. 
Anaesthesia provides you with pain relief during and post-surgery. Your physician will decide whether this is healthy and the most suitable type of pain management or anaesthetic option. 
How to Control Pain at Home
Following your in-patient surgery and return home, the doctor will provide you with home-based prescriptions to aid your recovery. The prescribed medicines may differ from those administered previously at the hospital.
It is of utmost importance that you follow the instructions of your physician as to which type of prescriptions are suitable once you are out of the hospital. Give detailed information to your doctor on any medicines that may have caused you complications in the past as this will avoid delays in your discharge process.
If the doctors have provided you with your home prescription before your surgery date, have your medication filled and readily available for you when you get home. 
While recovering at home, it is recommended you observe the following suggestions:
Always take your medication before activity or before bedtime. There are some pain medications that you should take at regular time intervals.

Always ensure that you have sufficient rest. If there are complications when speaking, ensure you alert your doctor. 

When sleeping or when doing breathing exercises, ensure you use pillows to support you comfortably. 

Listening to soft music, cold therapy or heated pads, massage, changing positions in bed, and guided imagery tapes may help with pain management.
When you are still on your pain medication, you may require to have staples and stitches removed. Let a family member or a friend drive you to your appointment. Additionally, avoid operating machinery when taking any analgesic that may cause drowsiness. 
Always check the label of your prescription for any warnings or additional instructions and be sure to ask your doctor, nurse, or pharmacist if you've any uncertainty over anything at all.
The Meaghers Verdict on Pain Managment After Surgery
Effective pain management is crucial in improving your quality of life after surgery. Surgical pain may hinder you from enjoying what you do. It may prevent you from taking and spending enjoyable time with people you love. It is likely, there will be distress and suffering for you and your loved ones so follow the pain management plan your doctor gives you to minimize or even avoid this.
Opioid and non-opioid analgesics are both effective pain medications to help you during and after surgical treatments. There are various ways of managing pain after surgery. They include nerve blocks, oral pain medications, patient-controlled epidural analgesia, and intravenous patient control analgesia. Additionally, your doctor may prescribe you home-based analgesics. They are post-surgery, home-based follow-up pain management drugs.
We understand that pain after surgery can prove challenging to overcome. With patient satisfaction, safety and comfort at the heart of a medical practitioner's role, the principles of successful pain management remain the same whether you're undergoing major surgery or minor cosmetic surgery, planned elective surgery or a life-saving, unplanned emergency treatment - your healthcare team are there to help and so are we.
Contact Us to Discuss Your Pain Management Requirements
If you've got any questions for our team on the topic of post-surgical pain management or any of the pain relief solutions or medications available in-store at any Meaghers Pharmacy shop or on our website, please contact us today and we'd be happy to assist you and provide you with all the information you need to make a more informed choice to help manage your pain following surgery.