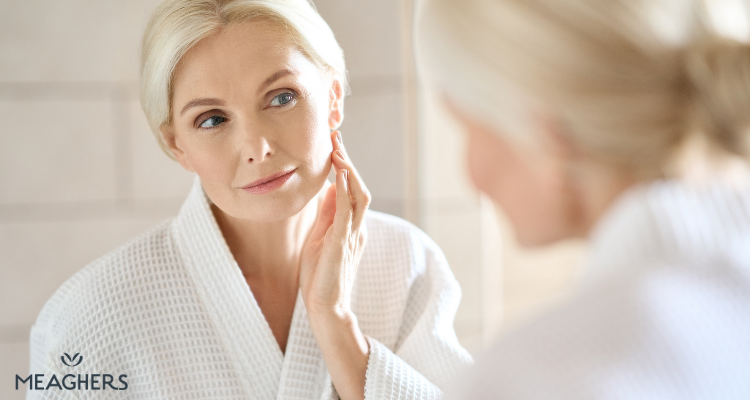 Helping your skin during Menopause
Despite being something that affects half of the population, menopause remains a life stage that is rarely discussed and is often treated as taboo. We are delighted to support the recent shift within the beauty industry to open the conversation about this very normal, natural process and share how we can support each other during this time.  
What is Menopause?
Menopause is formally defined as 'when a woman stops having periods and is no longer able to get pregnant naturally'. Although menopause usually occurs between the ages of 45 and 55, around 1 in 100 women experience menopause before 40 years old. This is known as premature menopause.  As well as marking the end of menstruation, the menopause also brings a number of other challenging changes to the female body. In a recent study, 79% of menopausal symptoms discussed were physiological such as hot flashes, fatigue and weight gain, whilst 21% were psychological including anxiety, depression and insomnia (Convosphere UK, 2019).
Menopause is a topic that is often swept under the rug and not discussed and this can lead to women feeling lonely during this time. At Meaghers, we want people to feel they have a safe place to share their menopause journeys and our team is always on hand to offer advice and support.
What happens to our skin? 
Your skin can react in many ways to menopause due to fluctuating hormone levels, with 6% of total symptoms related to beauty (Convosphere UK, 2019). The most common shared skincare concerns are sensitive skin, dry skin, breakouts, itchy skin and wrinkles. Most women seek to find solutions to ease the discomfort of symptoms such as itchy and dehydrated skin rather than looking for ways to look younger. Women with existing skin conditions often mention their skin issues worsen during menopause or some women with tolerant skin find that they start reacting to everything.  
Hormonal changes due to the menopause or Hormone Replacement Therapy (HRT) are consistently linked to acne, with chin and jawline mentioned as the most affected areas. Body acne is also common in areas such as the breasts due to hot flashes and night sweats.
Some women who have acne can also developed rosacea during the menopause. The skin can typically become thinner due to the decrease in hormonal activity associated with menopause. This hormonal change is also the leading cause of dry skin, dehydration, irritation & sensitivity. Dryness of skin occurs when our natural oil production slows down, and we don't produce enough oil secretions within the skin. The skin can become flaky and our natural ceramide production slows down, meaning our skin's barrier can become fragile, which can lead to issues like sensitivity or skin irritation. 
How can we help our skin? 
Whilst there's no getting away from the fact that symptoms of menopause such as hot flashes, night sweats and thinning hair are likely to become your reality for a while, there are things you can do to help yourself feel a bit brighter and more comfortable during this time. 
Whether your skincare routine should change during menopause is dependent on your individual needs and reaction to hormonal fluctuations. 
Skingredients acknowledges that all skin needs a little help sometimes, and their Key 4 product range provides optimal nutrition to support your skin's needs:
01 Use Preprobiotic Cleanse to nourish the skin - a dreamy, creamy cleanser used twice a day to help to give nourishment back to skin. Because Menopausal skin can be slightly more fragile, use this gentle cleanser morning and evening. 
02 Skin Veg gives the skin a well needed drink and burst of hydration. As skin ages our levels of hyaluronic acid begin to deplete, so it's important to include a hyaluronic acid product in your routine. Skin Veg is also brimming with antioxidants to help fight free radical activity that has the potential to be damaging to skin cells. By giving your skin one of its 5 a day, your skin will be instantly hydrated, plumped and ready to combat the negative effects of free radical activity.  
03 Skin Protein is formulated with Vitamin A to regulate the cell turnover that naturally slows down with age. It's also loaded with powerful VIT C & E protection. This is a game-changing powerhouse serum to boost the skin's natural cell turnover during the menopause phase.  
Last but not least, Skingredients 04 SPF 50 PA+++ Skin Shield is a broad-spectrum SPF that gives your skin the protection it needs from harmful UV rays. Skin Good Fats from Skingredients is also a great product to incorporate into your routine. Skin Good Fats gives back to the skin where natural ceramides are lost, alleviating dryness, itchiness and providing optimal comfort.  
At Meaghers, our team are here to help you on your menopause journey no matter what stage you are at. Whether you are looking for advice on medication, supplements or skincare, visit us in store or contact us and we will be happy to support you!