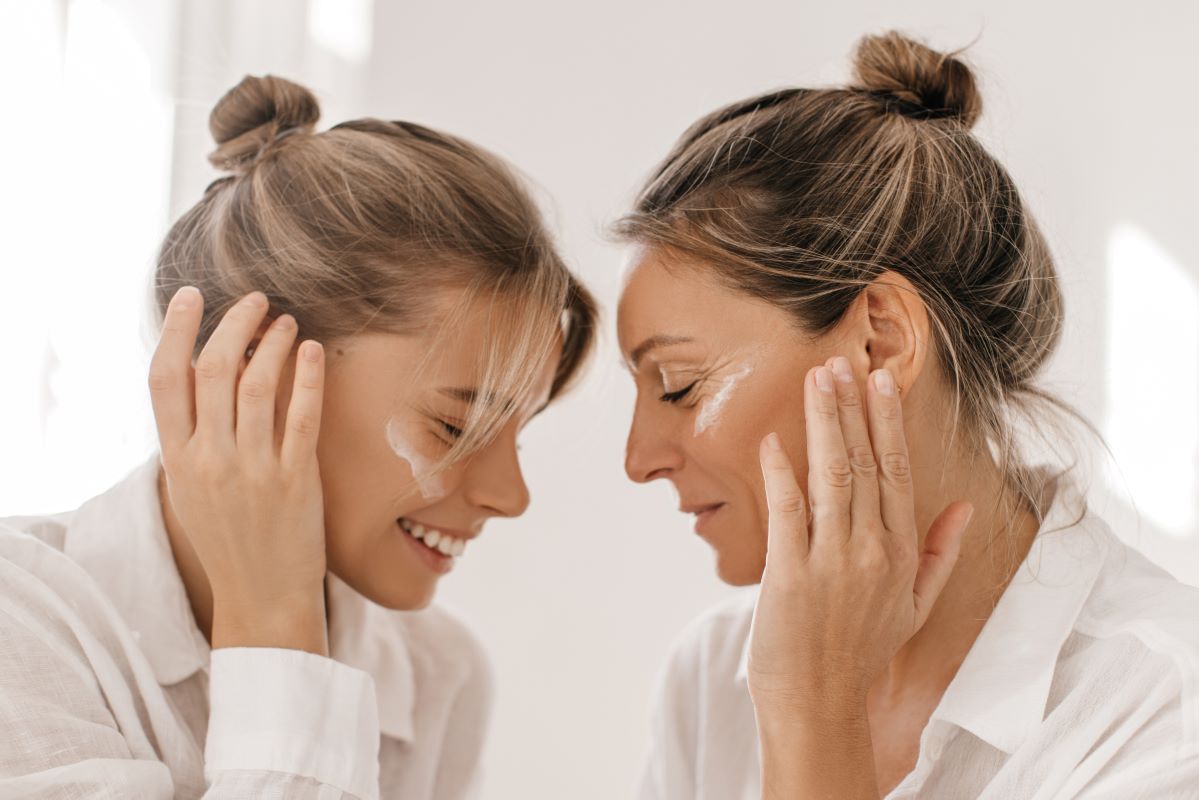 Handling how our hormones effect our skin
As we go through the various stages of development and ageing, women inevitably see a difference in how their skin looks, feels and performs its essential functions like protecting us from external aggressors. Different milestones of female development can bring about significant changes to our skin. Here at Meaghers we are passionate about empowering women to maintain and improve the health of their skin and to love the skin they are in. Let's look at the different stages that you may see issues with your skin and how we can help.
Puberty
As young women as we enter puberty, we are navigating a host of challenges, not least the changes in our skin! Hormonal acne is a common issue that teenager face. In teenagers, hormonal acne tends to occur on your forehead, nose, and chin. In adults, hormonal acne tends to occur on your cheeks and jawline. Your skin is covered in small glands called sebaceous glands, these glands secrete oil or sebum to keep the skin moist and protected. The activity of the glands are greatly impacted by your hormones, including oestrogen and testosterone. The more androgens, like testosterone, that is produced the more oil is produced, this can cause oiliness of the skin as well as blockages in the pores leading to breakouts of whiteheads, blackheads, and the growth of acne bacteria.
The main way to help ensure the skin remains clear and breakouts are minimised is to cleanse the skin thoroughly with a wash that includes an ingredient that will penetrate the pore.
The Cerave Blemish Control Cleanser is a fantastic gentle cleanser that will help remove excess oil from the skin, reducing the amount of breakouts and will treat existing congestion in the pore
For existing blemishes an effective and targeted  treatment is the Acnaut Active lotion, this powerful lotion should be applied as a toner to areas of concern or as an on the spot treatment for problem blemishes.
Pregnancy
If you do not experience the 'Pregnancy Glow' when you are expecting, you are not alone! Pregnancy is a time when our bodies are impacted by hormone fluctuations that may result in any number of skin concerns from hormonal acne, dryness, redness, hyper pigmentation disorders and irritations. It is always a clever idea to discuss any changes you see in your skin during pregnancy with your GP, Nurse or Pharmacist. It is super common to experience surface inflammation in the skin when you are pregnant this is because your blood vessels are stretched, and your immunity is suppressed to protect your baby. It is important to treat your skin super gently when pregnant, you may not have ever had sensitivity of the skin before, but you may experience irritation from ingredients that you have used before now when pregnant.
If your skin is red and reactive, dry and tight try the Avene Antirougeurs Soothing Day Cream SPF30
This daily Daily moisturiser is especially for skin prone to redness. It naturally soothes and softens sensitive skin. It contains an anti-irritating active ingredient that reduces redness and feelings of discomfort and overheating. 
To ensure your skin remains hydrated during pregnancy a hyaluronic serum is my go-to recommendation. Choose a nice gentle formula that will help protect your skin from free radicals that may cause damage at this sensitive time for your skin. Pestle & Mortar Pure Hyaluronic Serum is a lightweight serum that quickly soaks into the skin leaving it velvety smooth and soft to the touch.
Perimenopause & Menopause
As we transition into perimenopause and menopause our hormone levels drop leading to changes in your skin. The levels of Oestrogen can significantly drop as we go through the menopause, and this can cause a number of changes in the skin including dry and itchy skin, acne breakouts but most significantly sagging of the skin and visible lines and wrinkles. This is because the drop in oestrogen impacts the levels of collagen within the skin. Collagen is important for the structure, strength and bounce of the skin.
Using a retinol serum is my top recommendation for tackling deep set lines and wrinkles as well as breakouts, pigmentation, and uneven skin tone. Using a retinol serum that will respect the microbiome of the skin and not irritate the skin is essential as skin redness, irritation and reactions are all too common during the perimenopause.
Vichy's Liftactiv Retinol Specialist Deep Wrinkle Serum is designed to visibly reduce wrinkles and lines, improving overall skin tone and boost skin's radiance for a healthy-looking, youthful appearance. Pure Retinol combined with 1% Probiotic derived fractions: a cultured bacterial lysate known for their skin repairing properties. This lightweight milky serum, marries efficacy and tolerability, designed to nourish the skin, help promote skin elasticity, firmness, suppleness and renew.
If the skin is dry or itchy and prone to irritation, flakiness or reaction this could also be due to the drop in oestrogen levels leading to a disruption of the skin's barrier function. My top recommendation in caring for dry skin and repairing this barrier is to use an ingredient rich in omega fatty acids. Trilogy's pure, cold-pressed, wild harvested rosehip seed oil is ideal for overall skin health as well as scars, stretch marks, fine lines and wrinkles.
Irish brand Seavite has formulated a rich and nourishing face cream ideal for dry and tight skin. It contains nourishing plant oils even the complexion, antioxidants to neutralise free radical damage and essential amino acids aid skin cell renewal as well as calming Irish seaweed extracts to soothe irritations.
It is important to think of the skin as an organ that helps to protect us as well as looking good, we want it to continue to perform its essential functions. Using a collagen supplement will help the strength and appearance of the skin improving skin bounce, helping the appearance of wrinkles and encouraging a Dewey complexion.
YourZooki Liposomal Collagen Zooki is a highly effective hydrolysed marine collagen in Liposomes and is the ultimate daily beauty and health supplement. Containing 5000mg of Hydrolysed Marine Collagen and 30mg of Vitamin C, Collagen Zooki contributes to natural collagen formation for the normal function of skin, cartilage, bones, gums and teeth.
Swedish Nutra collagen pure peptide 10000mg per serving powder, a supplement that helps support healthy skin hair, joints and nails. Anti-aging formula builds, rejuvenates and maintains healthy, youthful skin. It slows down the aging process by replenishing the lost Collagen.
If you have any questions about how hormones are affecting your skin get in touch with us here in Meaghers.