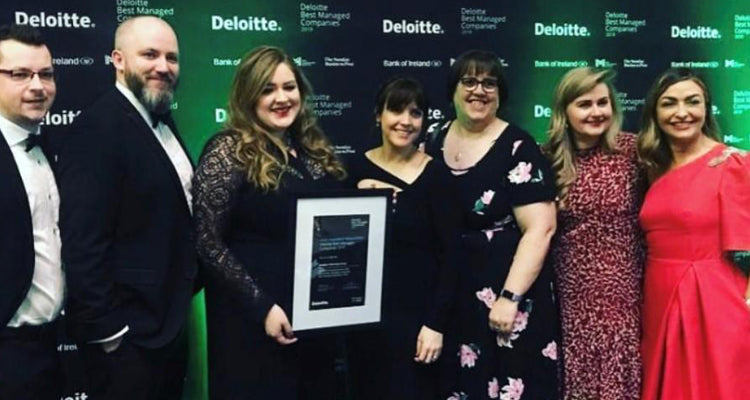 Deloitte Best Managed Companies
We are delighted to announce that Meaghers Pharmacy Group has been announced as one of Ireland's Best Managed Companies! This is the 5th year in a row that we have received this prestigious accolade and we are so honoured to be recognised alongside some of Irelands most prestigious corporations.
The Deloitte Best Managed Companies Awards programme is awarded to companies which demonstrate superior business performance and for the 5th year in a row we were fortunate enough to be chosen and recognised at a magnificent gala awards ceremony in Dublin in March 2019.
This year, 12 new companies join a network of 136 companies that were awarded the status of Best Managed. The Best Managed Companies network this year has total revenues of almost €11 billion, export sales of almost €3 billion and total employment of approximately 44,000 people.
Commenting on the award, Oonagh O'Hagan, Founder and MD said: "This award would not have been possible without the unrelenting support of my team. To be presented this award again this year is the ultimate in acknowledgement of our companies hard work and dedication"
Anya Cummins, Partner, Deloitte said: "Well done to all of the winning companies on their achievement. The Best Managed Companies process is a rigorous one, examining every facet of an organisation, and the bar is set high by our judging panel. As ever, the spread of companies, right around the country and across a number of industries, underlines the importance of Irish and Northern Irish companies to the economy and in the midst of economic uncertainty, technology disruption, an open competitive market and full employment, the continued strong performance of these businesses is admirable. In the current environment, it is important for this contribution to be recognised, supported and showcased."
This year's judging panel members were Frank Ryan, Chair of the Judging Panel; Brendan Jennings, CEO, Deloitte Ireland; Tom Hayes, Chief Executive, Bank of Ireland Corporate Banking; Siobhan McAleer, Commercial Director at the IMI; Rose Hynes, Chairman of the Shannon Group Board and Origin Enterprises; and Feargal Mooney, former Chief Executive Officer of HostelWorld.
About Deloitte Best Managed Companies Awards
The Deloitte Best Managed Companies programme, in association with Bank of Ireland, promotes and recognises excellence in Irish/Northern Irish owned and managed companies. It is the only awards scheme on the island of Ireland that considers a business' performance from every perspective. Entrants to the programme will compete for this designation in a rigorous and independent process that evaluates the calibre of their management abilities and practices.
Next year Meaghers Pharmacy Group will be entering this prestigious competition for the sixth year in a row and hoping we can gain a foothold towards achieving the Platinum Standard. Keep your fingers crossed!