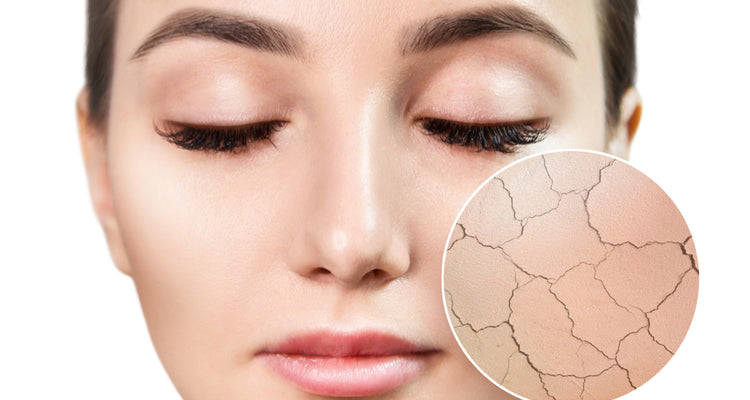 Creating a Core Routine for Dry Skin
Just as people with oily skin produce too much sebum for the skin people with dry skin do not produce enough to keep the skin soft and supple. This is easily treated with non-drying cleansers and nutrient rich moisturisers packed with ceramides, oils, and fatty acids. However, the real issues with dry skin can be triggered when the epidermal barrier, the skins top protective layer, gets impaired and bacteria and the elements can penetrate further into the skin.
This invasion of your skin can lead to inflammation, flaking, itch, and more serious problems like infection.
To prevent dry skin becoming more problematic it is important to look after the skins barrier and use products that will boost the barrier, add in an antioxidant to brighten the dull tone of the skin and also to help protect the new skin cells as they are being formed.
If your skin is dry and atopic for a prolonged period and you have tied emulsifying moisturisers to no avail you may be suffering from a skin condition that your Doctor can help you with. Always get advice if that is the case.
Dry Skin Routine
Always start with a gentle cleanser that will not dry the skin further but will soften and soothe
Exfoliating once a week, chemically or physically, helps even skin texture and helps remove a build-up of dry dead cells.
Toning is essential for dry skin types to help soften the skin and allow for deeper penetration of following products
When choosing  moisturiser opt for one that is rich in ceramides and emulsifying agents, one that will comfort dry skin and help repair the lipid barrier
My top tips for dry skin
Incorporate a facial oil rich in omegas into your routine- add a few drops to your moisturiser or apply a generous layer over your night cream. I love the Trilogy Rosehip Oil, it's so versatile you can even add it to your foundation!
Use lukewarm water when cleansing and in the shower- hot water will dry the skin out further
Try an omega supplement that will help your skin moisturise from the inside out
SPF is a must. Sun damage will further dry the skin out and signs of aging will be more pronounced