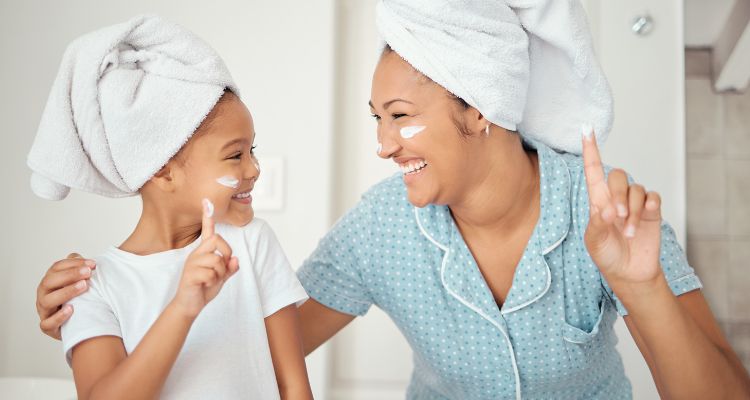 Achieve Deep Hydration with CeraVe
Looking for a simple and affordable way to take care of your family's skin? For those with babies or young children, we know it's important to have gentle yet effective skincare products for their dry and sensitive skin.
Consider using CeraVe, a skincare brand that has become incredibly popular globally for their dermatologist-backed products that offer a skincare solution for every skin type. Every CeraVe product contains 3 essential ceramides, ensuring optimal protection and deep hydration for sensitive or even eczema-prone skin. Follow this dermatologist-recommended, family-friendly skincare routine below, perfect for those looking to restore their skin's natural barrier and achieve lasting hydration.

STEP 1: CLEANSE

Start by using a highly effective body cleanser that will not leave you or your children's skin feeling stripped or irritated. CeraVe's Hydrating Cleanser is packed with hyaluronic acid and is designed for normal to dry skin, helping to strengthen the protective skin barrier. This cleanser is perfect when it comes to removing dirt, oil and impurities while also locking in tonnes of moisture. Its trusty pump dispenser also helps to prevent accidental spillages that may occur if your little ones get their hands on the bottle! CeraVe's 473ml bottle is perfect for the whole family, offering ample hydration for all.

STEP 2: MOISTURISE

Due to work and family life, we know it's important that you and your children's skincare routines remain simple without compromising on effectiveness. With CeraVe, you can follow up your cleanser with a fragrance-free moisturiser, suitable for children and babies over 2 months old.
For normal to dry skin, try CeraVe Moisturising Lotion with a lightweight, non-greasy formula. If you have dry to very dry skin, we recommend the CeraVe Moisturising Cream with a thicker and richer texture. Despite the texture differences, both moisturisers are formulated with hyaluronic acid and MVE Technology for up to 48 hours of lasting hydration. Simply rub the product onto the face and body, to ensure your family stays thoroughly moisturised throughout the day, regardless of how busy it gets.
If you're looking for advice on skincare, speak to one of our teams today. You can shop the CeraVe range online and in-store at Meaghers.