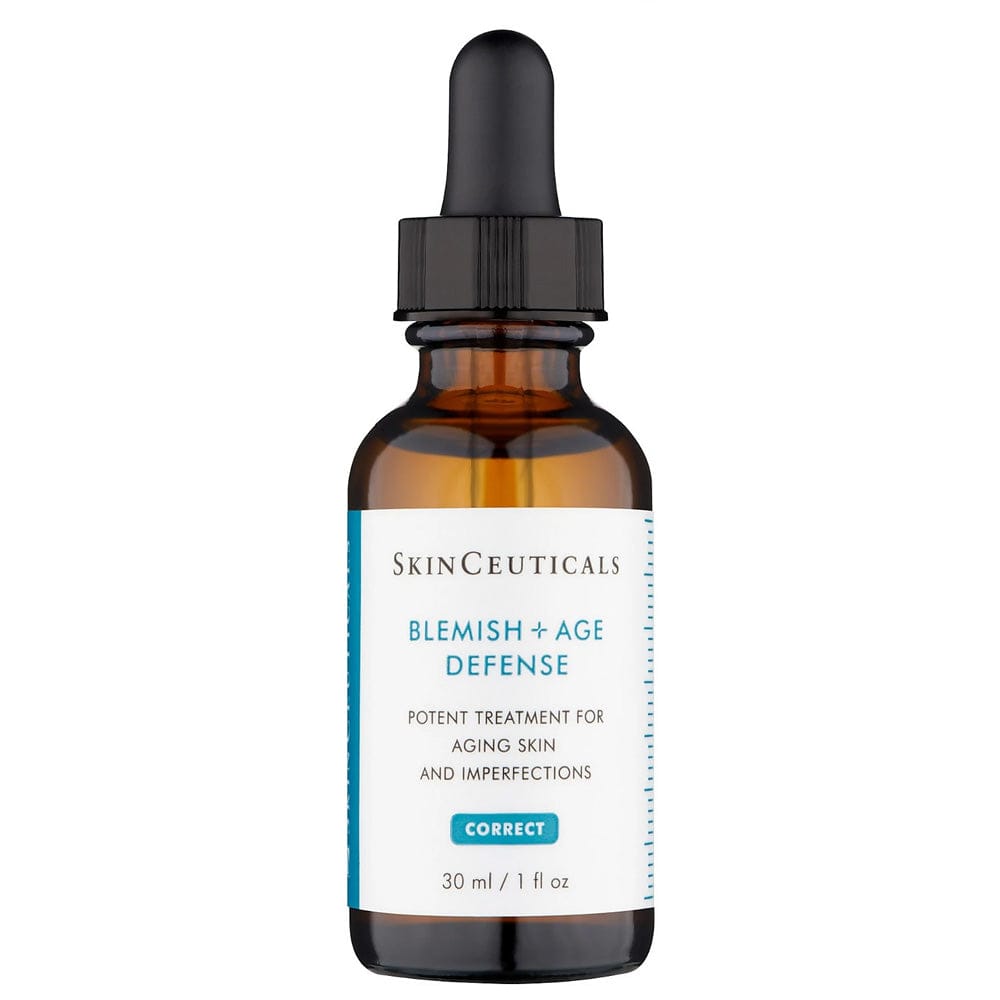 SkinCeuticals Blemish and Age Defense Serum 30ml
Description

Directions 

Ingredients

Reviews
Blemish + Age Defense is a targeted serum designed specifically for ageing skin prone to blemishes. Formulated with a potent acid-based complex, this daily-use serum helps reduce excess sebum and exfoliate dead skin cells to minimise the appearence of blemishes. It also refines skin texture while smoothing the appearance of fine lines and wrinkles.
Reduces excess oil by up to 28% in one week,
Exfoliates to improve skin texture and the appearance of fine lines by up to 39% and wrinkles by up to 63%*,
Minimises the appearance of post-blemish discolouration, even in darker skin tones, • Can be used on the entire face or on individual blemishes, *Protocol: 8 week clinical study, 52 subjects, Percentages reported are average results of visual gradings.e- and alcohol-free
Suitable for oily, combination, and ageing skin types
Once or twice daily, apply 4-5 drops to a dry face.
Precaution: Products that contain Alpha Hydroxy Acids (AHA's) may cause initial flaking, tingling and irritation to the skin. For some this may be part of the normal resurfacing process. This improves as the skin 'gets used' to the treatment. AHA products may be introduced with less frequent use, and application can be increased as the skin acclimates. At first start by gradually introducing one AHA product at a time into your skincare regime. Also some breakouts may occur initially, due to purging of the follicles. Discontinue use if you have severe redness, itching, burning, rash, swelling or blistering.
Citric Acids:

 

This AHA accelerates exfoliation and reduces the appearance of signs of ageing.
Glycolic acid:

 

This AHA eliminates dead skin cell buildup and improves skin hydration.
Salicylic acid:

 

This beta-hydroxy acid refines the pores and helps reduce acne.
LHA:

 

A lipo-hydroxy acid, LHA exfoliates the skin, decongests clogged pores, refines the skin's surface, and can exhibit anti-inflammatory properties.
Salicylic Acid 1.5%. Alcohol Denat.Water, Methylpropanediol, Glycolic Acid, Diisopropyl Adipate, Octadeceneioic Acid, Hydroxyethylpiperazine Thane Sulfonic Acid, Citric Acid, Capryloyl Alcicylic Acid, Sodium Hydroxide, Polyquaternium-10
Please Note: that from time to time, products are innovated without notice. For the most accurate information, please consult the product box. If you spot an error, please let us know! We will update this ingredients list as soon as possible.serum
Meaghers Blog
 By choosing ethically and sustainably produced beauty products we contribute to a more environmentally conscious and socially responsible industry. 

Lets look at some sustainable choices you can make in your beauty routine

Read now

This is the perfect time of year to look at the habits we would like to build to be the best version of ourselves for the term ahead. Small changes to nutrition, movement, sleep and gut health can make a huge impact on our wellbeing.

Read now