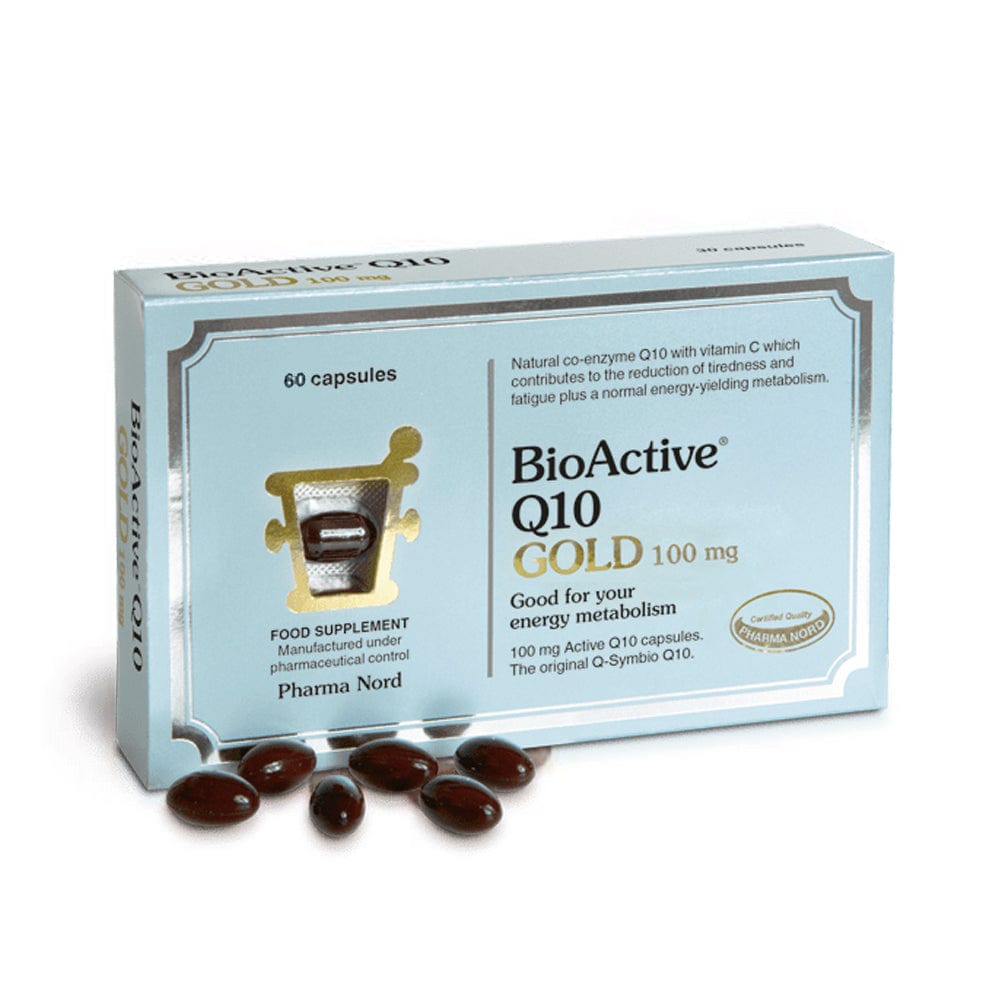 Pharma Nord BioActive Q10 Gold 100mg Capsules
Description

Directions

Reviews
For several decades, BioActive Q10 Gold 100 mg has been one of the world's most widely sold Q10 brands. One of the main reasons for its popularity is that fact that this preparation can document a high level of bio-availability. Q10 is a fat-soluble substance which is difficult for the body to absorb. However, thanks to a highly specialized manufacturing process where Q10 is dissolved in a vegetable oil solution and exposed to a unique heating process the Q10 molecules are able to dissolve entirely at normal body temperature. The fact that the Q10 raw material dissolve completely in this product is the reason why BioActive Q10 Gold 100 mg can deliver such superior bioavailability of its active compound.
Benefits
Unique fomula with documented high bioavailability
Contributes to the reduction of tiredness & fatique
20 years of consumer experience on safety and efficacy
Documentation from more than 100 scientific studies
The Q10 in the preparation is identical to the Q10-form, the body produces
It is the natural all-trans form, which is free of synthetic cis-isomers
Identical to the natural form of Q10
Official reference product for ICQA (International Coenzyme Q10 Association)
Q10 100 contains Q10 in vegetable oil in soft lightproof gelatin capsules
Unique blend of vegetable oils from sustainable farming
Added vitamin B2, which contributes to the reduction of tiredness and fatigue plus a normal  energy-yielding metabolism
Manufactured under Danish pharmaceutical control
1 capsule per day or as recommended by a physician. To be taken with food.
Do not exceed recommended amount.

Not suitable for vegetarians.

Pregnant and lactating women and those on medication should seek professional advice prior to taking supplements.

Nutritional supplements should not be used as a substitute for a varied diet and a healthy lifestyle.
Meaghers Blog
Nutritionist Lucy Brennan 

ANutr shares her tips and advice when it comes to supporting male mental health.

Read now

Nutritionist Lucy Brennan 

ANutr shares her top tips on the best foods to incorporate into your diet when going through menopause.

Read now