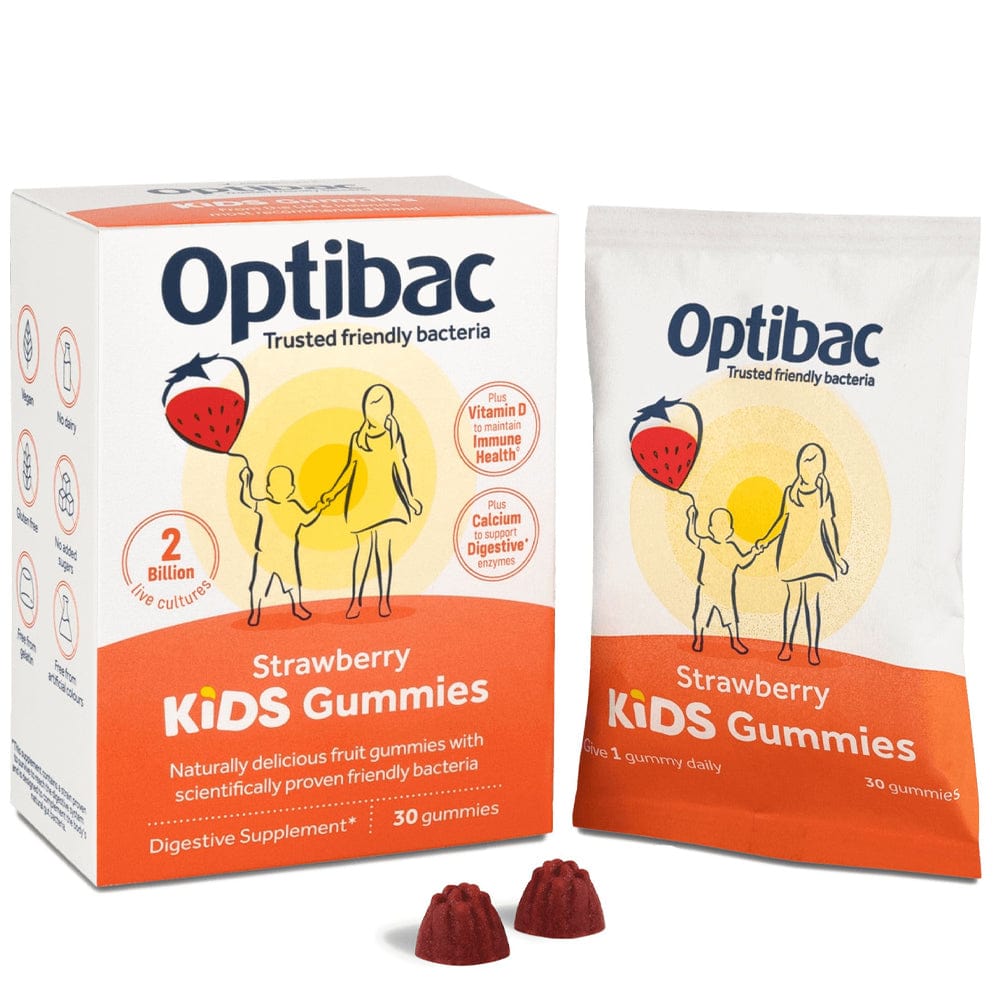 Optibac Probiotics Strawberry Kids Gummies
Description

Directions

Ingredients

Reviews
Optibac Kids Gummies have been formulated especially for children 3 years and over, containing the popular and well-researched Bacillus coagulans Unique IS-2 strain which has been scientifically trialled in hundreds of childre. Each delicious strawberry-flavour gummy contains a guaranteed 2 billion live cultures + 0.55g (550mg) Fructooligosaccharide (FOS) fibres, plus vitamin D3 to maintain immune health and calcium to support the normal function of digestive enzymes. Calcium and vitamin D3 are needed for normal growth and development of bone in children.
These real fruit, friendly bacteria gummies are vegan and allergen free with absolutely no gluten or dairy. They contain no artificial sweeteners, colours or flavours and no added sugars. Free from gelatin. Suitable for children on vegetarian, vegan, gluten-free, dairy-free, yeast-free or soy-free diets.
Each pack contains 30 gummies: serving size 1 gummy per day. Packaging is 100% plastic-free, with a home compostable inner pouch and an FSC-approved recyclable box.
Suitable for children from 3 years+: 1 gummy a day, at any time, with or without food.
Can be safely taken on an ongoing basis and recommended daily. Anyone consuming this product must have the ability to chew solid food.
Due to the natural ingredients, there may be some colour variation over time. This does not affect the quality of the product.
Optibac Kids Gummies does not require refrigeration.
Store in a cool, dry place below 25°C and out of direct sunlight.
Keep out of reach of children.
Prebiotic FOS (Fructooligosaccharides) 0.55g; apple juice concentrate; apple puree concentrate; strawberry puree concentrate; Calcium (as tricalcium phosphate) (120mg: 17%DV 3 years / 10%DV 4 years+); lemon juice concentrate; pectin; black carrot juice concentrate (for color); natural flavor; citrus fiber; Probiotic cultures: Bacillus coagulans Unique IS-2; Vitamin D3 (5mcg: 33%DV 3 years / 25%DV 4 years+)
Each gummy contains 2 billion CFU of good bacteria. Guaranteed until the date of expiry.
Meaghers Blog
 By choosing ethically and sustainably produced beauty products we contribute to a more environmentally conscious and socially responsible industry. 

Lets look at some sustainable choices you can make in your beauty routine

Read now

This is the perfect time of year to look at the habits we would like to build to be the best version of ourselves for the term ahead. Small changes to nutrition, movement, sleep and gut health can make a huge impact on our wellbeing.

Read now