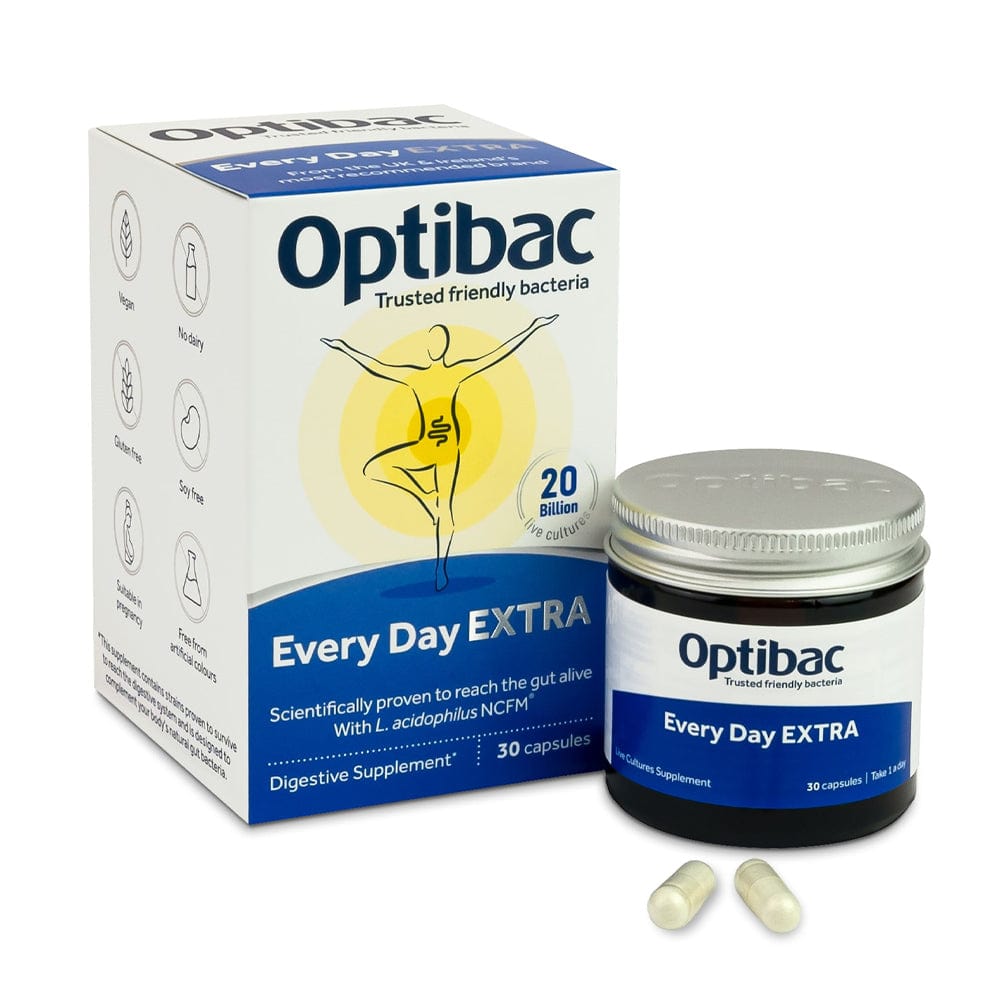 Optibac Probiotics Every Day Extra Strength
Save

Liquid error (snippets/product-badge line 106): Computation results in '-Infinity'

%
Sold out
Description

Directions

Reviews
Optibac Probiotics Every Day EXTRA is an advanced, multi-strain probiotic supplement, containing the world-renowned strain Lactobacillus acidophilus NCFM®. Scientifically formulated to benefit your digestive and immune health*, this supplement is recommended for optimal daily support.
A high quality, advanced probiotic supplement suitable for vegans, vegetarians, and gluten-free, dairy-free or soy-free diets. Designed to complement your body's natural gut bacteria and balance your microbiome, this product is recommended for optimal support of the digestive system, gut and immune health*.
Benefits
An advanced supplement 20 billion CFU scientifically proven to reach the gut alive
Complements natural gut bacteria Specially formulated to help replenish good bacteria in the gut* for example, after antibiotic use 
Gut health Extensively researched for various digestive health concerns, including occasional bloating*
Immune support The strains in this supplement have demonstrated efficacy in supporting immune health*
High quality, multi-strain To complement your body's natural gut bacteria
Expertly formulated Free from prebiotic FOS, and may be suitable for those with IBS
Extensively researched The strains in this supplement have been collectively studied in approx. 70 clinical trials
A more natural choice Lactobacillus and Bifidobacteria naturally occur in the digestive tract
All round support With probiotic bacteria suited to both the small intestine (Lactobacillus) and large intestine (Bifidobacterium)
Vegan A vegan alternative to dairy based yoghurts and yoghurt drinks
Highly recommended From the UK's most trusted & recommended brand of probiotic supplements†.
Suitable for those on antibotics Can be taken by those on a course of long-term antibiotics (2 hours away from the medication) or after a course of antibiotics
For best results take 1 capsule daily, preferably with breakfast.
If desired, or professionally directed, can be increased to 2 capsules a day.
Can be used on an ongoing basis.
Suitable from 12 months onwards. For those unable to swallow capsules, the capsule can be opened and the contents mixed into cool food or drinks.
Do not exceed recommended daily dosage.
Probiotics are not recommended for those with serious medical conditions e.g. those who are severely immunosuppressed, have pancreatitis, are in the ICU, have melaena, have a central venous catheter, short bowel syndrome, or patients with open wounds following major surgery; unless under a doctor's care. Keep out of reach of children.
This is a dietary supplement and is not intended to diagnose, treat, cure or prevent any disease. Dietary supplements should not be used as a substitute for a healthy diet and lifestyle. If you are taking any medications or have a serious medical condition, consult a doctor before use. Optibac supplements will not cause dependency and may be used on an ongoing basis.
Meaghers Blog
Nutritionist Lucy Brennan 

ANutr shares her tips and advice when it comes to supporting male mental health.

Read now

Nutritionist Lucy Brennan 

ANutr shares her top tips on the best foods to incorporate into your diet when going through menopause.

Read now