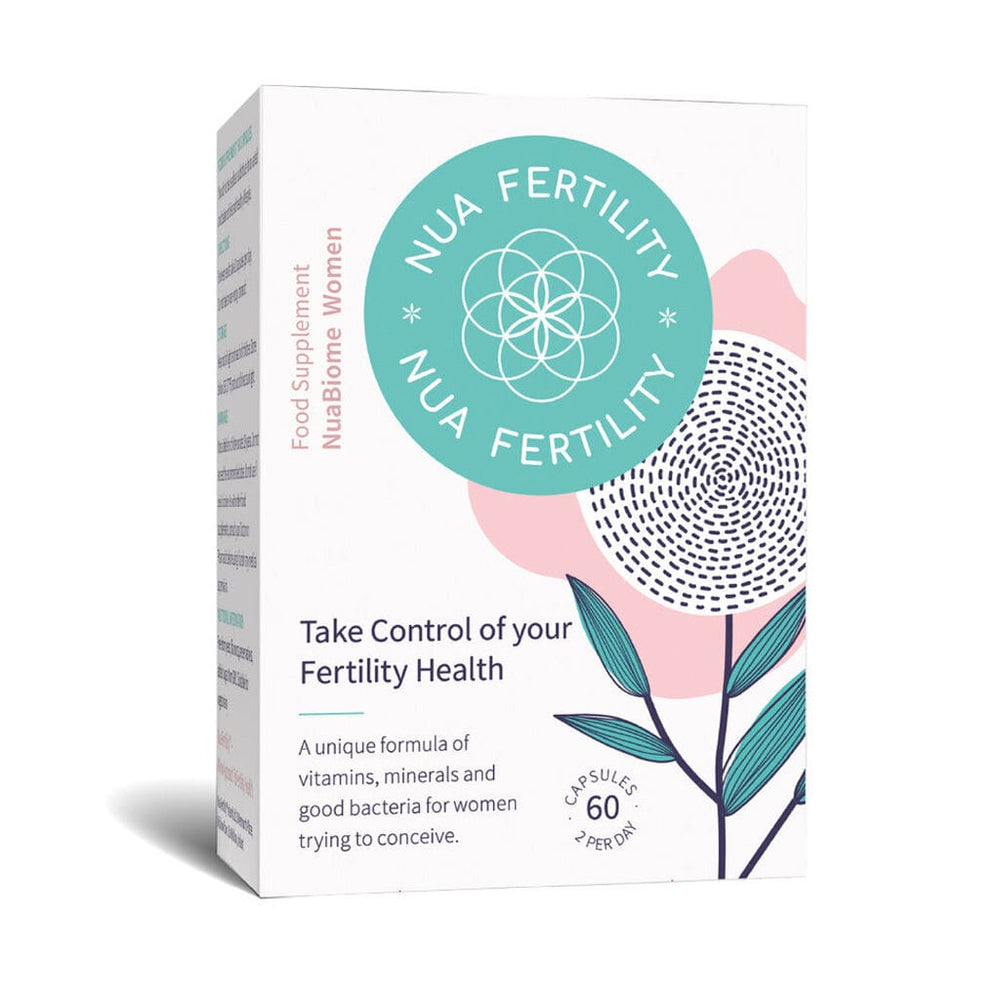 Nua Fertility NuaBiome Woman
Save

Liquid error (snippets/product-badge line 106): Computation results in '-Infinity'

%
NuaBiome Women is the first-of-its-kind, natural pre natal fertility supplement specially developed to help support female fertility.
This bespoke formula concentrates on the essential nutrients to support healthy conception and preparation for pregnancy combined with good bacteria that supports the gut to function optimally and strengthens vaginal health.
How does it work?  
Reproductive health is one of the most nutritionally demanding areas of our general health. We need to make sure we have enough of the right nutrients for hormone production, hormone balance, antioxidant defence, cellular health, DNA health and immune support. NuaBiome Women combines key fertility-supporting vitamins and minerals to optimise fertility.
Research shows that gut health is implicated in many health concerns including fertility and hormone balance. A healthy gut is therefore intrinsic to our overall health. The inclusion of a blend of good bacteria helps to re balance the gut and maximise the uptake of vitamins and minerals.
Good nutrition is the foundation of optimising your fertility potential. The reality of our daily lives means it can be difficult to achieve from diet alone. NuaBiome Women provides supplemental support for those nutritional imbalances or insufficient intake of nutrients from food.
Benefits
Supports nutrient synthesis and absorption
To better absorb nutrients, we need a healthy gut. This product supports a balanced microbiome. A well balanced gut microbiota will extract more phytonutrients from food to provide key nutrients for quality eggs. The ingredients in Nua Fertility Women supports a balanced microbiome.
Supports reduction in inflammation
When your gut microbiome is out of balance it can produce toxins. When these toxins from the GI tract leak into the bloodstream, this causes an immune response by the body, and triggers inflammation. Reducing overall inflammation helps the body and can prioritise reproductive health. 70% of women with unexplained infertility have elevated levels of inflammation. Elevated levels are also found in PCOS and endometriosis.
Supports Vaginal Health
Good bacteria are key for optimal vaginal health. Colonisation of the vagina of unfriendly bacteria can impair reproductive potential for women.
Hormone Balance
There are 60 species of bacteria in your gut that regulate oestrogen. A disrupted microbiome is seen in endometriosis and PCOS. Balance your microbiota for optimal hormone regulation for fertility. The ingredients contain vitamins, minerals and good bacteria that supports the regulation of hormones.
Provides micronutrients - vitamins, minerals & antioxidants 
Vitamins and minerals that support healthy cell division and normal tissue growth during pregnancy.  Contains antioxidants to protect egg and healthy ovulation, and Zinc to contribute to normal fertility and reproduction.
Supports a healthy gut microbiome
Contains clinically studied good bacteria that support a balanced microbiome. Restores your good bacteria, providing you with digestive balance and restoration. Supporting a healthy gut microbiome which is intrinsic to digestive balance, immunity, and fertility health. 
Meaghers Blog
Nutritionist Lucy Brennan 

ANutr shares her tips and advice when it comes to supporting male mental health.

Read now

Nutritionist Lucy Brennan 

ANutr shares her top tips on the best foods to incorporate into your diet when going through menopause.

Read now