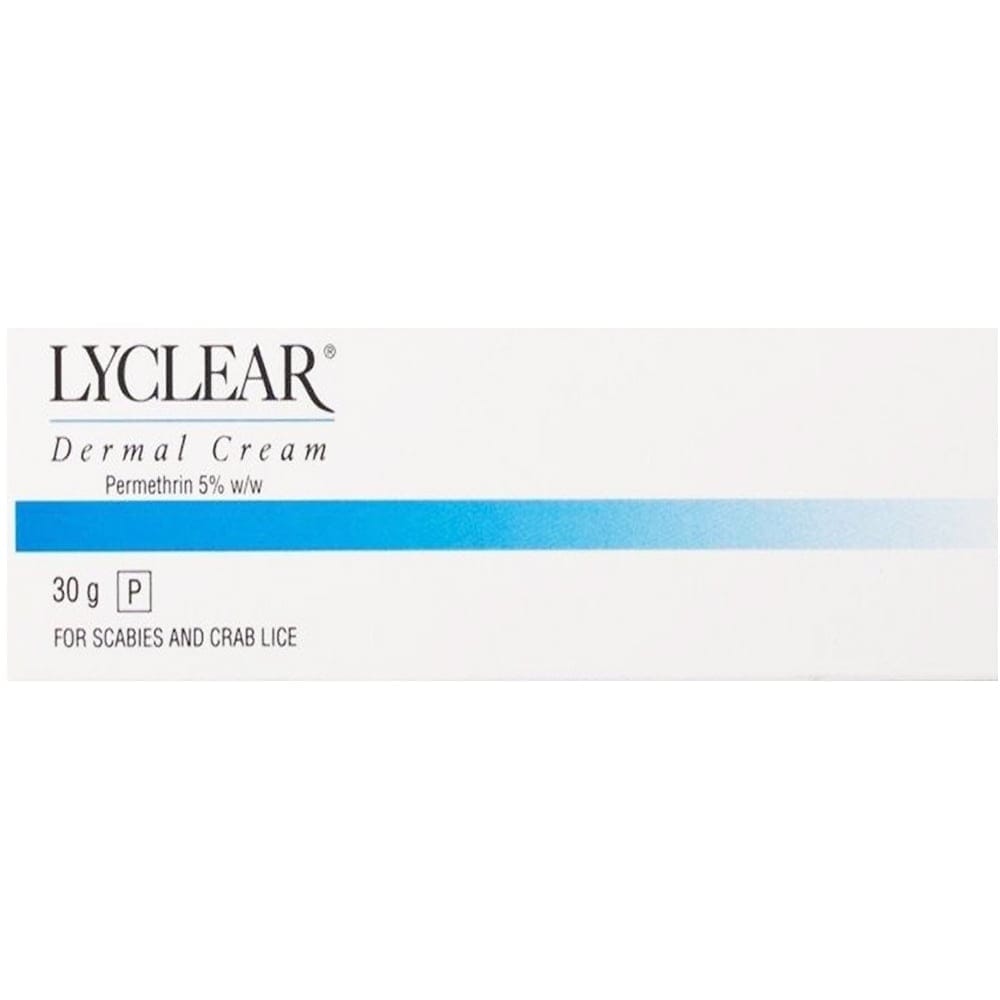 Lyclear 5% w/w Dermal Cream
Save

Liquid error (snippets/product-badge line 106): Computation results in '-Infinity'

%
Lyclear 5% w/w Dermal Cream belongs to a group of medicines called pyrethroids, which are anti-parasitic agents.
 Lyclear Dermal Cream is used to treat scabies and crab louse infections.
How to use 
Always use this medicine exactly as described in this leaflet or as your doctor/pharmacist has told you. Check with your doctor or pharmacist if you are not sure.
Ensure the skin is clean, dry and cool. 

If you take a warm bath prior to treatment, the skin should be allowed to cool before the cream is applied. 

Carefully apply a thin layer of the cream to the skin (see "How and when should you use Lyclear Dermal 
Cream?
The cream rubs easily into the skin. It is not necessary to apply more cream until you can see it on the 
surface. 

Usually a single application clears the infection. If you are in doubt about the success of treatment, 
consult your doctor. 

Lyclear is not suitable for use in babies under 2 months of age. 

Treatment of scabies:

Adults and adolescents over 12 years of age: Apply up to 30 g of cream (corresponding to one tube)
 
Children aged from 6 to 12 years:
 Apply up to 15 g of cream (corresponding to half of a tube)

Children aged from 2 months to 5 years: 
Apply up to 7.5 g of cream (corresponding to a quarter of a tube) 

Newborns and infants under 2 months: 
There is only limited data available in this age group and no dose can be recommended (see also section 2 under "warnings and precautions"). 

What it's contains
The active substance is permethrin (5% w/w equivalent to 50 mg/g). 

The other ingredients are triglycerides (medium chain), glycerol monostearate 90%, macrogol (2) cetyl 
ether, glycerol, isopropyl myristate, liquid paraffin, wool alcohols, cetomacrogol 1000, carbomer 974P-NF, formaldehyde solution (see section 2), butylhydroxytoluene (E321) , sodium hydroxide and purified water. 

Always read the enclosed leaflet before using this product.
Meaghers Blog
Nutritionist Lucy Brennan 

ANutr shares her top tips on the best foods to incorporate into your diet when going through menopause.

Read now

As we go through various stages of life, as women, our hormones fluctuate meaning that we may see changes in our skin. Here we discuss how you can handle how your hormones effect your skin in puberty, pregnancy and menopause.

Read now