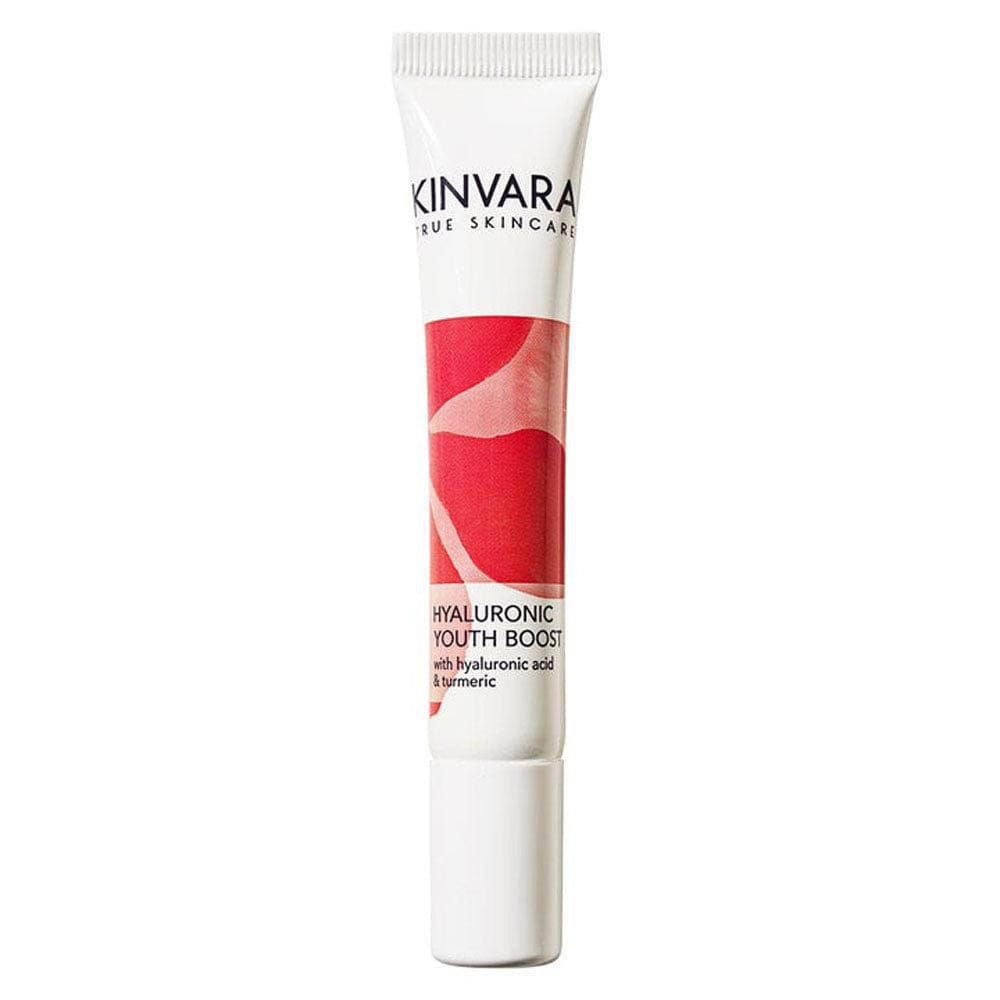 Kinvara Hyaluronic Youth Boost 15ml
Description

How to use

Ingredients

Reviews
Add Kinvara Hyaluronic Youth Boost to your skincare routine to help target signs of ageing, especially at the mouth and brow areas. Dry, oily, combination and tricky skin can all benefit from hyaluronic acids' natural plumping and other beneficial properties, coupled with turmeric's super-food properties delivered in an antioxidant rich light gel of Vitamin E, cucumber and rosemary. This small tube has a lot to benefit your skin!
Benefits
Absorbs in superfast, ready for the next step in your routine

Amazing hydrating properties 

Hyaluronic acid is a plumping agent, acts like a targeted natural filler


Turmeric is a superfood recognised for its anti-inflammatory and antioxidant properties
Apply a pea size amount of the Hyaluronic Youth Boost to the back of your hand.

Apply the Hyaluronic Youth Boost onto the areas where you want to see results, usually around the mouth and brow area.

Leave it dry in for about 1 minute, follow up with our 24hr Rosehip Face Serum and our Active Rosehip Day Cream for nourished, plump and protected skin.

Repeat daily.
Aqua, Lysolecithin, Sclerotium Gum, Sodium Hyaluronate (Hyaluronic acid), Organic Curcuma Longa (Turmeric*) extract, Organic Rosmarinus Officinalis (Rosemary*) Leaf extract, Adansonia Digitata (Baobab) Fruit extract, Cucumis Sativa (Cucumber) extract, Tocopherol (Vitamin E), Helianthus Annuus (Sunflower) Seed oil, Glycerine, Pullulan, Xantham gum, Silica, Potassium Sorbate, Sodium, Benzoate, Benzyl Alcohol, Salicylic Acid, Sorbic Acid, (Limonene in essential oil).*Certified organic ingredients, all of which are noted on the label of each bottle.
*Patch test recommended.
Meaghers Blog
As we go through various stages of life, as women, our hormones fluctuate meaning that we may see changes in our skin. Here we discuss how you can handle how your hormones effect your skin in puberty, pregnancy and menopause.

Read now

 By choosing ethically and sustainably produced beauty products we contribute to a more environmentally conscious and socially responsible industry. 

Lets look at some sustainable choices you can make in your beauty routine

Read now