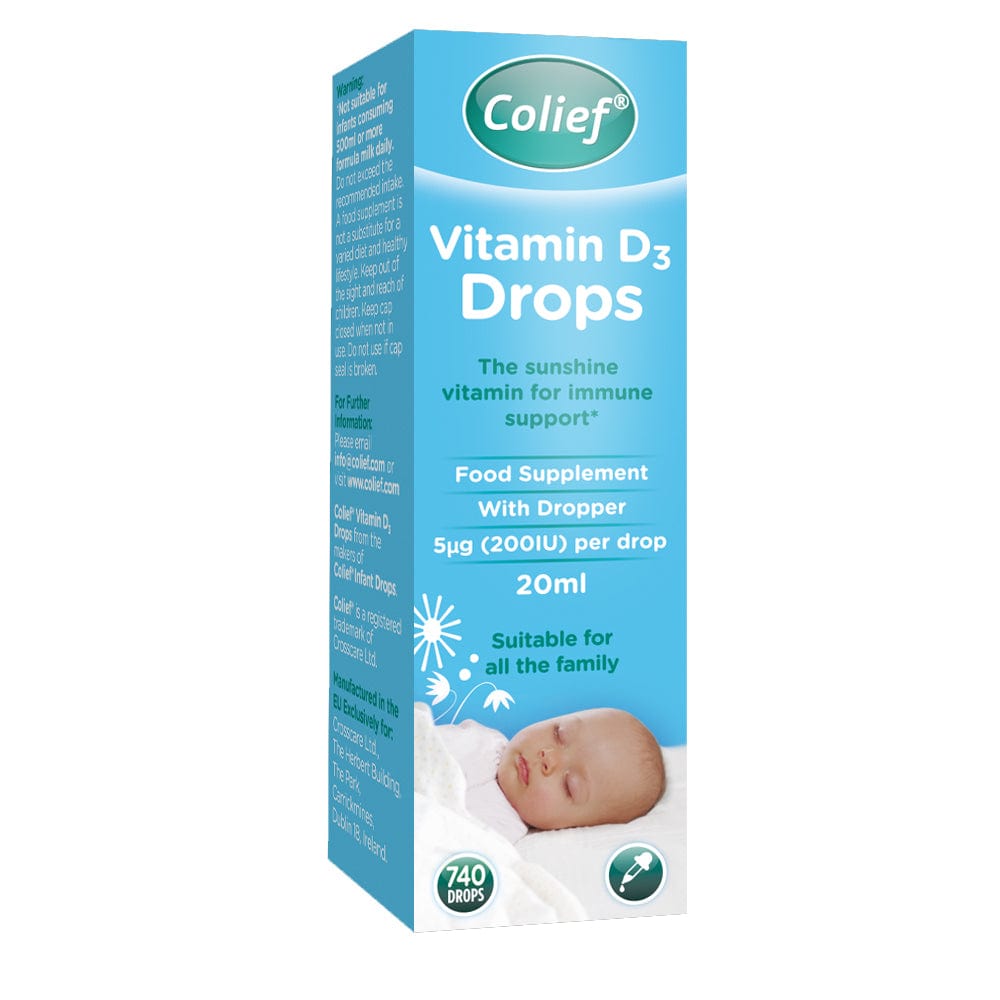 Colief Vitamin D3 Drops 20ml
Colief® Vitamin D3 Drops is a food supplement rich in vitamin D3 and the ideal solution for providing the required dose of vitamin D3. Vitamin D contributes to the normal development of bones and teeth in infants and young children and to the maintenance of normal bones and teeth in mums and mums-to-be. It also helps maintain normal immune system function.
Vitamin D can be absorbed via food intake or can be formed in the skin under the influence of sunlight. Nevertheless, a deficiency is possible and in many cases a supplement of vitamin D is required.
Why take extra vitamin D?
The most common cause of a vitamin D deficiency is a too low production via the skin as a consequence of insufficient exposure to sunlight due to seasonal variations, the use of sun creams, too little time spent outdoors, or wearing clothes that cover too much of the body. Furthermore, the capacity of our skin to produce vitamin D declines as we become older and among people with a darker skin. Another cause of vitamin D deficiency is insufficient absorption as a
consequence of a dietary inadequacy or a less efficient absorption from the daily food intake.
Colief® Vitamin D3 Drops have been developed to supplement the deficiency as well as to fulfil the increased requirements.
Colief Vitamin D3 Drops 20ml contains 600 Drops (2µg (80IU) per drop) and does not contain flavourings, added sugar, preservatives or colours. Colief® Vitamin D3 Drops can be mixed with food or a drink. The drops can also be given directly by mouth. Each 20ml bottle provides 5 Months Supply Infants/Children and 4 Months Supply Pregnant/Breast Feeding Mums.
Meaghers Blog
 By choosing ethically and sustainably produced beauty products we contribute to a more environmentally conscious and socially responsible industry. 

Lets look at some sustainable choices you can make in your beauty routine

Read now

This is the perfect time of year to look at the habits we would like to build to be the best version of ourselves for the term ahead. Small changes to nutrition, movement, sleep and gut health can make a huge impact on our wellbeing.

Read now