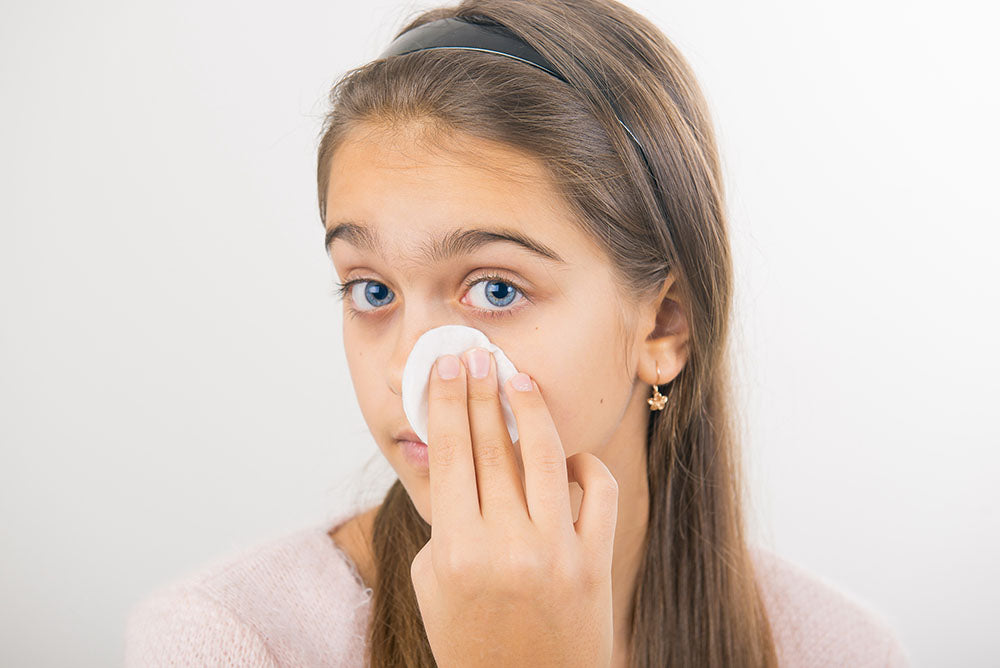 Your Guide to Caring for Teenage Skin
The teenage years have come a-knocking, and like many other things in your body your skin is changing. So, what's with the acne, oiliness and breakouts?
Don't you worry, these changes are expected at that age. Mainly, the changes are brought about by hormonal changes and excess sebum production that cause blockage of the pores. What matters is that you figure out how to approach your skincare routine to handle the changes and maintain the health of the skin.
Teen skin is more robust compared to that of a younger child, there is more sebum being produced and the skin texture is changing as a result. However, it still regenerates quickly and is still highly elastic.
Here, we're here to offer you our very best expert skin advice, to reassure you that you're not alone on this journey and to outline some of the benefits of good skincare practices, lifestyle choices and the products available on the market here in Ireland when it comes to prioritising healthy skincare for teenagers.
How to Take Care of Changing Teen Skin
With so much on the minds of busy teenagers, problematic skin and outbreaks of blemishes can really have an effect on mental wellbeing, but it's perfectly normal and par for the course at this age - all adults in your life have all been through it and are on hand to offer you advice and assure you that there are simple steps you can take to minimise the breakouts and assure you spots don't last forever, Promise!  
Clearer skin is the aim for all teenagers. In order to promote a healthy skincare routine and unblock clogged pores, your skin needs a little TLC for it to glow, remain healthy and spot free.
Having blemish prone skin and inflamed spots will undoubtedly cause many teens stress and anxiety at times but thankfully, cosmetic science has come a long way since your parents were teens and plenty of help is on hand to assist you through even the most severe teenage acne cases.
Of course, everything starts with a healthy, balanced diet, exercising, getting enough sleep and drinking plenty of water is the very best natural skincare advice anyone can give you. Supplementary vitamins can be of great help if you've got any particular deficiency and a skincare routine will help greatly.
Skincare in teens and pre-teens does not need to be complicated, really, it's about managing the changes that are happening, keeping the skin healthy and protected and avoiding issues in the future. Here I have set a number of golden rules that will help them do that and the products that may help.
Cleansing twice a day
The key to clear and healthy skin begins with a good cleansing routine, it is so important for teens and pre-teens to cleanse twice a day, encourage them to think about it just like brushing their teeth. Refreshing their skin after a long day or before their day starts. Doing so can help remove dirt, oil and impurities that have accumulated onto the skin throughout the day and the sweat from night time, before they have a chance to wreak havoc.
When choosing a cleanser stick with a non-fragranced, simple and kind cleanser, one from a dermo cosmetics brand that is gentle on the skin and won't break the bank!
Target blemishes as they occur
If your Teen or Pre-Teen is suffering from blocked pores and breakouts it's important to treat the skin gently, reassure them that spots are normal, we all get them at some time through our lives and they can be managed. I recommend using an on-the-spot treatment on isolated areas of breakouts rather than applying harsh ingredients all over the skin where they may do more harm than good!
Keep the moisture balanced
After cleansing the skin, adding moisture back is essential. Using a daily moisturiser will help keep the skins protective barrier intact and keep the skin soft, supple and healthy. It is important for young skin not to use a very heavy rich formula and instead opt for an oil free lotion or a lightweight gel. 
Protect the skin from the environment
The sun never takes a break during the day, and neither should your defence against it. Wearing SPF daily is the single best thing you can encourage your teen or Pre-teen to do for the health of their skin, to avoid issues with the skin now or in the future. Invest in a broad-spectrum lightweight formula that they will enjoy using to ensure they form the healthy habit of daily SPF. Apply onto all exposed areas of skin before heading outdoors, by a window or anywhere where the sun hits.
Follow a Healthy Skincare Routine
A solid routine to clean and maintain a healthy, supple skin tone is the first step in teen skincare. Once you establish your type, you need to develop a schedule to protect the young skin.
The plan should highlight the procedure, frequency and the products to use in your skincare.
Ideally, the plan should be executed twice a day, before sleeping and in the morning.
A standard skin routine involves to following blend of hygiene activities using over-the-counter skincare products:
Cleansing
Toning
Treatment Serums
Moisturising
Face treatments like masks and active ingredients
Retinoids (under the guidance of a skincare professional)
As you wash your face and introduce active ingredients in your routine, you need to be gentle to ensure you don't scrub your face excessively or use ingredients that will compromise the skins natural protective barrier as that will make it irritable, especially for acne-prone skin.
The first step in teen skincare is knowing your skin type.
Teenage Skin Types
There are four main types, and it's critical to understand yours to know the routine to follow in promoting optimal skin health.
The four are:
Oily
Dry
Combination
Sensitive
The ingredients that you will choose as part of your routine is different for each type, there are an excellent range of specialist skincare brands here on the Irish market that are suitable for teenage use that will likely have the ideal solution for you.
Oily Skin
This skin type is recognisable by excess oil production resulting in a shiny, oily appearance. Unfortunately for a teen, this type is prone to more severe acne, blackheads and pimples. This is brought about by the active hormonal changes that affect the oil production in your body.
Stress during this stage of life is common perhaps arising from the now visible physical changes, exams or other life stressors. Stress is known to trigger numerous skin problems including the spread of pimples and other infections.
To get rid of the excess oil and maintain a clear complexion, ensure you wash your face twice a day, once in the morning to clear any oil or sweat excreted as you sleep and at night to ensure you remove any debris, sweat or dead skin cells from the day.
For oily skin types it is essential to include a toner that will rebalance the skin following the cleansing, oily skin types especially need to correct the PH level on the surface of the skin to keep the acid mantle balanced, and to ensure the pores are as refined as possible following cleansing.
For toning the skin, an oily skin type should ideally use an astringent toner to swell the skin surrounding the pore causing it to contract or a toner with an active ingredient such as salicylic acid, niacinamide or an AHA such as glycolic or lactic acid to aid exfoliation and clear the pore pathway.
Oily skin types should also ensure a moisturiser that is non-comedogenic and oil free is included in the skin routine, a moisturiser of this type will maintain the skins natural protective barrier without adding any congestion.
A separate broad-spectrum SPF should also be included in the morning.
Dry Skin
Dry skin is naturally lacking oil throughout. In dry skin the main issues are a feeling of tightness, flaking, rough patches or areas of irritation or redness. In dry skin the pores are generally very refined and wrinkles and lines are more apparent than in oily skin.
When setting a routine opt for gentle cleansers and toners and the main objective for a dry skin routine is to uphold the protective layer and avoid irritation from harsh ingredients and irritants. 
Using a cleansing balm, oil or milk is an excellent way of cleansing the skin morning and night. Alternatively, a cleansing gel that contains lipids or ceramides is a good choice for dry skin types. Treating skin with products specifically formulated for dry skin is essential. specialist dry skin products 
Ensure no astringent ingredients are present in the product and look for cleansers that include a probiotic or prebiotic to feed the good bacteria on the skins microbiome and help the protective layer.
Combination Skin
Your skin may be a combination type if you notice the skin is oily in some places and dry in others. It is therefore essential to have a routine that will balance the skin and treat both the oily areas and the dry areas without overtreating either. Avoiding overly drying ingredients and overly rich ingredients in your skincare products will help avoid problems.
A mild gel wash is a great option for combination skin. It will help clarify the skin and rid the skin of any excess build-up of sebum but will not irritate or exacerbate the dry areas of the face.
Including a rehydration serum is a good idea for combination skin types, when water levels are balanced in the skin it helps maintain normal oil production and promotes a healthy skin barrier. 
Sensitive Skin
Sensitive skin is what we know to be reactive skin. Many people suffer from sensitivity and redness of the skin. This could be brought about by something you may be applying to the skin, a dietary or health issue or medication you may be taking. Often the skin is sensitive to touch, may appear red and you may even suffer from a condition like eczema or psoriasis.
If you have sensitive skin, it must be treated with additional care as to what ingredients you use and we recommend keeping the routine as simple as possible to avoid reactions to different ingredients. A cleanse, moisturise and spf should be sufficient for sensitive skin, include ingredients to soothe the skin and repair the skin barrier such as ceramides.
Causes of Teen Skin Problems
Understanding how your body works during teenage years is the first step in understanding the underlying factors that cause skin problems during puberty and throughout the teenage years. 
The common contributors to these common teenage skin issues are:
Overproduction of sebum - At puberty, the hormones are at their peak, and they overwork in producing sebum which in turn blocks the pores leading to pimples and blemishes.
Extreme climatic exposure- As a busy teen you may spend a lot of time outdoors playing sports or meeting friends, exposure to UV rays and extremes of hot or cold temperatures can harm the skins barrier and the health of the skin cells unless protected with antioxidant ingredients and a broad-spectrum SPF.
Harmful skincare products/trends- sometimes we can be tempted to try new fun trends when it comes to makeup and skincare from social media, this can be tempting when we see some of the edited videos and pictures online however many of these trends can actually have a harmful effect on the skin if not suited to your skin type.
Diet- it can be difficult to maintain good skin health if our diet is not balanced, if our skin is not getting the nutrients, it needs it can react in numerous ways including breakouts, irritation and dullness.
Stress- being a teenager can be a stressful time, balancing school, time with friends and family and the pressures that come with social media and socialising can have an impact on our stress levels meaning the levels of cortisol in the system is heightened leading often to breakouts and other skin problems.
Tips on Teen Skincare
Teenage skin is delicate and requires to be handled with care during this stage, so when you are an adult, you won't need to worry about the repercussions of a harmful habits, active ingredients or neglect in the skincare routine when we were teenagers.
The skin problems at this stage are gender-neutral as they are mainly caused by the hormonal fluctuations.
Some of the ways to have beautiful, glowing, healthy skin include:
Antioxidants
Including antioxidants in your diet and in your skincare will help protect cells from free radical damage, this will pay dividends as you age, it will also mean your skin is fresh, healthy and help with balancing the skin. Some ways you can do that is to include lots of fruits and veg in the diet and use a vitamin C serum.
Seek Treatment for Acne
Do not rely on your friends' opinions to treat your infection if you feel it's gotten severe. Do not also be enticed by the different brands packaging. Instead, seek professional help for the spot treatment and skincare advice.
A dermatologist or pharmacist will guide you on several issues, including the various cleansing gels and moisturiser products from brands for teens that are most suitable for your skin.
Face Masks
Identify the suitable mask for your skin type. A face mask can be beneficial to help clear the pores, refine the pores and reduce inflammation. Look for clay masks to help draw out impurities, stay away from peel off masks!
Diet
Remember we feed our skin from within, try and achieve a balanced diet including all the food groups in your diet. Avoid restrictive diets and eat as many whole foods as you can.
Makeup
Use the correct cream, moisturiser and serum for your skin type. Avoid overdoing it or trying out so many products ranges on your skin. If you choose to wear makeup opt for a mineral version, they have various levels of coverage and mineral makeup will not block the pores and add to congestion.
Best Teen Skin Care Products
Some of the best products suitable for teenagers include:
These are quality products that will protect you from most teenage skin issues. You can use them confidently as they are all medically reviewed.
Note: If you're specifically struggling with acne, these dedicated acne solutions can help keep spots at bay, we'd be happy to talk you through the benefits of each product separately and tailored to your own specific circumstances. 
The Meaghers Verdict on Teen Skincare
Your teenage years are a very exciting phase in your life. Do not let your skin problems dampen your spirits in life. Use the correct skincare brand of the face wash and all your skin products.
Start by learning your skin type, then coming up with a routine that you follow strictly, and you will be good to go.
Contact Us to Discuss Your Teenage Skincare Needs
We're hopeful this guide has armed you with all the information required to look after your (or your child's) skin throughout their teenage year, paving the way for a lifetime of healthy skin habits which will keep your skin feeling nourished and looking your very best.
As always, we advise anyone considering a new course of treatment for problematic skin conditions to seek expert medical advice before applying any new skincare products and to educate themselves fully before deciding on the best course of action. If you need to chat with our team of skin experts, we're here for you.