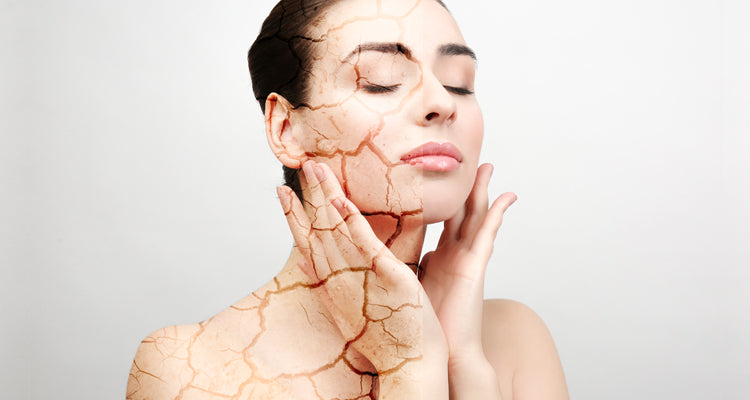 How to treat dry, tight skin
Tightness, roughness, fragility and feelings of discomfort these are all signs of dry skin. Dry skin is caused by an impaired lipid barrier on the surface of the skin, if the skins lipid barrier is compromised it loses water as well as oils that are essential to keep the skin velvety smooth.
There's no one cause of severely dry skin although a tendency to this type of skin can be inherited. (Thanks Mam!) Very dry skin is sensitive skin and so needs gentle treatment – many ingredients can aggravate it. Some people who suffer from severely dry skin find it gets worse in cold, dry weather. It can also be made worse by certain soaps, bubble baths, shampoos, detergents and things that can trigger allergic reactions such as pollen, pets and mould.
Skin also can get dryer with age as collagen levels in the skin decrease, lines and wrinkles begin to form due to the loss of elasticity of the skin. This is what gives the skin a leathery appearance in some people. As you age, your skin also produces less sebum so that it cannot produce the moisture it needs to stay healthy. This leads to dryness and itchiness of the skin and also results in wrinkles and a leathery appearance. with advancing age, there is also a reduction in the hormones and chemical signals that are important for skin growth and repair.
So, as we get older it is essential to help the skin stay healthy by treating it gently. A comforting cleansing and moisturising routine can soothe very dry skin – as well as helping protect it. A weakened skin barrier is one of the characteristics of very dry and sensitive skin. Careful cleansing and moisturising with the right products can help reinforce and protect the skin barrier, as well as helping with feelings of tightness and discomfort.
Choose a gentle cleanser
Severely dry skin can be irritated by some soaps and feel tight after cleansing. But without cleansing, moisturising can be less effective, as moisturising after washing helps lock in water. Water which helps soften skin. Look for a cleanser and bodywash that don't contain fragrances and soap that can make severely dry skin feel uncomfortable. Also look for a skin neutral ph. Cleansing oil that replenishes lipids can work well with sensitive skin, as well as protecting against the drying effects of hard water.
Tone with soothing ingredients
I am a great believer in toning the skin no matter what the skin type. Dry skin can really benefit from a soothing and hydrating toner to refresh and comfort the skins surface and prepare the pores for serums and moisturisers. Stay away from alcohol-based toners and toners that contain Hydroxy acids, instead choose a gentle and soothing ingredient like rosewater or magnesium.
Emollients are your best friend!
If you've got itchy or dry skin, you'll probably want to lock in moisture with a thick balm or cream. Lotions are thinner, help hydrate, and are good for normal/ oily skin.
A balm or cream will help to soothe and comfort dry skin, reducing sensations of tightness and helping to reinforce the skin's natural barrier function.
A few of my favourites
Also, for isolated patches of irritation and dryness choose a balm with healing properties to protect and soothe